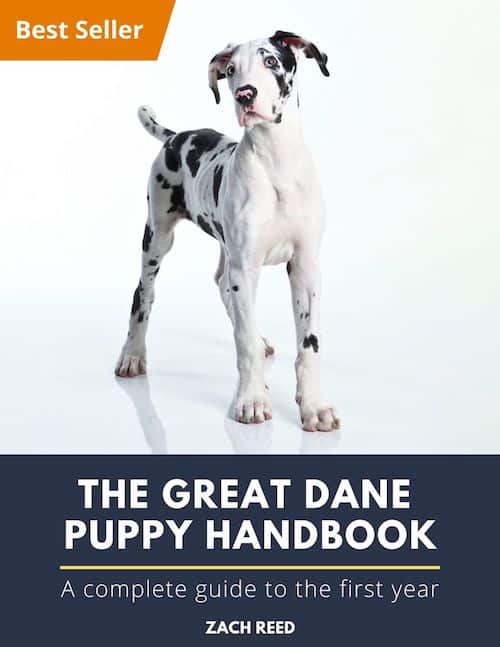 The Great Dane Puppy Handbook {60+ pages}

45 reviews | 8 answered questions
List Price: $40
Price: $17
You Save: $23 (58%)


Credit cards, Apple Pay, & PayPal are supported during the secure checkout.

Here is a short list of just some of the topics covered in this 60+ page eBook:
Feeding a Great Dane
Hygiene and grooming
Diarrhea sources and treatment
Tips for puppy biting
Dane-proofing your home
Potty training
Veterinary care and medical decisions
Purchases to consider
Where to find a dog
---
Bringing home a new Great Dane is one of the happiest moments for a new owner. However, this happiness can quickly turn to chaos as the puppy mayhem takes over…
From puppy biting, diarrhea, and food choices, the list of questions and issues can feel endless…
As frustrating as this can be – I was right there with you many years ago! I felt overwhelmed by the decisions and issues, and my initial happiness after bringing my dog home turned to despair.
I had waited years to bring home this Great Dane, and all I wanted was to give them the best care, but I felt completely lost… There were literally NO resources available that answered my Great Dane puppy questions!
Fast forward several years, and I started this website to begin answering the many questions that I had as a new Great Dane owner. Not only did I document the information that I had learned, but I started to hear from other new owners about the issues that they were experiencing as well!
After helping hundreds of thousands of readers, there were some clear patterns that emerged.
To save you time, money, and your own sanity – I put all of these details into one simple and easy to read book called "The Great Dane Puppy Handbook".
This is EXACTLY what I wanted when we got our first Great Dane! But unfortunately for us, there was unfortunately nothing like it available…
This book is jam-packed with helpful information, tips, tricks, and timesavers that will not only save you money but help you have a better relationship with your dog.
I want you to avoid these pitfalls and have a happy and healthy relationship with your Great Dane from its first day until its last.
All of this information has been distilled into simple chapters that make it easy for you to understand, take action, and feel at ease with your Great Dane.
Caring for a Great Dane over the course of their lifetime will cost thousands of dollars.

For just a tiny fraction of that cost, you can get access to The great dane puppy handbook that will lower that cost by sparing you from making bad purchases and preventing expensive medical bills!

Last but not least, it will help to put your mind at ease.
Customer Reviews

4.9 out of 5
45 customer ratings


10/16/2023
Brian Verified Purchase
A lot of great information without added "fluff" to make it longer. I feel very comfortable bringing my pup home with this great resource.


6/13/2023
Charles Verified Purchase
Very good information. Leard new information. Very good overall.


3/13/2023
Lori Verified Purchase
Although the book is fantastic… My Dane is 9 and a half months old and the book didnt help me much. It would have been great to have all this info when he was much younger. My boy Moose is the best pup ever!!! I support all good info out there to help new Dane owners.


1/29/2023
Steve Verified Purchase
A great book for beginners with any dogs & people with their first "giant breed". I'd like to add the danger of tail wags to toddlers & young kids – the tail is at their head height & can cause quite few problems – as well as clearing coffee tables & other low/medium shelves. Great Danes also can't seem to understand that just because they've got their head somewhere it doesn't mean that their body will follow & fit, so they have a tendency to move furniture. This becomes even more of a problem if their wearing the "cone of shame" after surgery because it's the size of a small satellite dish. The other addition would be to toilet training. Use a different phrase for pooping & you can get your dog to piddle & poop (I use "go toilet" & "go poops") on command making travelling much easier. It also makes cleaning up much easier. My current Great Dane puppy, now 19 weeks old, was toilet trained in 1 & 1/2 weeks after I'd got him home. He takes himself out if he needs to go on top of me taking home out first thing in the morning & before bed, though I'll usually take him out for poops just before or just after breakfast or dinner as well.


9/24/2022
Camille Verified Purchase
This is my second Great Dane ,he is now 7 months… It is a great refresher for me and some new things I did not know from having my first Great Dane. They are all so different. Highly recommend for first time Dane owners. Information from an actual Great Dane owner is always helpful. They are such magnificent creatures.


9/24/2022
T Walker Verified Purchase
This is a great book for the new great dane family good information in a use full format.


8/13/2022
Jim Verified Purchase
Great easy book to read. Lots of useful information to get started with and point you in needed directions for more in depth information. My wife and I love your videos and give Gus a big thumbs up!! Toss him a treat from Lug Nut in Alaska. FYI That's our new pups name. Stay Daney!!


6/20/2022
Rodney Verified Purchase
I have had 2 Great Danes through the years they were both males this one is a beautiful blue female. I was having trouble house training her because the pups peed and pooped in there concrete pad where they stayed and this book is really helping with that and getting my wife to understand her. She has fallen in love with her.


6/5/2022
Hussein Verified Purchase
Very helpful and just perfect for when you are getting a puppy Great Dane.


1/1/2022
Dawn Verified Purchase
This will be my first Great Dane puppy. I'm the type of person that has to do at least a year of research to have the best for my animals. The book was a huge help, I watch the YouTube videos and started purchasing items for her. I can't wait to start this adventure.


12/6/2021
Hope Verified Purchase
The book is really fantastic! We've had many dogs but just adopted our first Great Dane puppy and I had a million questions! I've already relied heavily on the book for just about everything from eating and nail care to thinking about crates and training! I also love the videos with Zach and Gus! This book is perfect — jam packed with information but also as quick read and easy reference tool! Thank you!


11/21/2021
Kimberly Verified Purchase
This is a well thought out and informative read. I do recommend this if you have never owned a Great Dane before!


11/19/2021
Brittney Verified Purchase
Super helpful!! (: so excited to be a new Great Dane dog mom (:


11/8/2021
Cecilia Verified Purchase
I'm so glad I found this book + YouTube channel! Really knowledgeable about the breed and their needs! This book has been great and has a lot information about bringing our Great Dane puppy into the home he needs and deserves.


3/4/2021
Diane Verified Purchase
The book was very helpful, consistent with what the breeder, the vet and other owners have told us. You might want to add something about driving in the car and suggestions on securing them etc. Thank you!


2/27/2021
Cindy Verified Purchase
So helpful! I am fostering a Great Dane puppy from a shelter who has stolen my heart and will become a permanent part of my home. This book was an easy read and full of so much useful information for a new Great Dane Mom. I would highly recommend it!


1/20/2021
Janece Verified Purchase
This book had wonderful information on great Dane behavior and training suggestions. I was a little disappointed in the depth of the information.


12/11/2020
Shadae Verified Purchase
As someone who is researching and wanting to learn more about the breed before getting my own Great Dane, this book has helped answer so many questions and concerns! I can't wait to use all this knowledge when I finally bring a puppy home!


12/10/2020
Carlie Verified Purchase
My family and I have raised many dogs over the past 25 years, but never a Great Dane. My husband has always wanted a Great Dane, and now we have an adorable fawn puppy! This breed specific puppy book was a fantastic purchase, and helped fill in the blanks for me and my family. Thank you so much for this wonderful book.


12/9/2020
Lacey Verified Purchase
Good info amd a good starting place!!


11/23/2020
Chris Verified Purchase
Although we have raised 4 great danes from puppies previously, I learned a lot by reading through this book in a day. Extremely helpful. Thank you!


11/09/2020
Karen Verified Purchase
Informative, easy to understand!


11/07/2020
Mark Verified Purchase
Everything you need to know about your new shadow! Saba will be 8 months tomorrow and is my partner and she jumps in the van loves the road trips. Read this experienced authors recommendations and enjoy your new life!


10/20/2020
Paul Verified Purchase
I thought it was a good book and a real good reference for Great Danes. I like how you give info in easy to understand format. Thanks for your work in getting the word out on how great Great Danes are. BTW, we just got 2 GD puppies a few weeks ago both girls. Lyca and Jetta, both black with small white spot on their chest and one has a little white on each hind foot and the other has a little white on her hind heels, it can only be seen from the rear. Thanks again and I subscribed to your YouTube channel and I really like the free bonus material.


09/26/2020
Ken Verified Purchase
Good basic breed specific info


09/15/2020
Claire Verified Purchase
Great book! We just added our first Great Dane puppy into our household. Some of the things that I had concerns with were addressed in the book, such as biting and feeding. These dogs grow so quickly and it was great to have such a comprehensive resourse to help us with her now and as she continues to grow. Thank you!


09/11/2020
Michael Verified Purchase
Incredible book if you're planning on bringing home a Great Dane puppy!


08/29/2020
Mason Verified Purchase
Expecting a new dane puppy in November, super glad I found this book to help prepare me for what's to come!


08/19/2020
Erik Verified Purchase
My puppy is just born, so it will be other 2 months till he will arrive at our home. Your book, suggestions and videos are helping us a lot by the preparations before his arrival. Thanks a lot!


08/11/2020
Shannon Verified Purchase
Love the book. Very informative. I am going to use what you have suggested.


08/08/2020
Vicki Verified Purchase
Loved the book! We are expecting to bring our Great Dane puppy (Cooper) home the end of this month. Being a first time Dane owner, this book is extremely informative and provides useful information to help us prepare for our new addition to our family.


07/23/2020
Snjezana Verified Purchase
It is a great handbook. Give me a complete idea of what to expect before bringing my baby giant home!


06/14/2020
Mike Verified Purchase
This book has a lot of great information in it! As someone who has owned dogs in the past, there is new information here that I, simply, hadn't ever thought about. Everything is presented in a clear and concise manner. This is a must-read for any new Great Dane owner. Really though, the information would be helpful to a new dog owner of any breed!


06/10/2020
Rod Verified Purchase
This e-book is a quick and easy read for the beginner Dane owner. It covers a diversity of important topics in comprehensible language.


05/10/2020
Stephen Verified Purchase
From finding Gus and Zach on YouTube, to ordering book. The approach Zach takes, coupled with his knowledge has genuinely filled me with confidence in getting our wee Dane pup, Ophelia in a few weeks time. Thank you to the guys and girls at Great Dane Care.
P.s you can order the book on Amazon UK as I did for 'us' across the pond.


05/08/2020
Lori Verified Purchase
I think it's a great book full of tips and tricks but geared more towards a new great Dane owner vs a seasoned veteran (on Danes #4&5). I definitely agreed with a lot of what it said. I still enjoyed reading through the book. Money well spent. I actually would have loved to have the option to buy a paper version of the book. The online version made it feel like I was scrolling through a Google article. Know what I mean?


05/07/2020
Lynette Verified Purchase
I really enjoyed this book. It is light hearted, clearly written, and full of great information on Great Danes. It is a quick read and I would recommend it to anyone thinking about getting a Great Dane puppy.


05/06/2020
Ashley Verified Purchase
This book is a MUST HAVE for someone who is getting a Dane for the first time – it was a wealth of information on multiple topics. I really appreciated the organization of the sections & how things were listed in an "at-a-glance" format; particularly for the feeding & immunization schedules.
The information is also presented in a way that each owner can absorb & select which methods suit their lifestyles best. Thank you Zach for all of the effort that went into putting this together & also on the Great Dane Care website – we really appreciate these amazing resources for our new pup!


03/17/2020
Mike & Jen Verified Purchase
This book has provided invaluable guidance on numerous topics. We recently purchased our second Great Dane and while familiar with Great Danes we now realize, thanks to the GD puppy book, that we didn't know as much as we had thought. This book has made a world of difference in the training, nutrition and overall experience of having a new puppy! Thanks and please keep up the great work….the YouTube videos are also a great source of information!


03/16/2020
David Verified Purchase
The great dane puppy handbook was an EXCELLENT beginning source of information leading up to my decision to buy a Great Dane. The information in the book was enough for me to feel informed about this exciting new adventure. As the handbook indicates, it is not a catchall and you should do your due diligence, but it will definitely point you in all the right directions for more comprehensive information!
…
Great Dane Book FAQs
1. What will I receive after purchase?
Immediately after purchase, you will receive a link to download "The Great Dane Puppy Handbook" ebook as a PDF file. This link will allow you a maximum of 3 download attempts and is valid for one month after purchase.
For this reason, make sure to use an email address that you have access to. Check your spam folder if you do not see the email arrive within 10 minutes.
2. Will this eBook be updated?
Yes! I care deeply about providing the best available resource for Great Danes and will ensure that this book is updated on a regular basis with the best available information.
Once you have purchased this book, all future versions will be automatically sent to you free of cost by email.
3. Based on the outline, this eBook does not cover training.
Yes, this is correct. This book does not cover obedience training.
This is not because I do not think that this information is valuable, but because we believe that training deserves its own dedicated book to do the topic proper service.
While it does not detail the specifics of teaching certain commands, it will make recommendations for training approaches.
However, this eBook does cover potty training as it is of particular importance to puppy care.
4. What are all of the chapters covered in the book?
Chapter 1: Introduction
Chapter 2: Finding A Dog

Breeder Considerations
Shelter Considerations

Chapter 3: Preparing Your Home

Establish The Puppy Zone
Access To Food And Water

Chapter 4: Purchases To Consider

Bedding
Crate
Great Dane Crate Criteria
Toys
Training Gear

Chapter 5: Feeding A Great Dane

Food Types
Food Recommendation
Sample Meal Plan
Meal Plan Recap
How to Change Foods
Raised Bowls

Chapter 6: Hygiene and Grooming

Nail Care
Ear Cleaning
Oral Care
Baby Teeth Transition
Brushing & Bathing

Chapter 7: Veterinary Care and Medical Decisions

Find A Veterinarian
First Visits
Vaccines
Flea, Tick, & Heartworm
Great Dane Heat
Spay and Neuter
Consider Pet Insurance

Chapter 8: Diarrhea Sources and Treatment

Dietary Indiscretion
Food Changes
Stress
Indigestible Substances
Parasites
Viral Infections
Bacterial Infection
Home Remedies for Diarrhea
When to See the Veterinarian About Diarrhea

Chapter 9: Additional Considerations

Exercise
Socialization
Puppy Biting
Pick A Training Approach
Potty Training
Registration Requirements

Chapter 10: Closing Thoughts
5. How will this eBook differ from the website content?
To be clear – we do not put incorrect information on the website. The details that you find there are accurate. However, much of that information is geared at answering obscure or edge-case scenarios that come up.
To put a number on it, the website has several hundred thousand words of content. That is a lot of writing to sort through and digest!
This book is aimed at consolidating and distilling down the information that a Great Dane owner needs to know about caring for their puppy. These details are then presented in a clear, concise, and organized manner in this eBook to educate a Great Dane owner best.
6. Can I gift someone the book?
Yes!
During checkout, select the small gift basket icon to the right of your email address. This will allow you to enter the recipient's details so that the book can be sent to them as a gift.
This book makes for a wonderful gift for new Great Dane owners 🙂
7. What is the refund policy?
If you're not satisfied with your purchase, let us know by replying to your order email to ask for a refund.
No questions asked – 100% satisfaction guarantee here!
8. How will this charge appear on my credit card, PayPal, or Apple Pay statement?
The charge will show up as having been purchased from "Whistle Media LLC."
Book Requests
If you'd like to see something else covered in the book that is preventing you from making a purchase, please let us know by dropping us a note on our contact page!