Welcome to Great Dane Care!
Most Great Dane owners worry that they're not properly caring for their dog. At Great Dane Care, we give owners the information that they need to confidently raise their dog.
About Zach
Hi, I'm Zach Reed, the founder of GreatDaneCare.com!
When we got our first Great Dane, we were amazed at the lack of Dane-specific resources. Great Danes have unique needs and we felt it was a disservice to Great Danes everywhere to not have a single reliable source of information.
All of the information shared on this site are answers to the questions that we ourselves asked but struggled to find. With that in mind, Great Dane Care was born!
We are a happy family of four, with one fur baby (Gus), and two young boys! We live in Denver, Colorado, and love spending time outdoors as a family.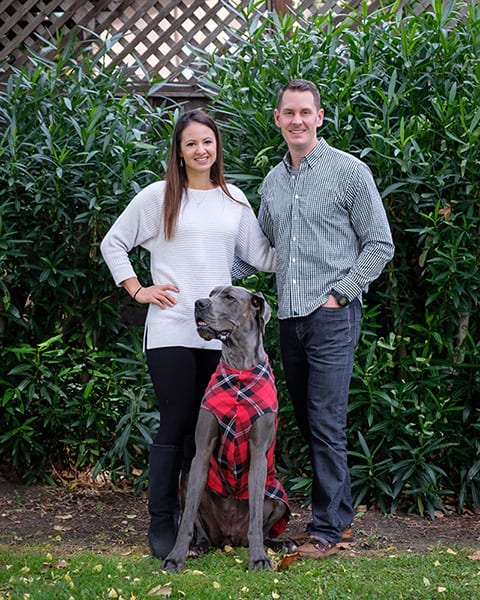 What you'll find on Great Dane Care
Great Dane Care is jam-packed with resources to help you care for your Great Dane!
To help you better locate the most important information, here are some of our most popular articles for each major topic.
Health
Training
Gear Guide
Supplements
MISCELLANEOUS
Meet Our Team
Veterinarian Advisor, Dr. Sara Redding Ochoa, DVM
Dr. Sara Redding Ochoa is a graduate of St. George's University with a Doctorate in Veterinary Medicine.
She has extensive knowledge of treating all species of animals with a passion for surgery.
Great Dane Care Is Everywhere!
Great Dane Care has been featured on thousands of sites across the web!

If you have suggestions for content or would like to request a topic for a new article, we'd love to hear about it! Please contact us by filling out the form here.