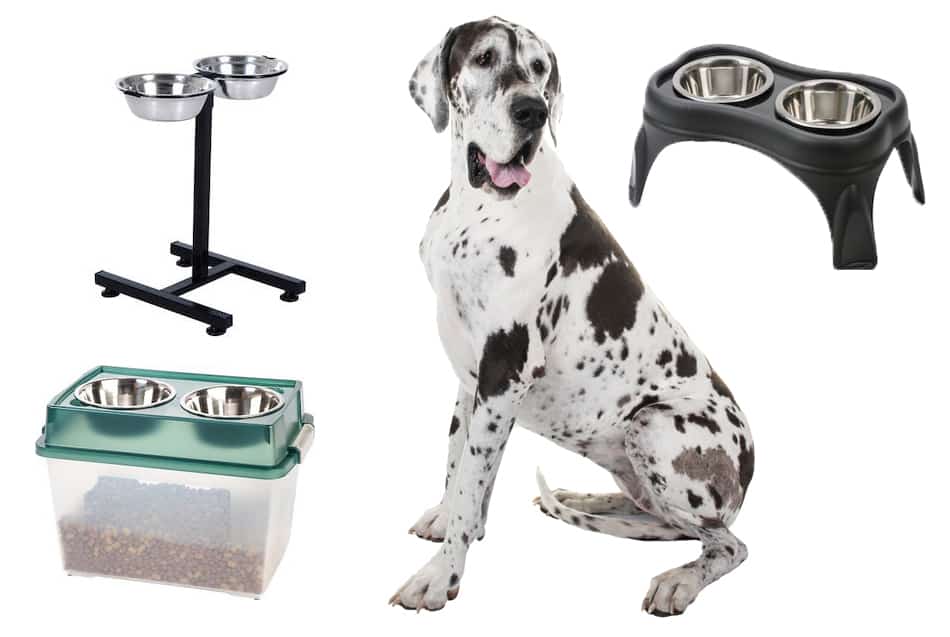 Great Danes may be one of the world's tallest dog breeds, but what elevated dog bowls are best for them? In addition to the bowl height, what else should someone take into consideration when selecting the best elevated dog bowl for a Great Dane?
Because the best feeder for you will be dependent on your own budget and needs, I'll list a winner for each major category that I see Great Dane owners looking for!
With that in mind, let's get into the full details for each!
Best Overall Elevated Dog Bowl
Maximum height: 18.5 inches
Adjustable: Yes, 1.25″ – 18.5″
Materials: Metal frame, stainless steel bowls
What we like: Price, adjustability, small footprint
What we don't: Not the sturdiest option available
If I could only pick one elevated dog bowl to go with, it would absolutely be the PawHut. Thanks to its affordable price and adjustable height, the PawHut makes for the best all-around elevated feeder for Great Danes.
While it certainly has its own shortcomings, this one has the advantage of being able to serve your dog from puppy through adulthood.
Its small footprint allows it to take up less room in your house but does sacrifice somewhat on stability.
For the record – I've personally used this feeder for several years and have never had an issue with it getting knocked over. However, with a particularly rambunctious dog, I could definitely see that happening.
If your Great Dane is a zealous eater, you may find that the PawHut scoots around a little bit. Even with this little bit of movement, it still has not caused any problems for us.
Click here to take a look at the PawHut Adjustable Height Dog Bowl on Amazon.
Best Looking Elevated Dog Bowl
Maximum height: 21 inches
Adjustable: No
Materials: Steel frame, stainless steel bowls
What we like: Stylish looks, fantastic height, extremely durable build
What we don't: Price
If you're interested in finding the nicest, best-looking elevated dog bowl for your Great Dane then this is without a doubt the one to go for! Not only does it set the bowls at a wonderful height of 21 inches, but it's beautifully styled.
Plus – who can say no to a feeder with engravings of Great Danes on it?! There's no question that this dog bowl set was made for a Great Dane.
It's constructed from steel and has a powder-coat finish to guarantee that this feeder withstands the test of time (and Dane). The legs of the stand also come with leveling feet to ensure that it's able to remain level on all surfaces.
Unfortunately, the high quality of materials and finish also comes with an increased cost compared to the competition.
The metal construction and detailing also prevent it from being adjustable, which means that it will likely be too tall for most Great Danes until they're approximately one year old.
Click here to take a look at the Modern Ironworks dog bowl on Amazon.
Best Elevated Dog Bowl with Food Storage
Maximum height: 15.04 inches
Adjustable: No
Materials: Plastic (Polypropylene resin) frame, stainless steel bowls
What we like: Price, variety of color options, substantial food storage
What we don't: Wish it was a bit taller
If you're looking for the convenience of integrated food storage, then this is the feeder to go for. In addition to the easy access, it has snap-lock latches to prevent your dog from sneaking in a few extra meals while you're not watching 😉
These handles also make the storage area airtight to ensure that your dog's food stays as fresh as possible.
Because food is stored in the base of the feeder, the entire setup is rock solid. There are no worries about this one tipping over or being pushed around.
While it's not as tall as I'd like to see, it's reasonably close to the proper height for an adult Great Dane. The one other downside is its lack of adjustability, but that's really to be expected when you're looking for a feeder with built-in food storage.
Click here to take a look at the Iris USA elevated feeder with storage on Amazon.
Best of the Rest!
Maximum height: 20 inches
Adjustable: Yes
Materials: Plastic frame, stainless steel bowls
What we like: Adjustable height from 2.75″ to 20″
What we don't: It's a little pricey, but not the most expensive one reviewed
This adjustable height feeder from Autofeedog is an excellent option if you're looking for something that is sturdy, non-slip, and comes with stainless steel bowls.
Some owners (or rather their dogs) may wish for larger bowls, but at 55 ounces each, this isn't bad.
While it is more expensive than other options, the fact that it adjusts from 2.75 inches up to 20 inches means that your Great Dane can use it for years.
The Contenders
After taking a look at all of the available options, I was able to come up with a shortlist of the seven best elevated dog bowl feeders for Great Danes.
I did not include feeders under 15 inches in maximum height as they are frankly just too short to be of use to the average-sized adult Great Dane.
While shorter feeders are certainly useful for younger dogs and puppies, most Great Danes will be tall enough by the age of one to surpass feeders under 15 inches in height.
From a cost standpoint, it will be cheaper in the long to purchase a good feeder that your adult Great Dane can use for many years instead of a short period of time.
You could also choose to purchase a cheap, adjustable height feeder that bridges the gap into an adult-sized feeder.
Below is the shortlist of contenders that I narrowed the search down to before making selections for each category.
Should Great Danes have raised bowls?
While the answer to this question would seem an obvious yes, there is debate amongst the experts as to whether they are harmful or helpful. To the eye, it seems pretty obvious that a raised feeder increases comfort during eating.
However, some argue that this only allows Great Danes to eat faster than normal, therefore increasing the amount of air swallowed. This is relevant because some are concerned that this is a causative factor for bloat, but this has never been proven.
For older or injured Great Danes, the use of an elevated food and water bowl seems incredibly practical to me. I would sure have a hard time imagining asking my elderly grandparents to eat off the floor because "it's better for them"!
Even if it were proven to be the case, limiting their nutritional intake because it's quite literally too painful to reach doesn't seem like it's doing any good either.
If you're curious to learn more about the controversy around raised bowls/feeders, make sure to take a look at our article on the topic here.