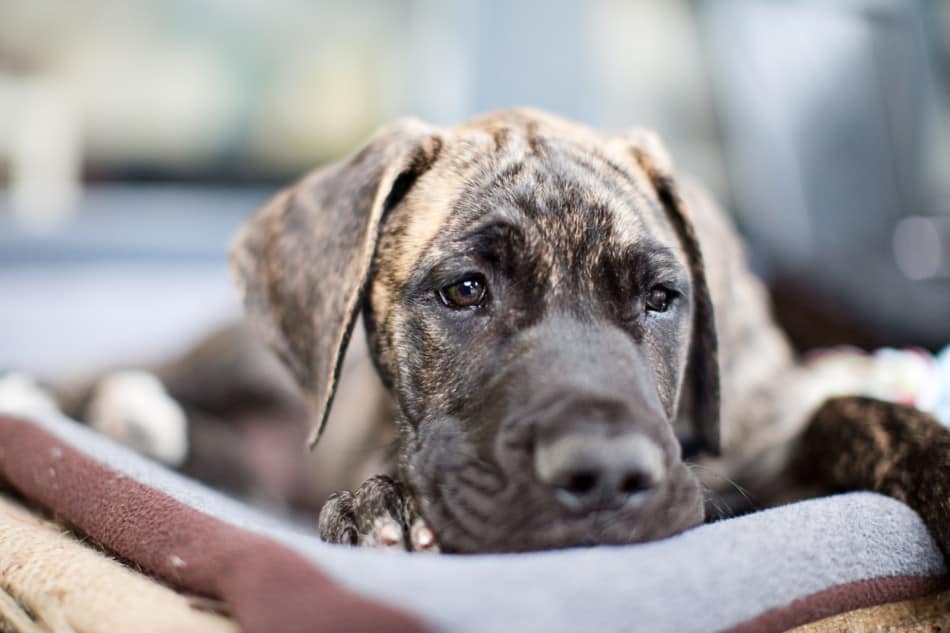 Although Great Danes tend to be low-odor dogs, caring for their fur coat and skin is still very important. When they are healthy, their coats are short, smooth, and brilliantly shiny. Great coats come from great skin, so it is essential to choose the proper Great Dane shampoo that caters to your pooch's grooming needs!
If there are dry patches or their coat is uneven, it may be a result of their sensitive skin. Dry skin can often lead to irritation, itching, and discomfort. Great coats come from great skin, so it is essential to choose the proper shampoo that caters to your pooch's grooming needs!
My Favorite Great Dane Shampoo
When approaching the task of bathing a colossal hound like a Great Dane, you need to have the appropriate equipment! This includes both cleansing and conditioning of their skin.
One of our tried and true favorites is Lavender and Mint Buddy Wash  2-in-1 shampoo and conditioner from Cloud Star. It is made with natural herbs and oils and is free of harsh ingredients and soap. This makes it ideal for the sensitive skin that many Great Danes have.
It will leave your pup smelling fresh and clean with a mild coconut shampoo base with lavender, mint, chamomile, sage, and rosemary essences.
To help aid with Great Danes' dry skin, the shampoo contains vitamin E, vitamin C, and tea tree oil. Gentle and soothing, this formula is suited for puppies and adults alike.
It is helpful to look for shampoos that have natural ingredients and are easy on the skin, usually with mild and hypoallergenic properties.
This shampoo and conditioner duo lathers up and rinses nicely. A little bit goes a long way and also helps cut back on time spent cleaning! Compared to other dog shampoos available, Cloud Star's Buddy Wash is the most affordable and effective choice.
My Pick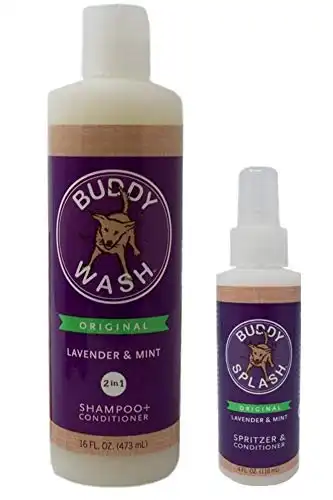 Buddy Wash Shampoo and Conditioner
This 2-in-1 Dog Shampoo & Conditioner is a dog deodorizer featuring botanical extracts of lavender and mint. This hydrating formula includes aloe vera, coconut, lavender, mint, tea tree oil, sage, and chamomile.
Buy on Amazon
Where other shampoos can leave canines feeling sticky and still dirty, or have an overpowering or unpleasant smell, this natural solution easily does the trick and leaves your dog with moisturized skin and a shiny and soft coat.
Now, the part you get to look forward to is how to dry your 100+ pound dog off!
If you need to avoid the mess of a regular bath or want to avoid drying out their skin, you can also consider using a dog dry shampoo. These require no water to get them smelling fresh and clean in a matter of just a couple of minutes!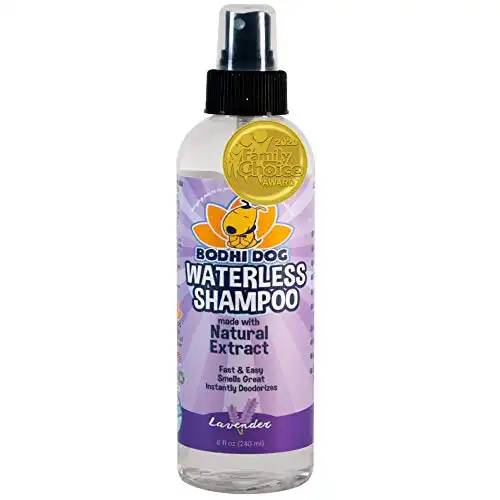 Why Can't I Just Use Human Shampoo?
Many shampoo brands aim to provide the ultimate hair care solutions! They may also claim to be chemical free, pleasant smelling, and promote healthy scalps and hair. Although that sounds great and may seem like the shampoo that we use is a viable option for pups – it isn't.
Human shampoo is designed with humans in mind, meaning that it might have some ingredients, either cleaning agents or perfumes. These can be too harsh for your Great Dane and it may upset the pH balance of their skin.
Even shampoo with mild formulas, like baby shampoo, is a no-go for dogs. Even though it may be gentle, there are still elements that can be dangerous for your Great Dane.
It's best to leave the human shampoo to the humans. When shopping for a shampoo, look for products that are specially formulated for dogs. Ideally, they will also have ingredients that will help with dry skin like oatmeal, organic oils, or aloe.
Tips for Bath Time
Great Danes are known for being pretty neat and can usually get away with frequent brushing to remain clean. Baths usually aren't a huge necessity unless they like to spend their days outside playing, or if they found something particularly smelly in the yard and need to be freshened up.
When it comes time to bathe, there are a few things to consider beforehand that will make the task much easier for you and your pup.
Gather everything you need before starting the bathing process—and be sure to grab extra towels! Having everything next to you before you start will make the process a bit faster. It also ensures that you'll never have to leave your pup unattended .


Bathe somewhere with ample space. Washing a Great Dane is akin to bathing a full-grown human. These behemoths already are hard to contain when dry, imagine once they are slippery and wet!


Brush your dog's fur before it gets wet. Give it a once-over with a soft bristle brush to remove any loose hair. Remember to brush in the direction of their coat to avoid any discomfort. Brush out any matted hair gently with your fingers.


Avoid getting water in their ears. This can be very uncomfortable for your Dane. More concerning, it can even lead to health problems down the road. Before bathing, place a few cotton balls in their ears (but not too far in!). Remove once the bath is finished.


Use lukewarm water. This helps not to dry out their sensitive skin or get them overheated when in the tub.


Avoid getting shampoo in the eyes, nose, or mouth. Use a washcloth to wipe around the face area instead of applying shampoo to their head.


Get your dog as dry as you can. A combination of towels (yes, plural!) and air drying is the best route. Blow dryers can blow out too hot of air and cause itching and dandruff.
Additional Tips for a Healthy Coat and Skin
When healthy, Great Dane hair should be short, smooth, and glossy. Like humans, healthy hair is a result of healthy skin.
In order to care for your Great Dane and their sensitive skin, there are a few things to keep in mind.
Keep up with brushing. Gentle brushing helps to stimulate the skin, flush out dirt, and get rid of build up and loose hairs. It is especially essential during shedding season (usually around Spring time). If you notice matting or knots, use your hands to gently comb through the hair and work it out.


Add omega product to their food to help with dry skin, itchiness, and excess fur loss. Due to their size and skin condition, Great Danes should have a protein-rich diet with limited fillers and preservatives. Adding an oil supplement like Ultra Oil to their daily meals will help fight against skin irritation, shedding, and digestive issues. The skin and coat supplement contains natural oils like sardine, anchovy, hempseed, and grapeseed provide the essential fatty acids that promote a healthy coat.


Keep bathing to a minimum, especially in wintertime. Too many baths can strip your dog from all their essential oils and leave their sensitive skin exposed. To keep your Great Dane clean throughout the winter, continue to brush and use dry shampoo when necessary.


Bathing won't fix all smelly dogs! While a quick bath resolves the stink in many cases, it's not the only reason why they might stink. In fact, there are 6 are common reasons why your Great Dane may not be smelling rosy anymore!