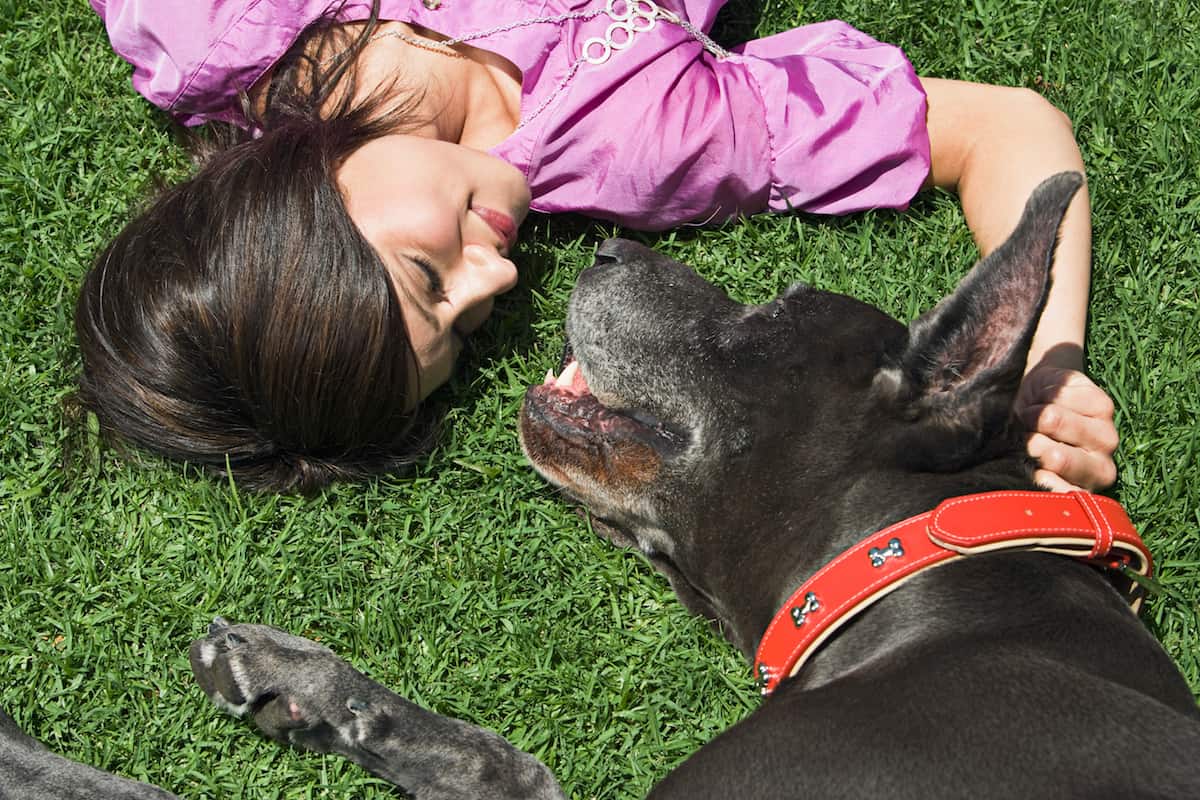 If you're looking for gift ideas for the Great Dane lover in your life then you've come to the right place! In this article, we'll cover a list of some awesome present ideas that will leave these Great Dane owners downright delighted.
All of these items represent unique ways for your family member, loved one, or friend to showcase their love of their extra special giant breed dog.
1. Great Dane Doormat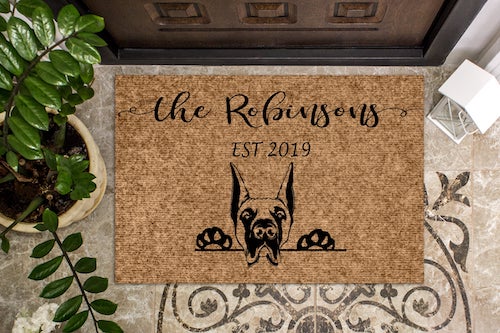 Nothing says "I love my Great Dane" like incorporating them into the entryway to your home!
If if their visitors don't hear the Great Dane while approaching, they'll certainly have a good idea that this is Dane house once they reach the front door.
These mats come in a variety of sizes, and can be personalized with their name and established date across the top. You can learn more details about this personalized Great Dane doormat here.
2. Great Dane Shirt
While doormats are a fun way to greet your guests, they don't exactly travel well for regular outings. Why not give them a gift that can literally be worn out and about to share their love of Great Danes?
Better yet – these shirts can be customized with their Great Dane's name on it to make them even more special. Because many people want their clothes to be a direct representation of themselves, this one seems like a no brainer!
Previous purchasers rave about the high-quality of the shirt, its buttery softness, and the large number of compliments that they get while wearing it!
The shirt comes in wide variety of colors and sizes, so you'll be sure to find the one that will make the perfect gift for your friend. Take a look here to see which colors and sizes they have in stock.
3. Great Dane Earrings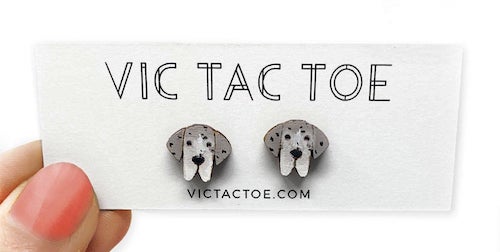 Jewelry can often be a tough gift to give if you don't have a really good understanding of what someone already has.
The great news about these earrings is that it's highly unlikely that you have to worry about giving them something that they've already got!
If you weren't already sold on these as a gift idea it's about to get better…
The best part about these earrings is that the creator will paint them to look like the owner's Great Dane! Make sure to grab a picture of their Great Dane from Facebook, Instagram, etc… to submit with the order so that it can be painted to look like their pup.
Click here to learn more details about these amazing Great Dane earrings and order a pair.
4. Great Dane Mug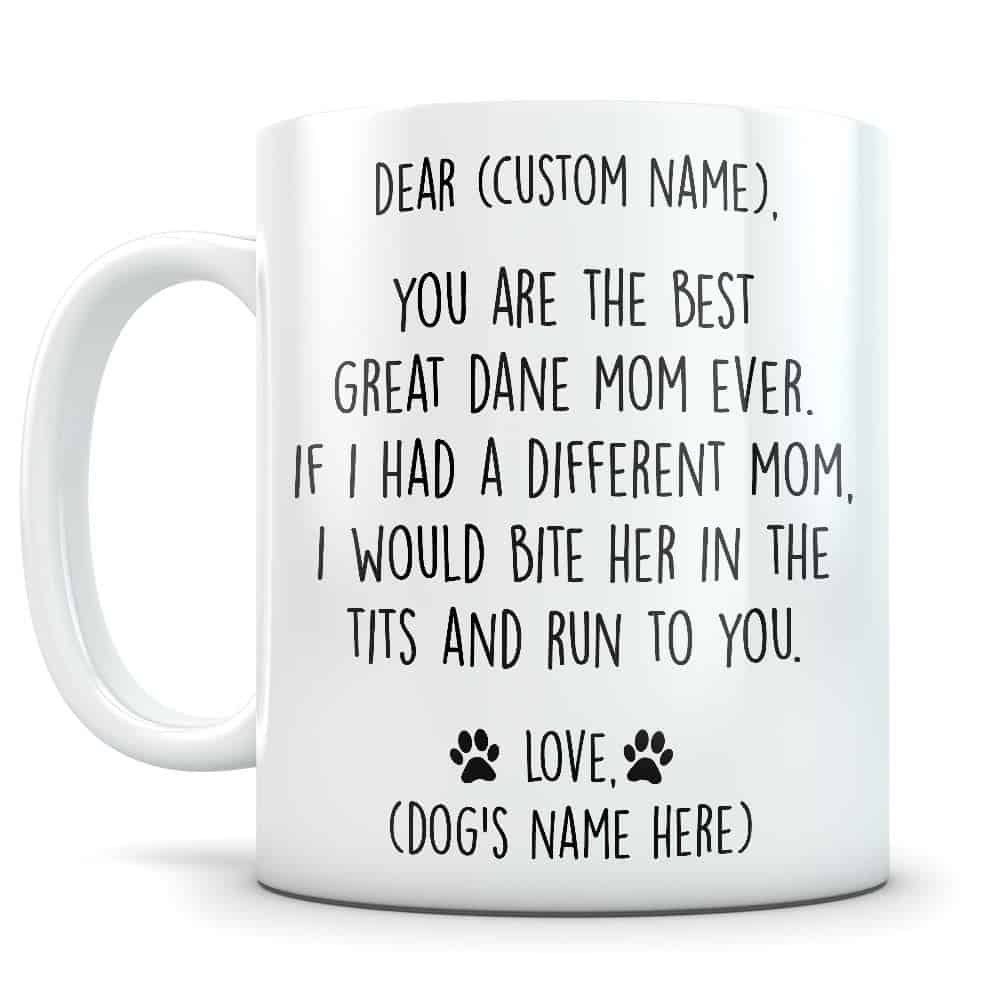 Between work, kids, and all of the other crazy things in our lives there's always the need for a great mug. Whether you're looking for that pick-me-up from a cup of coffee or tea, or just a warm soothing drink, a great mug is a necessity!
Knowing that fur babies hold a special place in owner's hearts, the message on this mug helps reinforces this love!
While it's geared towards dog moms, it is perfect for any special occasion, event, or holiday. Made of high-quality ceramic, it's both dishwasher and microwave safe.
Click here to learn more details about this perfect Great Dane mug.
5. Great Dane Tumbler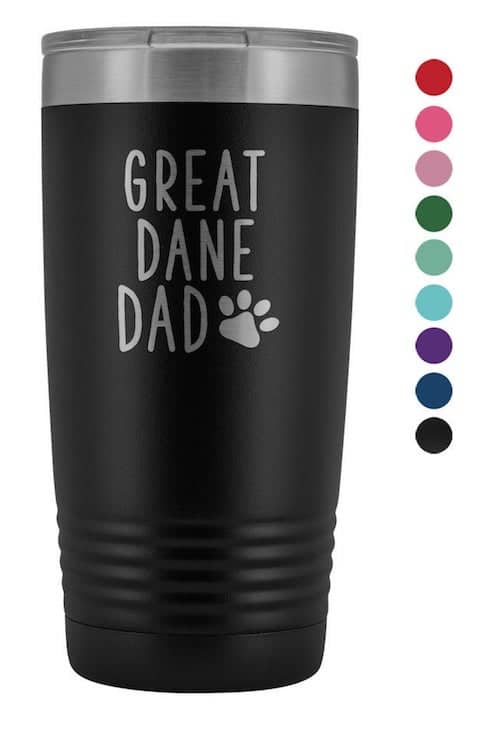 Not wanting to leave our Great Dane dads without any gift options we've got a Great Dane tumbler! We all know that dad enjoy a good beverage, so why not get them a tumbler that also exudes their love of Danes?
This tumbler comes in 20 or 30 ounce variations (although, I'd recommend the 30) and is constructed of double-walled stainless steel with vacuum insulation to keep drinks cold or warm.
It comes in variety of colors and can have the message personalized as well. For more details or to order, this mug can be found here.
6. Great Dane Phone Case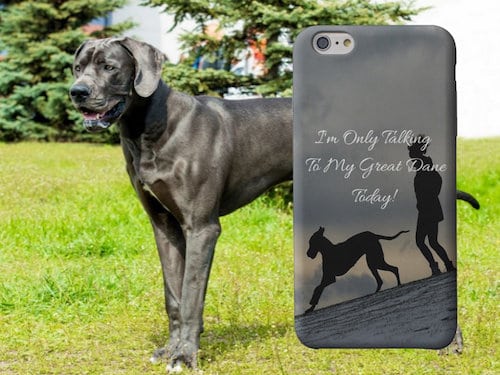 People take their cellphones everywhere these days. So why not spruce things up by putting a special case over that phone!
Naturally – I'm talking about a Great Dane case 😉
This case is made of a hard plastic that allows it to remain slim while still fitting your phone like a glove. It's custom fit to a variety of Apple and Samsung phones, so make sure to figure out what phone model that they have before ordering one.
Best yet, it allows you to customize both the wording on the case as well as the image. Further ensuring that this will be a one of a kind gift!
lick here to get more information about these customizable Great Dane phone cases.
7. Great Dane Watercolor Painting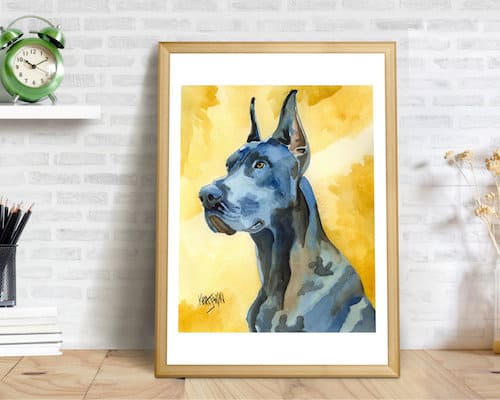 Just like clothes represent us out in public, how we decorate inside our homes says a lot as well. Take things up a notch by gifting a lovely watercolor painting to your Great Dane owner!
While these aren't custom painted, the artist does offer a variety of Great Dane images to select from to ensure that you get one close to the likeness of the owner's dog.
Make sure to scroll down to the bottom of the artist's gallery on this page to see the other options available.
8. Great Dane Metal Sign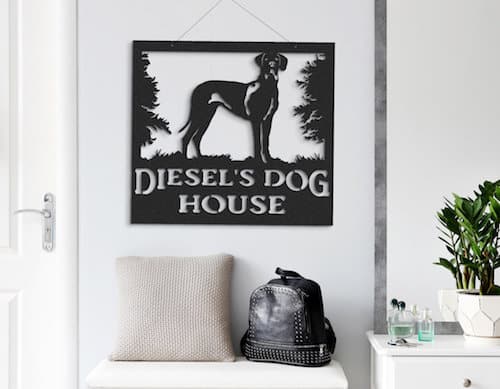 If you liked the idea of wall art but didn't think that a watercolor was the right fit, then take a look at this rustic metal sign.
It's made of steel and then coated with a black powder coat to ensure a clean finish and enhance its ability to withstand the elements. Making it suitable to be placed indoors or outdoors.
The sign comes in multiple sizes and can have the name customized. I can guarantee you that this gift will make other Dane owners envious!
Click here to learn more about this fantastic custom rustic metal sign.
9. Great Dane Sweatshirts
Ask any owner and they'll confirm for you that snuggling with their Great Dane is one of the best feelings in the world. Because they can't snuggle with their dog 100% of the time, a good alternative is cozy Great Dane sweatshirt!
These sweatshirts come in a variety of sizes and colors to suit any Great Dane owner. They also allow for the ability to customize the message on the front to include their dog's name.
For more details on these sweatshirts or to place an order, you can find them here.
Final Thoughts
Finding the perfect gift rarely comes down to spending the most money. Picking gifts that were picked with intention can leave a lasting impression and make someone incredibly happy!
In particular, small personalized touches can transfer an ordinary gift into an extraordinary one.
Just make sure to double and triple check the spelling of names and other text before ordering anything!
Related Articles