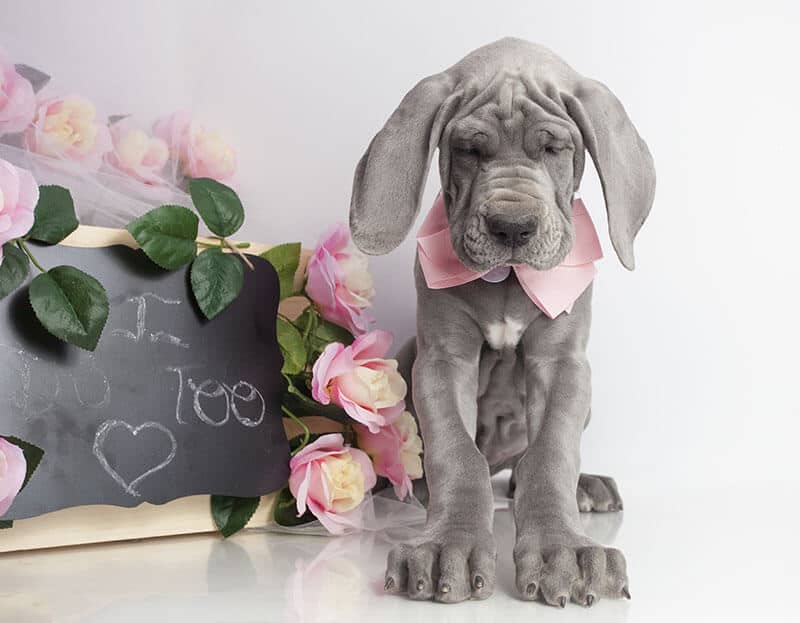 Finding the right Great Dane breeder is a very important step in the process of bringing home a new puppy. You will spend the next 8-10 years with your new Great Dane, so making sure that they come from a responsible breeder is critical. While obtaining the puppy from a breeder is not a 100% guarantee against future health issues it does lessen the chances.
To help maintain the quality of the breed, the Great Dane Club of America (GDCA) has created a code of ethics for Great Dane breeders to follow. This code of ethics provides guidelines for responsible ownership as well as ethical breeding practices.
This means that a good Great Dane breeder will be evaluating your potential as a good owner as much as you are evaluating them.
The breeder selection process should be taken slowly and never rushed. You should walk away if at any point you feel pressured into purchasing or placing a deposit on a puppy.
What To Look For In a Great Dane Breeder
Location
To improve your odds of locating a good breeder, start by creating a list of those within driving distance. This allows you the chance to physically inspect the breeder's facility as well as meet the dogs.
To assist with identifying local breeders, we put together a list of breeders by state. This was created as a courtesy for breeders and potential buyers, and should not be viewed as an endorsement of the Great Dane breeders themselves.
Once you are on-site, you can preview all of the facilities to ensure that they are clean and well kept. If possible, also meet their Sires and Dams to inspect their structure and temperament.
They are fantastic indicators for how puppies from their future litters will appear and behave.
In the event that you are not within a commutable distance to the breeder, you can still remotely research them. These same criteria can also be used in the event you are able to perform a physical visit.
Recent photos of their facilities (image capture dates can be verified using an image EXIF viewer). The facilities should appear to be clean and well kept.


Ask the breeder for references from past buyers. Ask them about the health and temperament of their puppy. Also, inquire if they would purchase from the breeder again.


Speak to the breeder's veterinarian. Because they tend to all litters from the breeder, they should be able to share information about the overall health of the breeder's litters.
This level of thoroughness demonstrates your desire to care for the Great Dane.
If the breeder is unwilling to share the contact information to perform these background checks then it is probably a good sign that you should find a different Great Dane breeder.
Color and Style
Some Great Dane breeders focus on breeding the American or European styles. While the differences are actually pretty small, the most obvious can be seen in a Great Dane's head.
American style Great Danes have less lip, and a more delicate rectangular-shaped head. Their physical build also tends to be a little lighter than that of the Euro-style.
By comparison, European style Great Danes have heads that are squarer in shape. While there are claims that the European style Great Danes are healthier and have better temperaments, the difference always comes down to the quality of the bloodline and not the "style".
From a show standpoint, the American Kennel Club (AKC) and FCI (European) breed standards are identical. Thus proving the point that the physical differences are truly minimal.
Many breeders also specialize in the breeding of select official breed colors. If you've already got your heart set on a certain color, then you may not be able to find matching litters at all breeders.
Contact breeders to determine what colors they expect from their upcoming litters.
Puppy and Parent Health
As previously mentioned, meeting and inspecting the litter's Dame and Sire is a very good indicator of how the puppies will be as adults. The key things to take note of will be their physical build and temperament.
Once the litter is born, meeting the new pups is also nice as it gives you a chance to understand their personality. It may take some time for the puppies to warm up to you after arriving, but you should be able to identify if they are dominant or submissive, and shy or outgoing.
If you are not sure, ask the breeder to help identify a puppy whose personality fits you. Remember that they are equally interested in placing a puppy in a compatible home and should be willing to help.
Puppies should receive consistent veterinary care from the time of birth to check for defects and receive some of their vaccinations prior to going home with you.
The parents may have also received additional health screening to check for common issues such as dysplasia (OFA-Hip or Penn-Hip) or CERF (Canine Eye Registration Foundation).
A fantastic sign is if the breeder offers some form of health guarantee. Typically these have a limited timespan and could come with additional stipulations.
This could result in a partial refund of their purchase price, or even taking back the animal to provide proper care and prevent it from ending up in a shelter.
Potential Breeder Warning Signs!
#1 Puppies "Always" Available
Respectable Great Dane breeders mate animals with the intent of producing dogs that meet the breed standard. This is true whether the litters are intended for show or as companion pets.
Those that advertise the sale of "rare" colors, "extra-large", or "extra-small" dogs are trying to produce something different or exotic to gain sales instead of focusing on quality.
Non-standard colors and sizes can also come with a high chance of health concerns.
#2 Non-Standard Colors and Sizes
It is highly unlikely that a Great Dane breeder truly focused on quality will be able to support more than a couple of litters per year. High-quality Great Danes are not a mass-producible good.
Good breeders are far more focused on the care and raising of healthy pups than making money from you.
If you care about Great Danes, then support the breeders who care about them as well. Health complications down the road will cost far more than what you might initially save by purchasing from a less reputable breeder.
#3 No Papers
Breeders should not breed unregistered dogs due to the inability to research the animal's medical history.
Researching their ancestor's backgrounds can help identify them as carriers of genetic diseases that might show up in their offspring.
Steer clear of puppies for which the breeder cannot provide papers.
Good Breeder Indicators
While not all of these should be considered "requirements", they are a good indicator of a caring Great Dane breeder. They put a lot of time and attention into raising their litters.
Their only intent is to see the best for the dog in the long run.
Limited Registration – For those only interested in having a Great Dane as a companion pet, limited registrations are an excellent option. This means that while your Great Dane will be AKC registered, any offspring they may have would not be eligible for registration. This once again ensures that the proper gates are in place to ensure that the pros handle breeding. It also typically lowers the purchase price.


Show Quality – While you may not intend to show them, breeders who breed with the intent to show are very particular about bloodlines. They carefully seek out just the right temperament, build, and medical history to produce the ideal Great Dane. This care in breeding can pay dividends in producing high-quality litters.


Home Raised – Puppies that have been raised from birth in a home instead of a kennel are likely to be better socialized and ready for home life. Raising them in a home prepares the pups for the constant human contact that they will experience when they do join your family. Of course, this does not mean that a kennel-raised dog cannot also be successful in a home.


Requirement to Spay / Neuter – Breeders know exactly how much work it takes to care for a litter of puppies. Many will explicitly require that you spay or neuter your Great Dane to prevent the occurrence of accidental litters. Many of which may end up in poor homes or shelters should they be born.


Required Obedience Classes – Some breeders may require that you take your Great Dane puppy to obedience classes. While this may seem a bit over the top, they are only looking out for the dog's best interest. Having a well-trained Great Dane will make the experience that much more enjoyable for the dog and your family.


Support – Many breeders will offer the option to contact them with questions regarding the care of your puppy after purchase. These could be questions related to food, training, etc…
Exclusive Bonus: If you're currently looking for a Great Dane breeder, I'd recommend that you take a look my breeder locator tool. This will save you a TON of time in your search!
What A Breeder May Ask From You
Up until this point, we have focused on what you should look for in selecting a Great Dane breeder but let's not forget that this is a two-way process.
Potential requirements to spay or neuter, and attend obedience class were covered in the section above.
However, here are a few more things that you may be asked about.
Do you live in a home or apartment?
Do you own or rent this residence? If renting, do you have written permission to have a dog?
How many individuals live in your residence?
Do you have a fenced-in yard?
Are you planning on crate training your Great Dane? If not, please explain why.
Why do you want a Great Dane?
Have you owned a Great Dane previously? If not, please describe your experience of owning other dogs.
Who will be responsible as the primary trainer?
Provide the contact details of your veterinarian.
Are you aware of Great Dane's life expectancy and potential health risks?
While some of these may seem invasive, the breeder's only intention is to place the dog in a good home. Many will also have requirements that if for any reason you need to get rid of your Great Dane, that you must return it to them.
A proper Great Dane breeder does not want to see them poorly cared for or ends up in shelters, and will do everything in their power to prevent that from happening.