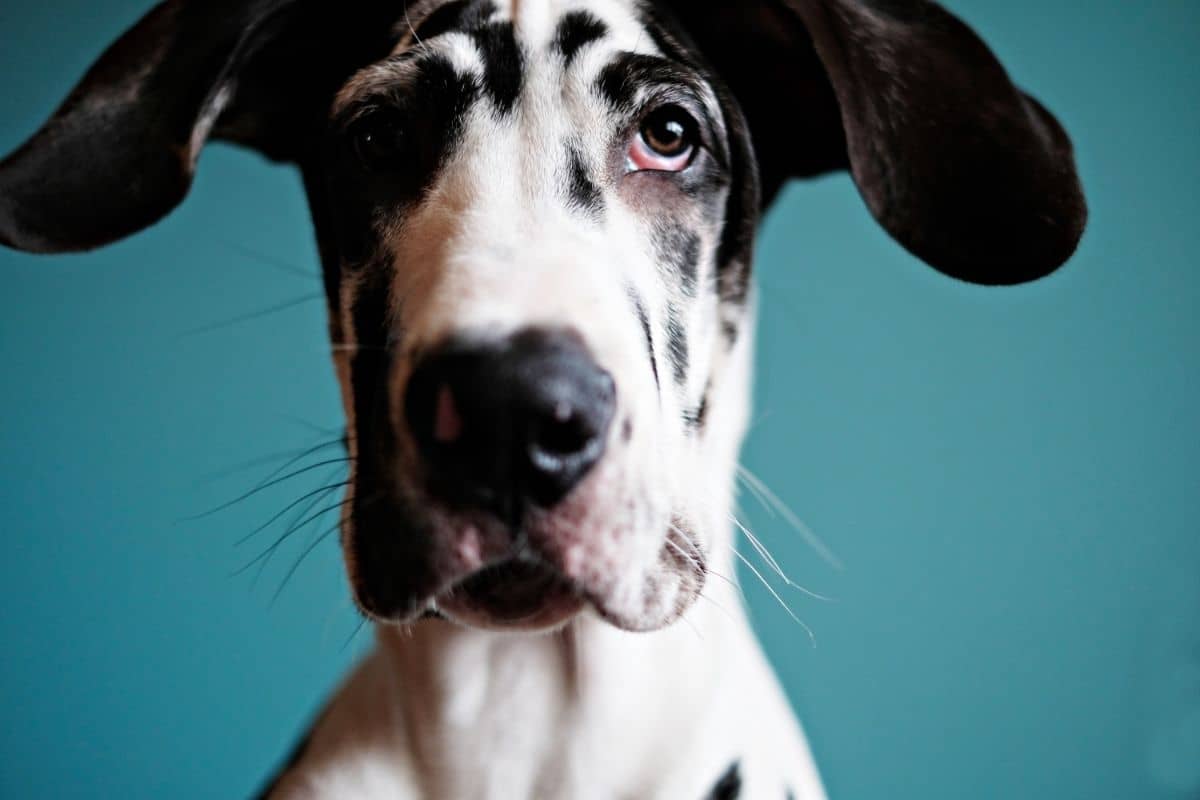 If you choose to feed your Great Dane puppy food, then you may be wondering what the appropriate age is for them to transition to adult food. While smaller breeds can be transitioned around 9-12 months, giant breeds like Great Danes require a specialized approach to support their longer growth phase.
Great Danes should be transitioned from puppy food to adult food when they are 18 months old. This ensures that they receive the necessary nutrients to support early growth, while not overfeeding them as adults.
In addition to knowing when to switch, there are other factors to consider such as how to switch and what constitutes a "good" puppy food for Great Danes. Keep reading to learn more about these important details.
How to Switch your Great Dane Puppy's Food
If your Great Dane is eating a quality food and healthy, then there's no need to switch their food!
However, if you'd like to upgrade to a better quality food or they don't seem to be handling it well, then you'll want to have a plan in place for how to switch.
To avoid disrupting their growth and limiting gastric distress, the following schedule is a good approach to changing foods over the course of three meals.
MEAL 1: 50% old food, 50% new food
MEAL 2: 25% old food, 75% new food
MEAL 3: 100% new food
Keep an eye on your Great Dane during this transition for vomiting or serious behavioral changes. As always, make sure to contact your veterinarian if you're worried about their health during a food change.
When switching foods from puppy food to adult food, it is best to try to stay with the same brand or protein source. For adult foods, you can also reference my list here of recommended Great Dane foods.
If the puppy food that you are feeding is lamb and rice, try to feed adult food that also contains lamb and rice. This will help decrease any side effects or even food allergies from showing up that your Great Dane may have.
Does my Great Dane Puppy need large breed puppy food?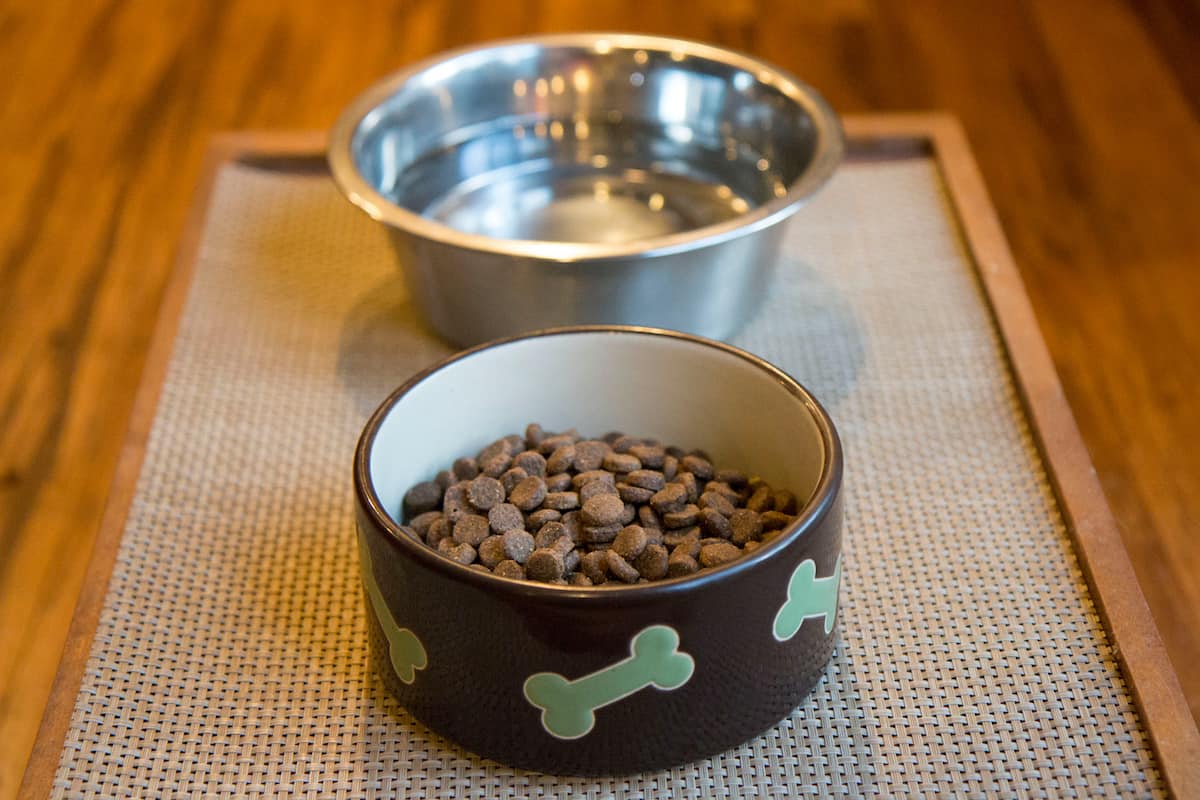 Large breed puppy food is specifically formulated with large breed dogs in mind. While there is not one dog brand that is best for all Great Danes, they do need to eat one that is specifically designed for fast-growing.
Large breed dog food is different from regular dog food in these 4 ways:
Contains less calcium
Contains less fat
Contains less phosphorus
Contains less Vitamin D
Many people think that their large breed dog would need a diet that is high in calcium to help with bone growth. There are recent studies showing that higher levels of calcium cause your Great Dane to have rapid growth, which can lead to the development of joint issues.
You want to aim for steady growth for your Great Dane, not rapid growth spurts.
These are a few common issues that are seen in Great Dane puppies who grow very fast. These diseases are:
Hypertrophic Osteodystrophy (HOD),
Osteochondritis Dissecans (OCD), and
Panosteitis or (Pano)
Great Dane puppies will need a special diet to help prevent certain diseases that they are known for. By feeding a diet specifically designed for large breed dogs, you will help decrease any chance of your Great Dane developing orthopedic issues, obesity, and bloat.
All of these diseases are influenced by your dog's genetics and the food that you feed to your Great Dane.
What Should I Feed My Great Dane Puppy?
When you first get your Great Dane puppy, try to feed the exact same thing that the breeder was feeding. This helps decrease and GI issues that may come with switching diets.
Once your new Great Dane puppy has adjusted to their new life at a new house, you can start to gradually switch their diet to the diet that you have picked out for them.
When looking for a diet for your Great Dane puppy, these are a few things that you should consider:
The protein level should be between 20% – 26%
The first ingredient is a wholesome protein source
Calcium level between 1 to 1.5%
Fat Content 12% to 20%
Look for a diet with fatty acids, digestive enzymes, and probiotics
You should always look for a diet that you can easily pick up at a local pet store even if you plan always to order online. There will be a time when you forget to order, or the mail is running slow, and you do not want your puppy to go without food.
Chewy.com is a great place to buy your Great Dane food online; they even can set up automatic deliveries, so that you don't forget and never run out! This is the route that I've used for years and don't see myself changing anytime soon 😉
Best Great Dane Puppy Food
Here is a list of Great Dane puppy foods that meet these criteria.
You can easily find this food on Chewy.com and have them delivered right to your front door!
These are just a few of the fantastics foods that you can feed your Great Dane puppy.
How often should I feed my Great Dane Puppy?
These dogs are constantly needed food to keep up with their growing demands. A very young Great Dane puppy may eat 2 to 3 cups of food three times a day. For the first 3 to 4 months, you should feed your Great Dane puppy 3 times a day.
As they get older, you can decrease this to twice a day. Once they become an adult, you can switch to once a day feeding if needed. Many puppy foods have a feeding guideline on the back of the package, or you can follow this chart below as a starting point.
| | | |
| --- | --- | --- |
| Age in months | Cups of Food | Meals / day |
| 2 | 2 – 4 | 3 |
| 3 | 3 – 5 | 3 |
| 4 | 4 – 6 | 3 |
| 5 | 5 – 7 | 2 |
| 6 | 6 – 8 | 2 |
| 7 | 6 – 9 | 2 |
| 8 | 6 – 9 | 2 |
| 9 | 7 – 10 | 2 |
| 10 – 12 | 7 – 10 | 2 |
| 12 – 18 (females) | 6 – 9 | 2 |
| 12 – 18 (males) | 7 – 10 | 2 |
Great Dane puppy feeding chart
By following this chart, you will make sure that your Great Dane puppy is eating enough food to keep up with their fast-growing size.
Sometimes you need to keep an eye on your puppy to tell if you are feeding them enough. Make sure that your Great Dane puppy is not overweight or underweight. While many times you will be able to see and feel your Great Dane puppy's ribs easily, they should be gaining weight and not look too skinny.
If your Great Dane puppy looks too thin, you may need to increase how much you are feeding them. If they are getting a little on the fat side, you may want to decrease the amount that you are feeding slightly.
Having a Great Dane that is overweight can lead to many different health issues if this weight problem continues into adulthood.
When Should I switch from Adult food to Senior Food?
Great Danes do not live as long as some of our smaller dog breeds and need to switch to a senior dog food earlier than a small dog. It is best to switch to senior dog food when your dog is about 5 years old.
These senior dog foods are designed to help protect their bones and joints and well as help meet their dietary needs as a senior dog.
When switching to a senior diet, also do so slowly to prevent any GI upset. As your dog starts to get older, you may also need to decrease the amount of food that they are eating. Older Great Danes are not as active as younger dogs and will not need as many calories.
Final Thoughts on Switching from Puppy Food
Great Danes are very fast-growing puppies! The diet that you feed them will affect their overall health. By making sure that they eat puppy food for at least 18 months will help make sure that they get started off on the right track with their health.
After this, they should have almost reached their maximum ideal weight and can slowly switch to adult food. Good nutrition is key to your Great Dane living a long and healthy life.
In addition, you may also be wondering if it's necessary to feed a Great Dane a puppy food instead of adult food. The good news for you is that I address that exact topic in this article!