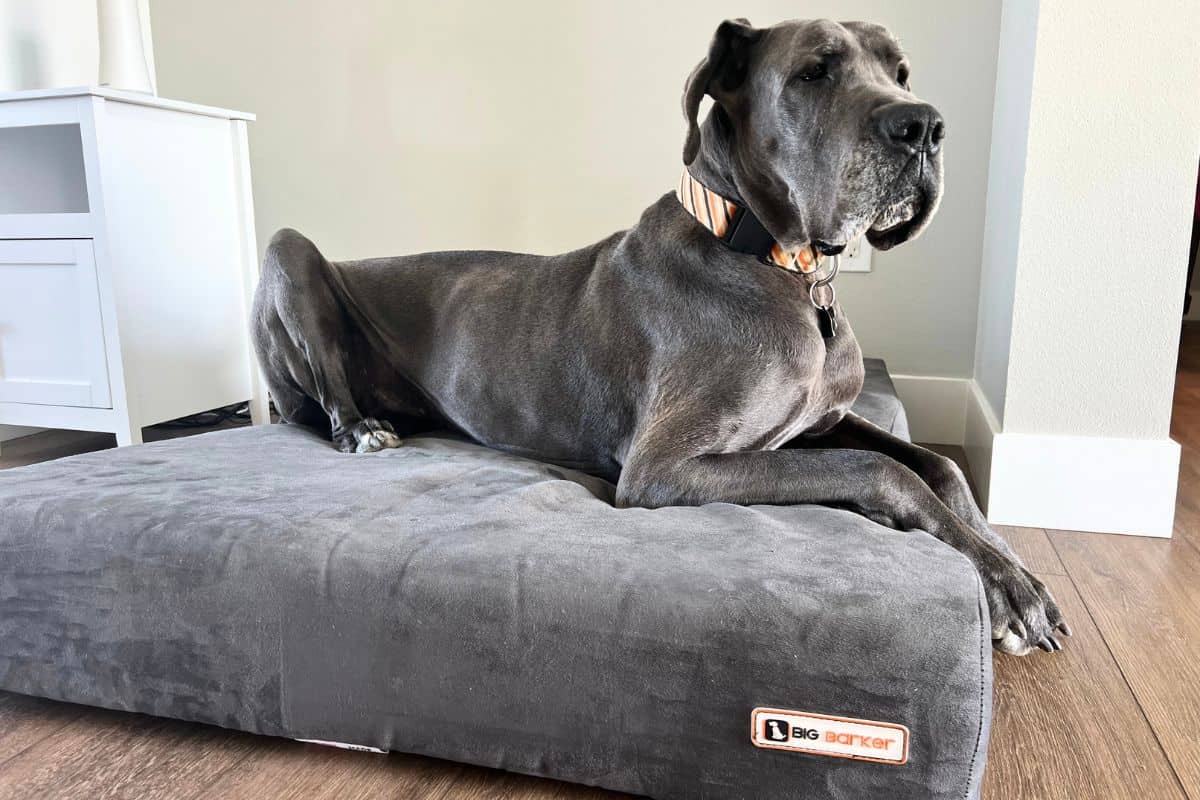 If you're looking to get an amazing dog bed but want an expert opinion on a Big Barker dog bed review before spending the money, you've come to the right place!
Dog beds come in various shapes, sizes, and materials, catering to the diverse needs of our dog companions. One particular product that has gained significant popularity among pet parents is the Big Barker dog bed.
With its unique design and high-quality materials, this bed promises to provide exceptional comfort and support for dogs, particularly larger dog breeds.
Dog beds are essential for our pets' health and well-being, as they provide a dedicated space for rest, sleep, and relaxation. Moreover, a high-quality dog bed can help in alleviating joint pain, support healthy growth, and provide a sense of security to the dog.
This is where the Big Barker dog bed stands out, as it is designed with orthopedic foam that caters to the specific needs of large and giant dog breeds, which often face joint issues.
When considering a dog bed, factors such as the material, size, durability, and ease of cleaning play a vital role. These aspects determine the product's quality and longevity and influence its comfort and support to our dog companions.
Considering these factors, I thoroughly researched and tested the Big Barker dog bed for this full review to help you decide on your pet's comfort and well-being.
With this comprehensive analysis, I hope you find this review of the Big Barker dog bed helpful for finding the best bed for your dog.
I highly recommend the Big Barker Orthopedic Dog Bed for large dogs due to its impressive support, durability, and comfort.
Having owned several Big Barker dog beds for 5+ years, I can say that they've truly stood the test of time and big dog use and is outstanding!
My Pick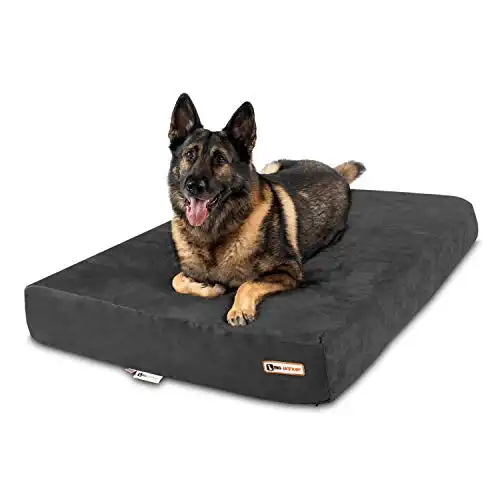 Big Barker Orthopedic Dog Bed
The Big Barker bed is specifically calibrated for the comfort of a big dogs like Great Danes! Its proprietary foam is engineered to support a 300+ lb dog, and it's large enough to let your Great Dane stretch out. It's manufactured in the USA and comes with a 10-year warranty.
Buy from Amazon
Buy from Chewy
Pros
Excellent joint pain relief
High-quality, washable microsuede cover
Made in the USA with a 10-year warranty
Cons
Pricey compared to other dog beds
No waterproof foam cover included
It may be too firm for smaller or lighter dogs
After using the Big Barker Dog orthopedic bed, I noticed a significant improvement in my large dog's comfort and mobility.
The thick bed foam supports my dog's joints, allowing them to rest and sleep more comfortably. After switching to these big beds, it was very rare that I saw my Great Dane walking with a limp after waking up in the morning.
If she spoke human, I can assure you that her review would be positive!
The Big Barker dog beds elevated design also keeps it from flattening or pancaking over time, and the orthopedic foam has been clinically shown to reduce joint pain.
The microsuede cover on the Big Barker bed is machine washable and smell-resistant, ensuring easy cleaning and maintenance. Additionally, the fabric is highly durable, standing up to my dog's silly digging and nesting habits.
She's so particular about finding just the right spot when lying down, so this is an important feature!
The zippered design of the Big Barker cover is well thought out, providing a sleek look and making it simple to remove for cleaning.
While the Big Barker bed is a fantastic investment in your dog's comfort and health, there are a few drawbacks to consider.
The bed's price is higher than other options on the market.
Additionally, the bed does not come with a waterproof foam cover, which could be an issue if your dog is prone to accidents.
Lastly, while this big bed is perfect for larger dogs, it may be too firm for smaller or lighter dogs to find comfortable.
Price can be a tough item to evaluate in any retail purchase, and you'll often wonder if any item is worth the cost.
The Big Barker Dog Beds exceptional support, durability, and comfort make it a great choice; despite its higher price and a couple of minor drawbacks, it is worth the price.
I believe the Big Barker Dog Bed is absolutely worth the investment if you have a big dog and is an outstanding dog bed.
Better yet, it looks great in our home!
Your dog's improved sleep quality, reduced joint pain, and increased mobility will make the purchase of a Big Barker dog bed more than worth it.
How do you clean a big barker bed?
If you're going to keep a Big Barker bed for years, then you need to have the ability to clean it easily!
After all, your dog will be spending a fair amount of time lying on this bed, so it needs to not be smelly 😉
Thankfully, Big Barker makes this easy as its dog bed cover can be easily removed and is machine washable. (Wash it with cold water for best results).
Once clean, you can choose to let the Big Barker bed air dry or place it in your dryer for faster drying.
More details on clearing and caring for a Big Barker bed can be found on their website here.
What sizes do Big Barker Beds come in?
Big Barker dog beds come in a variety of sizes!
While most people opt for their big bed options, they come in a range of sizes depending on the model.
Let's look at the sizes available for each Big Barker bed option.
Big Barker 7″
The size dimensions listed below all apply regardless of the bed style selected.
| | |
| --- | --- |
| Size | Dimensions [inches] |
| L | 48″ x 30″ x 7″ |
| XL | 52″ x 36″ x 7″ |
| Giant | 60″ x 48″ x 7″ |
Big Barker bed dimensions for the 7″ model.
Orthopedic Crate Bed
| | |
| --- | --- |
| Size | Dimensions [inches] |
| S | 27″ x 18.2″ x 4″ |
| M | 33.2″ x 21.2″ x 4″ |
| L | 39″ x 25.5″ x 4″ |
| XL | 44.8″ x 27″ x 4″ |
| XXL | 50″ x 32″ x 4″ |
Big Barker bed dimensions for the orthopedic crate model.
Backseat Barker: SUV Edition
Big Barker specifically calls out on their website that the bed is designed to touch the sides of the vehicle in the back to help hold it in place.
Only select the XL option if you have a big SUV like a Ford Explorer, Chevy Suburban, or Dodge Grand Caravan.
So break out that tape measurer, and find out which one is right for you!
| | |
| --- | --- |
| Size | Dimensions [inches] |
| M | 55″ x 25″ x 3″ |
| L | 58″ x 35″ x 3″ |
| XL | 61″ x 45″ x 3″ |
Big Barker bed dimensions for the backseat model.
Where Can you buy Big Barker Dog beds?
Big Barker dog beds can be purchased from a variety of retail locations.
Purchase options include direct from Big Barker directly, Amazon.com, Chewy, Walmart, and Target.
Dog Bed Buying Guide
When choosing the best dog bed, I consider several factors to ensure my furry friend gets the comfort and support they deserve.
In this buying guide, I'll outline key aspects to look for when selecting the ideal product.
1. Size and Dimensions
It's essential to measure the size of your dog and consider its growth when selecting a dog bed.
The bed should provide enough space for the dog to move, stretch, and change positions comfortably.
A useful tip is to measure the dog from the tip of his nose to his tail and add 6-12 inches to determine the ideal bed length.
2. Quality and Durability
Investing in a high-quality and durable dog bed is essential, and I can tell you that it absolutely has saved me money in the long run!
I look for dog beds made from strong materials, such as heavy-duty canvas or ripstop nylon, that can resist wear and tear.
The bed should also have a robust construction that retains its shape and support even after the dog frequently uses it.
3. Support and Comfort
Prioritizing support and comfort is crucial, especially for dogs with joint or muscle pain.
I search for beds with orthopedic foam that evenly distributes my dog's weight and provides adequate pressure points support.
A bed with a bolster or contoured design can also benefit the dog, as it offers additional comfort and a sense of security.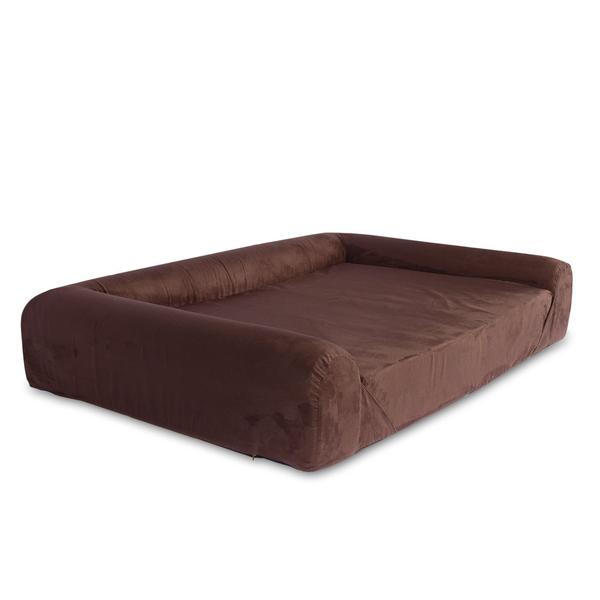 4. Washability and Maintenance
Keeping your dog's bed clean is essential for maintaining his health and the cleanliness of your home.
A bed with a removable, machine-washable cover is a must, as it simplifies the cleaning process and extends the bed's lifespan.
It's also a good idea to check if the bed has a water-resistant or waterproof material to protect against spills and accidents.
By carefully considering these key factors, I can confidently choose the best dog bed for my beloved pet, ensuring his comfort and well-being.
Keep in mind the importance of size, quality, support, and washability when making your decision.
How long do these beds last?
Big Barker dog beds are known for their durability and high-quality materials, and they're designed to withstand the weight of larger dogs without flattening over time.
Big Barker asserts that its beds maintain 90% of their original shape and loft for at least ten years.
However, the actual lifespan can vary based on factors like your dog's size, activity level, and habits, such as chewing.
Big Barker backs their claims with a 10-year warranty that covers bed flattening. Reviewing the warranty details to understand what is covered is always a good idea.
Big Barker FAQs
HOW DOES THE BIG BARKER ORTHOPEDIC DOG BED COMPARE TO OTHER BRANDS?
In my experience, the Big Barker orthopedic dog bed stands out due to its quality and durability. The American-made therapeutic foam used in these beds provides excellent support for dogs, especially those with joint issues.
Compared to other dog bed brands, Big Barker dog beds seems to uphold a higher standard of materials and craftsmanship, which makes their beds more long-lasting.
IS THE BIG BARKER DOG BED WORTH THE INVESTMENT?
The Big Barker dog bed is worth the investment, especially for those with larger dog breeds or dogs with joint issues. Its high-quality foam provides excellent support, and its durable construction ensures that the bed lasts for years.
The initial bed cost may seem steep, but given its longevity and comfort, I believe it provides good value for the price.
WHAT IS THE WARRANTY FOR BIG BARKER DOG BEDS?
Big Barker dog beds come with a 10-year warranty. The warranty guarantees that the foam will retain 90% of its original shape and loft for at least ten years, or Big Barker will replace the bed for free.
This warranty is a testament to the quality and durability of their dog beds.
DO BIG BARKER DOG BEDS HAVE REPLACEABLE COVERS?
Yes, Big Barker dog beds have replaceable covers. The covers are machine-washable and can be ordered separately from the bed.
This allows you to easily swap out the cover for cleaning or to refresh the look of your dog's bed.
ARE THERE ANY AVAILABLE DISCOUNTS OR COUPONS FOR THE BIG BARKER BED?
Occasionally, Big Barker offers discounts or coupons for their dog beds.
To find the latest deals, check their website, sign up for their newsletter, or follow their social media pages for updates.
HOW DOES THE COMFORT OF THE BIG BARKER COMPARE TO THE CASPER DOG BED?
The comfort of the Big Barker dog beds is exceptional, particularly for larger breeds and dogs with joint issues.
Its foam offers excellent support that may be more suitable for these dogs than the Casper bed, which uses mixed foam materials.
However, each dog is different, and comfort preferences may vary. Both beds have their merits, but the Big Barker's focus on orthopedic support sets its bed apart.
Is A Big Barker Good for Great Danes?
Yes, Big Barker's dog beds are well-suited to the large size and weight of giant breed dogs like a Great Dane.
Who owns Big Barker?
Big Barker was founded by Eric Shannon in 2012. He is still the owner and president of the company.
Are Big Barker Beds Chew Proof?
No, the bed cover is not made from chew-resistant material. Although its tear-resistant cover fabric will help it hold up over years of use, it will not stop a dog from chewing through it.
What If the Dog DOesn't Like the Bed?
Big Barker provides a 365-day at-home trial. This means you have a full year for your dog to decide if they like the bed; if not, you can get a 100% refund.
What kind of foam does Big Barker use in their beds?
Big Barker invented a proprietary 3-stage blend of American-made foam. It has a high-density core, and the foam helps distribute weight evenly and eliminates pressure points.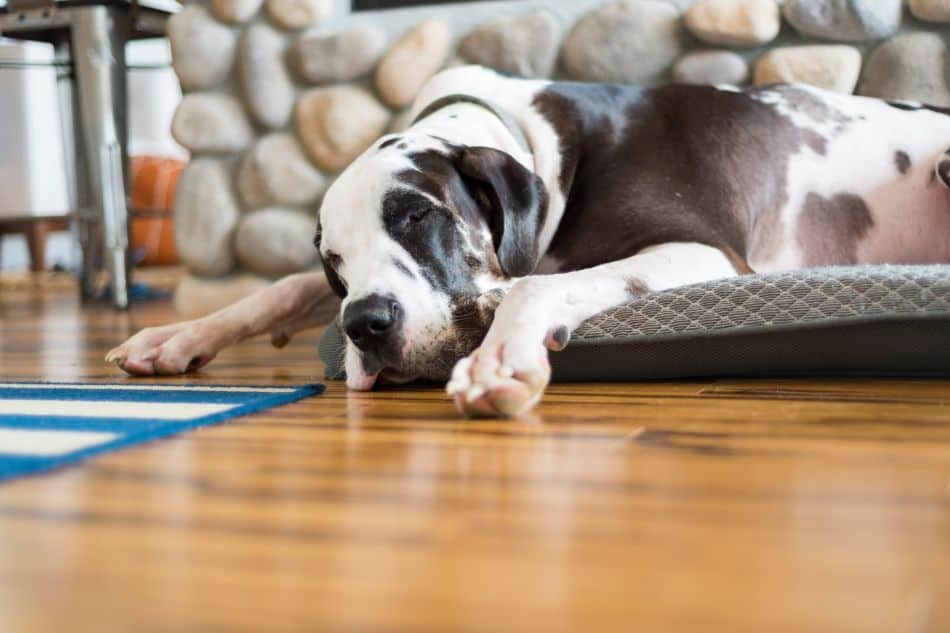 Are Expensive Dogs Beds Worth It?
Whether expensive dog beds are worth it or not largely depends on your dog's specific needs and your personal budget.
High-end dog beds often provide superior comfort and durability and offer features like orthopedic support, which can benefit dogs with arthritis or other joint issues.
They may also include features such as heat regulation, memory foam, or hypoallergenic materials. However, not all dogs require these features, and more affordable options may be sufficient for many pets.
It's also worth considering your dog's habits: if your dog tends to chew or destroy beds frequently, a less expensive option might be more practical.
As with many things, expensive does not always mean better, and it's important to research and consider the specific features and quality of the bed relative to your pet's needs before making a decision.
Will My Dog Like A Big Bed?
Yes, dogs typically prefer larger beds, providing ample space to stretch out, roll over, and change positions comfortably during sleep.
However, it's important to consider your dog's specific preferences and habits, as some dogs may feel more secure in smaller, more enclosed spaces.
Choosing a bed that matches your dog's size and sleeping habits is advisable for optimal comfort and satisfaction.
Does A Puppy Need A Dog Bed?
Yes, a puppy can benefit from a dog bed!
A dog bed provides a space that's solely theirs, offering comfort, warmth, and security, which can be especially important as they adjust to a new home.
It can also aid in training, as it establishes a specific area for sleep and rest for the dog.
However, keep in mind that puppies may chew or have accidents, so a durable, washable dog bed could be the best initial choice.
As your dog grows and their behavior changes, you may need to replace or upgrade the bed.
Will My Dog Prefer a Hard or Soft Bed?
The preference between hard or soft beds can vary greatly from dog to dog. Many dogs enjoy the comfort and plushness of soft beds, especially those dogs with joint issues or older dogs who can benefit from the extra cushioning.
However, some dogs may prefer firmer surfaces, especially if they're heavy chewers, as soft beds can be more easily destroyed.
Observing your dog's habits—such as where they lie outside their bed—can give you clues about their preference.
When choosing a dog bed, it's always best to consider your dog's needs and behaviors.
Can You Use a Mattress for a Dog Bed?
Yes, you can use a mattress as a dog bed, provided it's the appropriate size and comfort level for your dog. Ensure the mattress is easy to clean, as dogs can bring in dirt or have accidents.
However, specialized dog beds often come with features like waterproof liners, anti-chew materials, and orthopedic support that a regular mattress may not offer.
Ultimately, the best choice depends on your dog's size, age, health conditions, and personal preferences.
Final Thoughts
I hope that you found this Big Barker review helpful and that it assists you in the process of finding a great dog bed for your dog, regardless of whether that ends up being one of the beds from Big Barker or not!
A review isn't always easy to write, but when you've used a product like these dog beds from Big Barker, it's much easier to do so.
Barker beds are made to last and provide a TON of benefits to larger dogs, and I plan on sticking to a Big Barker dog bed for our dogs for the foreseeable future.
While a good dog bed isn't cheap, it will produce far better results than trying the homemade dog bed route!
Last but not least, an expensive dog bed is certainly cheaper than needing to replace your sofa each year 😉
If you're interested in reviews on other pet products or dog supplies, take a look at some of the other product reviews linked below.