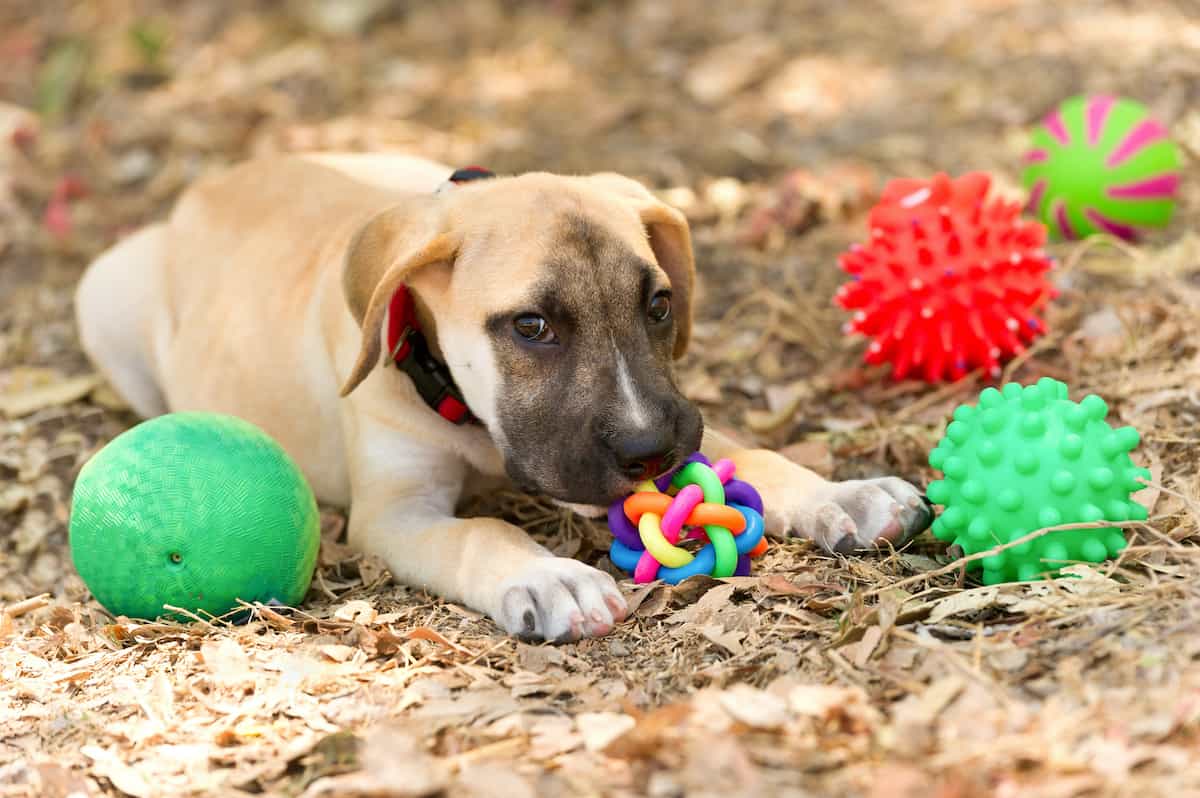 Whether you're trying to stick to a budget or just avoid spending a lot of money on toys that you know your dog will destroy, we've got just the list for you!
In this article, we'll be covering the 18 best dog toys costing $5 or less! With many toys costing closer to $20, this could be a great way to build up your toy collection without breaking the bank.
This is also a great way to test out a variety of toys if you're not sure what type of toy that your dog likes best.
With a simple cup of coffee often costing $5 or more, finding dog toys costing the same or less feels like quite a bargain! Regardless of how long a toy lasts, there's no question that your dog will gets $5 worth of joy out of it.
Just to be fair, I should point out that prices do change. Everything in this list was priced at $5 or less at the time of writing this, but they may change over time.
So, let's jump in and take a look at the contenders!
Note, that we've broken them down into the following categories in case you're looking for a specific type.
Best Dog Play Toys for $5
It goes without saying that every dog needs some toys!
Without an outlet for excess energy, they are much more likely to get in trouble around the house.
Frisco Rope with Squeaking Ball Dog Toy

For $5, this is quite the do-it-all toy! It's a ball, squeaker, chew rope, tug-o-war machine, and a thrower all in one!
There aren't many toys that offer this kind of versatility, especially at this price point.
Grab a Frisco Rope with Squeaking Ball for your dog today on Chewy.com.
Ethical Pet Dura Brite Treat Ball Dog Toy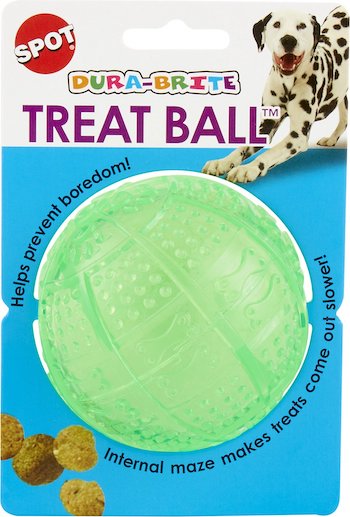 This ball merges snack and playtime! You can stuff it with treats or kibble, and watch as your dog has fun trying to sneak them out of it. The interior maze ensures that treats are slowly released to drag
Snacks aside, the textured exterior of this ball is also great for massaging their gums while they play with it.
Get your dog one of these balls from Ethical Pet on Chewy.com.
Frisco Rope with Double Handle Grip Dog Toy

While Frisco's last toy brought the variety factor, this one mixes in the chew factor! This toy is great for one or more dogs to have fun tugging and chewing on.
It's soft textured rubber sticks are a great for pups to gnaw on without all the noise created by squeakers.
Pickup your Frisco Double Handle toy here on Chewy.com.
Chuckit! Ultra Fetch Stick Dog Toy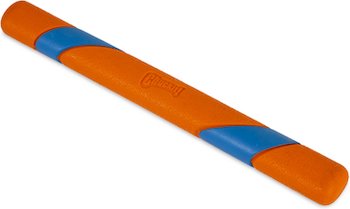 The Chuckit! Ultra Fetch Stick may look to simple to be good, but I can assure you that it's one of the most effective sticks ever! Made from the same durable material as other Chuckit! toys, their Ultra Fetch Stick is sure to be a hit with your dog as well.
Enjoy it on land or water, as this high visibility stick floats and is easy to find.
Now be a kind owner, and fetch your dog a Chuckit! Ultra Fetch Stick on Chewy.com today 😉
KONG Squeezz Ball Dog Toy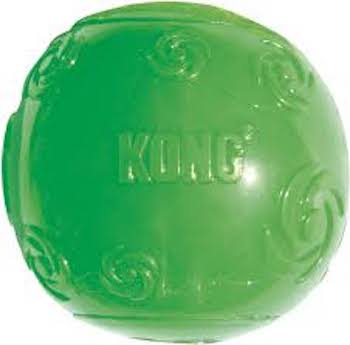 While the KONG Squeezz ball may look simple, it has thousands of positive reviews from dog owners!
It has a recessed squeaker to keep it safely away from your dog's teeth and has an oblong shape that causes it to take erratic bounces when thrown.
Grab your dog a KONG Squeez ball here on Chewy.com.
Chuckit! Classic Launcher
I'll be up front in saying that the Chuckit! Classic Launcher is not always under $5, but it's often on sale for that amount!
Technicalities aside, it's a great toy for your dog.
It lets you quite literally have a ball with them playing fetch, but turning your arm into a ball rocket launcher!
Pickup a Chuckit! Classic Launcher for your home here on Chewy.com.
Best Dog Chew Toys for $5
Chew toys are the perfect way to release a dog's pent up energy while also satisfying their craving to chew. The latter is especially important to satisfy for teething puppies!
Nylabone DuraChew Textured Ring Flavor Medley Dog Toy
Roll it, chew it, chase it, toss it! In addition to its tasty flavor, the Nylabone DuraChew provides a variety of ways for your pup to enjoy it.
The raised numbs and texture also help to scrub your dog's teeth clean during chewing to save you time with the toothbrush later!
You can find the Nylabone DuraChew Ring here on Chewy.com.
Petstages Dogwood Stick Dog Chew Toy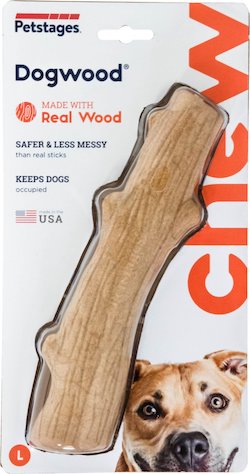 This touch chew toy not only resembles a stick but is actually made of a mixture of synthetic and natural wood. This makes it tougher than a regular stick while also leaving less of a mess behind!
Better yet, its shape makes it great for playing fetch and it even floats on water.
Pick up the Petstages Dogwood Stick here on Chewy.com.
KONG Puppy Teething Stick Dog Toy
We all know that puppy's can go a little crazy during their teething phase… Lucky for us, this toy was created just to help with that!
It's soft ridges help to clean and soothe sore gums during chewing. You can also pick up the KONG Puppy Easy Treat to hide inside the ridges as a way to mentally stimulate your dog as well.
Grab your dog a KONG Puppy Teething Stick today on Chewy.com.
Hartz Chew 'n Clean Tuff Bone Dog Toy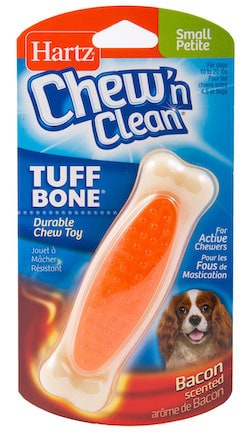 This chew toy from Hartz not only helps keep your dog's teeth clean, but it also comes in a tasty bacon flavor to keep them interested! It also comes in a variety of sizes to best suit your dog.
Pickup a Hartz Chew n' Clean Bone for your dog at Chewy.com.
Nylabone Strong Maple Bacon Chew Stick Dog Toy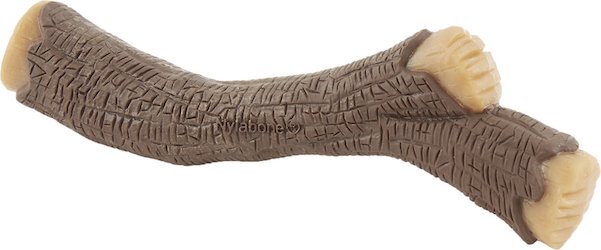 It looks like a stick but is it? Well, kind of! The Nylabone Chew Stick is made of a mixture of real wood and durable nylon to create a longer-lasting version.
Also as an upgrade to a stick, it's flavored like maple bacon!
You can find the Nylabone Bacon Chew Stick on Chewy.com.
Gnawsome Squeaker Bone Dog Toy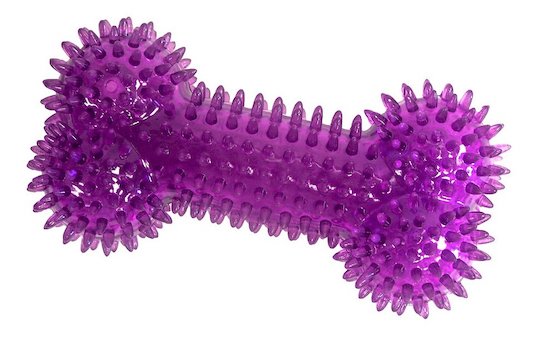 This soft spikey toy is made of food-grade, BPA-free TPA rubber to ensure that it's safe for your dog.
It's soft and gentle texture makes it a great fit for a teething puppy.
Get you dog a Gnawsome Squeaker Bone here on Chewy.com.
Best Dog Plush Toys for $5
Don't underestimate the value of a good plush toy! While their soft and fluffy appearance may lead you to believe that they're doomed to a short life, many will surprise you!
Many dogs find the feeling of gently biting something soft very soothing. Therefore, they end up being far more gentle with their plush toys than regular ones because they're afraid to hurt them!
Think of plush toys as the dog equivalent to a stuffed animal that a child carries around because it soothes them.
Frisco Plush with Rope Squeaking Monkey Dog Toy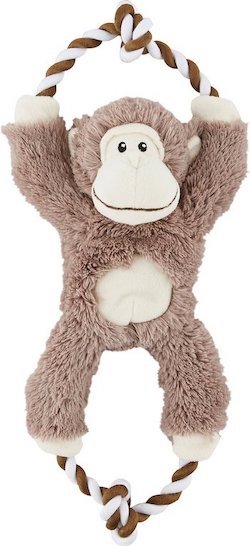 This cute monkey toy brings a mixture of both plush and chew features. You can also use the rope handles for a quick game of tug-o-war, or giving it a toss for Scooby to chase down.
To up its entertainment factor, the plush section also has a built-in squeaker to amp up any dog's enjoyment!
You can find the Frisco Plush Rope Monkey here on Chewy.com.
KONG Cozie Elmer the Elephant Dog Toy
I hate to be biased, but I'd be lying if I said I didn't love KONG toys! They always seem to be so well made, and my dogs always seem to love them. Ok, so maybe it's my dog's that are biased towards KONG toys then 😉
Regardless, this cute pink elephant is a way to brighten up any dog's toy collection. It's part of the KONG "Cozies" collection, meaning that while it's technically still a plush toy, it's a bit tougher than most.
You can get the Kong Cozie Elmer Elephant here on Chewy.com.
Frisco Flat Plush Squeaking Alligator Dog Toy
This time from Frisco we have their Flat Plush Alligator toy – also with a squeaker! I think I'm starting to sense a pattern here 😉
However, the alligator comes with not just one, but four internal squeakers to crank up your dog's entertainment factor. Or think of it as three built-in backups for when the first squeaker goes out!
You can you your Frisco Flat Alligator here on Chewy.com.
Multipet Look Who's Talking Koala Bear Plush Dog Toy
If you haven't noticed the trend with plush toys yet, I'm going to call it out here. They're all really stinkin' cute!
While I'm pretty sure my dog doesn't care that much about how a toy looks, these companies sure do a good job of selling me on their appearance 🙂
Aside from its cute factor, this toy from Multipet also has a built-in voice box that makes laughing sounds whenever it's squeezed.
It also has zero plastic parts like eyes and ears so that you don't have to worry about Fido accidentally swallowing them.
Grab your pup a Multipet Koala today on Chewy.com.
Ethical Pet Skinneeez Crinklers Cow Dog Toy
While technically still a plush toy, this one from Ethical Pet actually comes with no stuffing. However, it is filled with a crinkle paper that will delight your dog to no end!
It also has a squeaker inside for extra entertainment and is machine washable.
Pickup a Crinkler Cow for your dog here on Chewy.com.
ZippyPaws Loopy Hedgehog 6 Squeaker Plush Dog Toy
This fun hedgehog comes with 6 large squeakers for entertainment and comes with no stuffing to avoid messes!
It's larger size also makes it a good fit for dogs of any size.
Grab your ZippyPaws Hedgehog Toy here on Chewy.com.
Related Articles