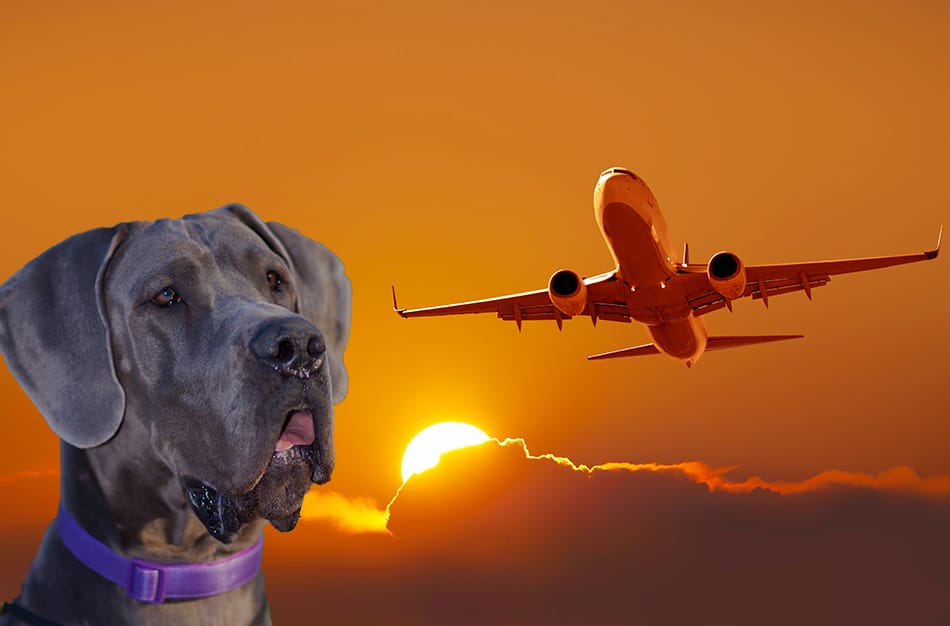 Flying with your pet has always had to be a well planned and well thought out endeavor, but the bigger the pet, the more complicated things can get. If you plan on flying with you Great Dane for any reason, there are a number of things you need to consider, especially the safety of your beloved pet.
Flying with a Great Dane: Everything You Need to Know! The good news is that you are able to fly with a Great Dane, but you will have a number of hoops to jump through. Not all airlines allow for emotional support animals but have to make exceptions for service animals. You will need to fully understand your airline's rules and regulations regarding pet travel before you book yours or your pet's tickets.
Whether you are relocated, taking an extended stay somewhere, or have a service Great Dane, then you will need to understand the ins and outs of flying with a dog.
Not only that but since Great Danes are one of the largest (if not the largest) dog breeds you can find, just the size of your companion makes flying with them a bit more complicated!
Flying with a Great Dane
Oddly enough, the United States Department of Agriculture (USDA) regulates the air transport of animals with the United States Airline Services.
This gives a base of rules and regulations that all airlines must follow. However, that doesn't mean that they are the only regulations put into place.
All airlines reserve the right to create additional rules regarding pet transport, and international airlines may have completely different regulations altogether.
All that being said, that's a lot to sort through in order to find the information relevant to you and your pet when you're traveling. That's why we have put together a comprehensive guide to air travel for your Great Dane.
Now, most of this information will be transferable to other dog breeds and other pets as well, but there are some specific guidelines and considerations when transporting a Great Dane.
Everything You Need to Know
All dogs experience different amounts of stress and anxiety while traveling, but air travel is by far the most dangerous and stressful travel option to choose from.
If you absolutely must fly with your Great Dane, here are the things you should research at length and the topics we will cover in more detail throughout this article:
Pet Air Travel Rules and Regulations
The USDA runs an Animal and Plant Health Inspection Service (APHIS) that is in charge of determining the regulations put in place for air travel.
All US Airlines are required by law to adhere to these regulations and fees and cannot be disputed with individual airline services.
Flight Reservations
It is required that you make flight arrangements ahead of time with any airline. You cannot simply show up to the airport with you, Great Dane, and expect to fly. All reservations must be booked directly through the airline you wish you and your dog to travel.
It is important to note that these advanced arrangements and even purchased tickets for your pet do not ultimately mean the airline will allow the pet to fly that day.
All airlines reserve the right to refuse the transport of any animal due to things such as illness, extreme temperatures, animals that demonstrate aggressive/violent behaviors, and improper carriers.
Airlines are also not allowed to let animals fly with an unaccompanied minor.
Even if you have booked a flight for you and your pet in advance, it is recommended that you contact your airline 24-48 hours before your flight and confirm that your pet is cleared to travel with you that day.
Requirements the Day of Your Flight
The USDA requires that all pets be offered food and water within four hours before you check-in for your flight. Dogs often get sick while flying, so feeding them right at the four-hour mark is recommended.
You are also not allowed to check your pets in for a flight more than four hours beforehand.
The general consensus between the USDA and many airlines is that you check your pets in two hours before your flight departs, and all passengers traveling with pets must check-in at the ticket counter for their respective airline.
You are allowed to provide water for them within the carrier and before boarding the plane, but if they are in a carrier, do not board them with a full water dish as it is likely to spill.
If your Great Dane is going to be in the cabin with you, they must also pass through security. With a dog the size of a Great Dane, they will simply have to walk through with you.
The one minor exception here is if you have a very young Great Dane who is still of reasonable carrying weight.
Pet Carrier Restrictions and Requirements
If your Great Dane is traveling via cargo, you will need a pet carrier for them.
No matter the size of your pet, it is required that all cargo animals be in a carrier with hard sides (soft-sided carriers are only allowed for in-cabin transport).
They must also have a solid, leak-proof floor lined with a towel or other absorbent material in case of accidents during transport.
The pet carrier must be large enough so the animal can stand up, turn around, and lie down with ease. Airlines will refuse the transport the animal if the carrier does not allow for at least that level of movement inside.
Other specifications for carriers and carrier transport are as follows:
Only well-ventilated carriers are accepted. A minimum of 14% of total wall-space must provide ventilation openings, and 33% of that must be located on the top half of the carrier to prevent airflow being blocked. Carrier ventilation must also be rimmed to prevent other cargo from blocking airflow.

Do not leash or muzzle your pet while inside the carrier. Leashes should be carried with your person and not be attached to the outside of the carrier.

The carrier must contain two empty dishes for both food and water, along with their feeding instructions. Upon the instructions, you must indicate and sign off on the fact that you offered your pet food within four hours of departure.

The exterior of the crate must have handles, so the airport staff does not have to reach within the carrier to load the animal.

The carrier should be marked with "Live Animal" and proper directional arrows for positioning on the top.

The crate should also be marked with your pet's name, your personal contact information (home address and phone number), as well as the personal contact information of someone at your destination.

Kennels can only contain one adult dog at a time. Puppies 8 weeks through 6 months of age can travel together if they have been weaned and weigh more than 20 lbs each.
Health Certificates
You will only be allowed to fly with your Great Dane if they are in good health. If the airline suspects illness or severe injury, they must refuse to transport the animal.
They can also refuse to transport an animal if they are in obvious physical distress or violent.
All pets crossing state and country borders will also need to be sure that your Great Dane is up to date on his rabies vaccine, and has documentation along to prove it.
A valid health certificate will also be required and can be obtained from your veterinarian within 30 days of your travel date. However, if your pet is traveling in the cargo, the health certificate must be issued no more than 10 days before your departure.
Remember that these are not the only rules and requirements in place when you travel via air with your pet; these are just the base rules all airlines must follow.
You must consult the regulations put into place by individual airline services, especially if you are using an international airline.
Domestic versus International Flights
There are a few reasons why it is important to recognize the type of flight you are going on, and they include the overall flight time, layovers, and border crossing/country-specific regulations.
All of these factors are different amongst countries as well as some state lines, and they all impact your Great Dane in different ways.
Flying Domestic with Your Great Dane
All airlines are going to be different, but one thing for sure is that you will need to see if there is pet availability when and where you want to fly before you book your own ticket.
Some airlines only allow pets on certain flights, and some also only allow one or two in the cargo at a time.
You will still need a health check from your veterinarian and updated vaccines in order for your Great Dane to travel within the United States over state lines.
However, if you are traveling to Hawaii from the continental United States, you will have to consult international pet policies.
Since your flight is likely to be shorter, you may have an easier time finding ways to get your Great Dane into the cabin with you.
The only likely way it will be allowed is if your Great Dane is a certified service animal, as many airlines no longer accept emotional support animals.
Flying International with Your Great Dane
If you are trying to bring your Great Dane on an international flight, it is likely due to relocation. Dogs become a part of your family, and it is extremely hard to think about potentially parting ways with them.
However, you may want to consider rehoming your Great Dane before you move as not all international flights will allow dogs due to long flight times and layovers.
You can also arrange for transport via ship as more ocean crossing cruises are allowing dogs.
No matter the country you and your Great Dane are traveling to, you should contact the embassy and consult the destination country to gather the appropriate paperwork, learn about quarantines, and see if your pet needs any other vaccinations.
This will go hand in hand with contacting your veterinarian as they may be able to get you more detailed foreign health regulations.
If you do need to transport your Great Dane over international waters and borders, you may not be able to bring them on the same flight as you. Consider researching pet relocation services and consulting them on the safest methods.
The International Pet and Animal Transportation Association has many resources and options for relocating your pet.
Why Flight Time Matters
Just as humans do not like long flights – pets like them even less. Most airlines do not have an area on the plane that allows for animals to go to the bathroom.
Plus, animals kept in the cargo space will have to endure the noise and temperatures of air travel for an extended period of time.
Some airlines, like American Airlines, do not allow pets to travel on any flights longer than 11.5 hours. One thing to keep in mind is that this also includes the time you spend at the airport going through customs.
Airlines That Commonly Allow Pets
Choosing your airline will be a very in-depth consideration when you decide to fly with an animal the size of a Great Dane.
Some very general things to know before looking into a flight for you and your Great Dane:
Not all airlines allow all sizes of dogs. Discount airlines (Spirit, Frontier, Southwest) only allow animals in the cabin and do not accept large dogs.

Not all airlines allow certain breeds. Most of the time, they simply won't allow snub-nosed or short-snouted breeds for safety reasons, but always call ahead and talk to the airline to be sure Great Danes are allowed.

Your Great Dane will not be able to roam the cabin. This will be difficult as they are a giant breed. If you have to bring them in the cabin with you, the airline may require you to buy a row of seats or at least one additional seat for the Great Dane as to not disturb other passengers.
The Five Most Common Airlines that Allow Pets
Airlines have become more and more strict with their pet policies due to fatal incidents and an increase in pet reservations.
With that in mind, here are the five most likely airlines you will be able to book a flight on for you and your Great Dane:
If you are going to travel with any of these five airlines, all of their fees and rules of travel will differ. Some allow emotional support animals while others only allow for service animals in the cabin.
Can My Great Dane Fly in the Cabin?
The first thing that you will have to consider when flying with your pup is whether or not you are going to try and bring them into the cabin with you.
This is rarely a possibility with a dog as large as a Great Dane, but if ever possible, keep them with you.
The only time that this may be possible will be when they are very young in age and small enough to carry. For example, you could choose to carry your Great Dane on the plane when first bringing them home from the breeder instead of shipping them through cargo.
Much past this point, and they simply won't have enough space to maneuver around on the plane comfortably and safely.
My Great Dane is a Service Dog
When discussing travel with a service animal (this does not include emotional support animals), especially on planes, it is extremely disrespectful and in poor taste to allow your dog to impersonate a service dog.
If you have a legitimate need for a service dog, and that dog is a Great Dane, they must be granted permission to fly in the cabin with you.
Your dog must be properly identified with their service vest and documentation, stating the need for a service animal. They will also have to go through security and are subject to a pat-down. You will never be separated from your service dog during this time.
For more information on getting your service Great Dane through TSA, visit their website here.
The Dangers of Pets in Cargo
If you are traveling with your Great Dane and it is not a service animal, you will likely have to put them in the cargo area. This can be a potentially dangerous situation, and it is most definitely a stressful one.
Fatalities are uncommon, but still a possibility due to extreme temperatures, improper pressurization, misplacement of pet, and rough handling.
Tips if your Great Dane flies in the Cargo Hold:
Notify the captain when boarding the plane that your Great Dane is traveling in the cargo. This may seem trivial, but it has saved animals' lives before when pilots redirect the plane due to unsafe cargo temperatures.
Only use direct flights.
Travel on the same flight as your Great Dane.
Choose airlines that accommodate for temperature extremes, especially in the winter or summer months.
Minimize potential risks such as long nails and loose collars.
Provide identification on your dog's collar, via microchip, and on the outside and inside of the crate.
Do not travel during busy seasons and during the holidays to avoid rough handling.
Do not give your dog tranquilizers unless specifically prescribed by your vet for air travel.
Once your plane has landed, and you are reunited with your Great Dane, take them out of the crate immediately for an examination.
If there are signs of physical distress, take them to the vet as soon as possible.
Safety While Flying with a Great Dane
So you've found an airline that allows your dog to travel, and you've made the reservations. That does not mean that you are out of the woods yet.
Traveling via air can be a very stressful time for any pet, and in some scenarios, it is potentially dangerous.
Only a handful of deaths occur each year when pets fly, but that doesn't make it safe for your pet. Beyond the fatal incidents known, there have also been reported cases of airlines losing a pet that was traveling via cargo.
All instances are terrifying not only for you but also for your animal companion.
Learning airline policies is one thing, but knowing extra steps you can take to not only make the flight safer for you Great Dane but also a less stressful experience overall can be the difference that saves their life.
Is It Necessary to Fly with Your Great Dane?
The final thing to consider is whether it is necessary or not that your Great Dane travels via plane. Air travel is extremely stressful and not to mention dangerous (especially in the cargo hold).
If you are simply going on vacation for a short time, consider driving, and if that isn't an option, getting a pet sitter.
While you and your Great Dane will miss one another, being in a familiar environment will be safer and cause less anxiety than air travel.
If you are moving and have to travel via plane to get there, then be sure that you understand all of the risks involved when traveling with you, Great Dane. Consider any and all alternatives to flying if possible.
For example, if you're moving across the country consider driving instead of flying. Great Danes can be surprisingly good road trip companions, and you'll have a lot more flexibility to find a way to make it work.
For additional information on road trips with Great Danes, take a look at our article on the topic here.
Related Articles