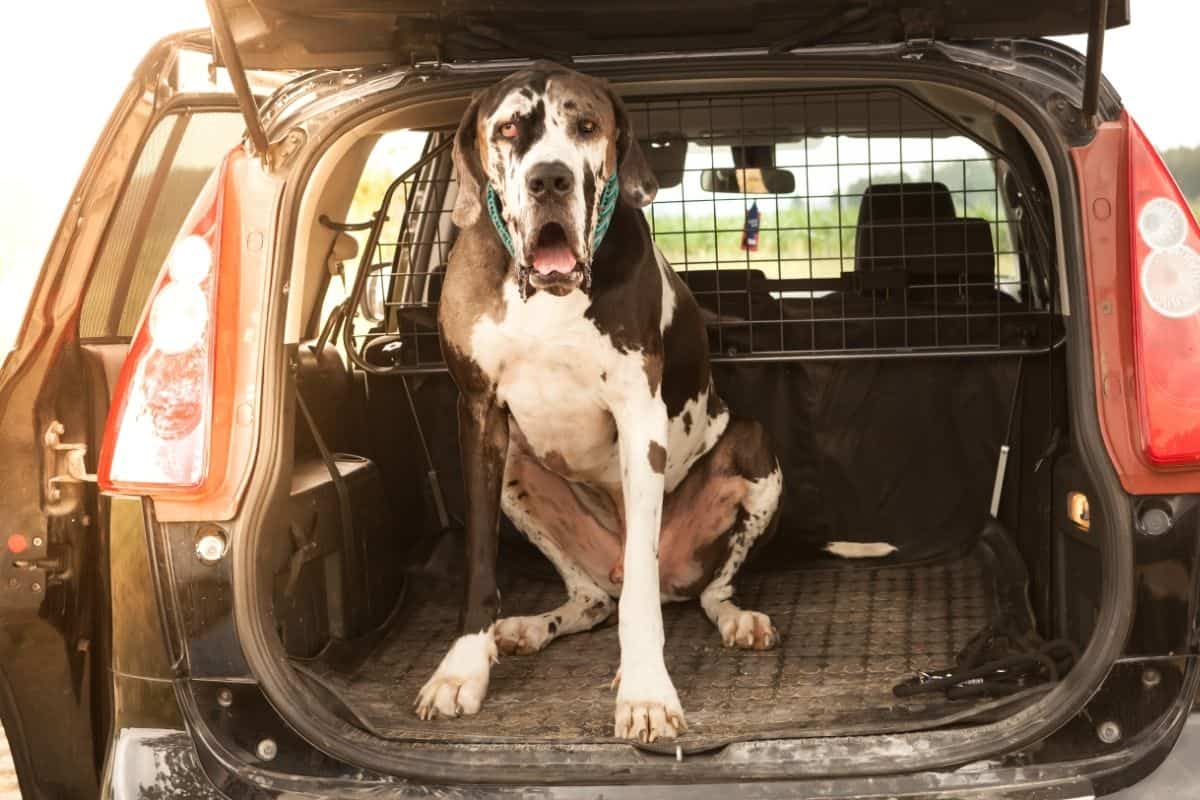 Learn how to safely and comfortably travel with your Great Dane in a car, turning road trips into a breeze for you and your sizable companion.
This article provides essential advice for making car travel a positive experience for your Great Dane.
Table of Contents
Practice Practice Practice!
Before embarking on any long road trips with your Great Dane you'll want to get some practice in first. Start by taking them on short car rides with you to see how they handle it.
Ideally, you can begin this process when they're a puppy so that they're easier to maneuver into the vehicle
You can start by simply sitting with them in the car to see how they handle the new surroundings. If they seem nervous, just hang out for a bit with them to see if they calm down.
Treats and pets are of course helpful as well! If they still don't settle down you can hop out and come back to try again later. Keep repeating until they get comfortable just hanging out in the car for a few minutes.
Once your Dane is comfortable in the car you can take it to the next level by starting the engine to see how they react to the engine noise.
If they're already comfortable in the car then it's not likely that this will cause concern, but if they so seem nervous repeat the steps similar to sitting in the off car.
After they gain confidence with sitting in the running car feel free to take them for a short spin around the block.
When you get home make sure to provide them with treats and praise so that they associate the car with a positive experience.
You can also make stops at dog-friendly places like the dog park to further reinforce the concept.
Motion Sickness
Be aware that some Great Danes experience issues with motion sickness during car rides. Make sure to keep an eye out for this during the first few car rides.
Aside from actually vomiting, other signs of motion sickness include excessive drooling, listlessness, whining, yawning, and panting. If you notice these signs then it's probably a good time to pool over and take a break.
Much like getting them comfortable with riding in the car, repeated practice and short trips can help some Danes overcome their motion sickness.
Creating extra airflow by opening the windows or placing a small fan in the back can also help alleviate the issue.
Some Danes will travel better on empty stomachs, but that's something that you'll need to experiment with yourself to see if it helps.
Dramamine Usage
For other Great Danes, it may be necessary to resort to medicinal approaches such as Dramamine.
Dramamine is safe for Great Danes to consume and can greatly help. Make sure to stick to the "original" formula and stay away from the "Non-Drowsy Naturals" version.
Non-drowsy versions contain high levels of ginger and are not appropriate for dogs (source).
Timing is important as you want to ensure that the medicine has a chance to take effect before the car ride begins. Thirty minutes prior to the start of the car ride is usually appropriate, but up to one hour may be needed.
Some veterinarians take a conservative approach and recommend 1-2 Dramamine pills up to three times per day.
This is likely a good starting point, but if you don't see good results then you may need to use a higher dosage. This will be based on your Great Dane's weight. The veterinary recommended dose is 2 milligrams per pound (when the only active ingredient is Dimenhydrinate).
To save you from breaking out the calculator, we've provided a few sample calculations below based on the Dramine Original formula which contains 50 mg of Dimenhydrinate per pill. Check your version and adjust accordingly if it's different.
Unless you feel like cutting them up, feel free to round down to the nearest whole pill.
110 lbs = 220 mg –> 4.4 pills
130 lbs = 260 mg –> 5.2 pills
150 lbs = 300 mg –> 6 pills
175 lbs = 350 mg –> 7 pills
Note: This dosage recommendation is for forms of Dramamine using Dimenhydrinate as the only active ingredient. For those that use Meclizine as the active ingredient, 25 mg can be used once daily.
The medicine is usually effective for 3-6 hours, so make sure to space out doses and not exceed 3 in one day. As with all medicines, it's recommended that you still consult with your veterinarian prior to giving them to your Great Dane.
Last but not least, giant dogs = giant pukes.
It won't hurt to keep paper towels and carpet cleaner in your vehicle in case an unexpected mess does occur.
Create Extra Space!
For longer trips, it's important to ensure that your Great Dane has enough space to be comfortable. Like a crate, they should have enough room to fully extend, turn around, and lay down.
In larger vehicles such as SUVs, you may already have enough room for this in the cargo area. For others, you may need to lie down in the back seat to create a large enough flat area for them.
Once you've created a large enough space you'll also need to ensure that it has sufficient padding. While a couple of blankets can help to add cushion, a better option will be to simply put a dog bed in the area.
Beds are less prone to scrunching that could happen with blankets, and will provide better padding. For long car rides this will make a world of difference in their comfort level.
Car Top Carriers
Whether you used the cargo area or had to fold down a seat, you may now be in need of some extra storage space for your road trip! If your vehicle has a hitch, you could absolutely hook up a trailer, but a car rooftop carrier is a much simpler option.
Without getting into too much detail, there are two types of carriers – soft and hard-tops. Most soft top options are cheaper and lighter, however, they're less durable and often have issues with water resistance.
For those reasons, we prefer the hardtop options for a better long-term investment. Many are also lockable and offer more security for the goods stored in them.
Below are a few recommendations on car top carriers to look at if you're interested in one.
Thule Force Cargo Box – While not cheap, this is one of the best-selling and highest-reviewed car top boxes that we've come across, and absolutely love it! Its aerodynamic shape creates less noise while also being more attractive than many of its competitors. It also offers dual-side access, meaning that you can get into it from either the driver's or passenger's side of the car. It comes in a variety of sizes to match your vehicle, all of which are lockable.


SportRack Vista XL Car Box – If the Thule was too pricey but you're still looking for a great car top carrier then the SportRack may be the one for you. It offers generous storage capacity, and durable construction, and comes at a reasonable price. However, compared to the Thule it will generate more wind noise and isn't as easy to install or access.


Keeper 07203-1 Waterproof Roof Top Cargo Bag – If budget and/or storage space are a key concern, then here's a soft-top option to consider. Note that it will not offer the locking options of the hardtop versions.
Take Frequent Breaks
Car rides are tiring for everyone, but especially so for your Dane! Make sure to take frequent stops so that they have a chance to stretch out, get some fresh air, and relieve themselves.
Every 1-2 hours seems like a good interval to ensure they don't get to ancy back there!
Make sure to bring along a few favorite toys for them to play with during stops so that they can release any pent-up energy. If we see a park while stopping for gas, we'll often take the time to get out a ball so our Great Dane can really run off some energy.
Naturally, stops are the ideal time to let your dog relieve themselves so make sure to provide them with ample time to go potty.
After giving them a chance to relieve themselves you should also make sure to offer water. To avoid messes we don't typically keep an open bowl of water in the car but that choice is up to you.
Cars can be quite a dry environment, so make sure to keep up with their water needs.
Check your Lodgings
Unless you're camping, any multi-day road trip likely requires spending nights in a hotel or motel. Before booking your reservation, make sure to check that the business not only accepts dogs but specifically Great Danes.
Some businesses have weight limit restrictions and will not accept giant breeds such as Great Danes.
Lucky for us, travel with pets has gotten more common and as a result, more hotel chains are accepting pets. Many of these, however, come with a fee.
Rather than trying to list every chain that does allow pets, the list below allows pets at no added cost!
Kimpton Hotels
Motel 6
Virgin Hotels
Aloft Hotels *Some locations impose a 40 lb weight limit, however, you can contact the location you intend to stay at for a waiver.
La Quinta Hotels *Some locations do impose weight restrictions and/or fees
That concludes the first iteration of our series on traveling with your Great Dane. Take a look at our next installment of traveling with these gentle giants by plane in our article here.