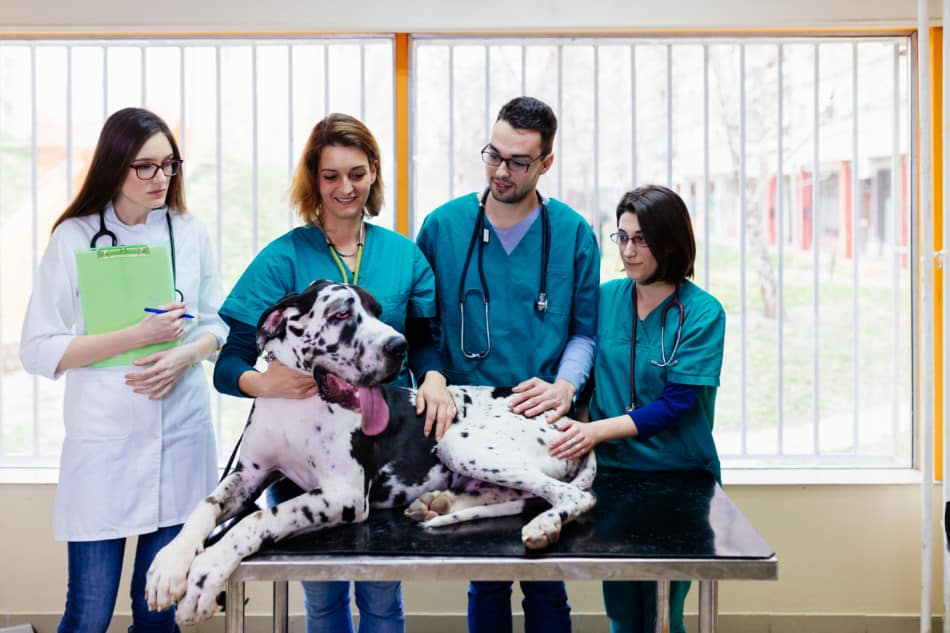 With the rising cost of veterinary care, many dog owners consider whether or not they should get insurance for their Great Danes. Since insurance has its own associated cost, the next logical question is then, how much does it cost?
The cost of Great Dane pet insurance varies based on three primary factors: age, location, and type of coverage. In my research, I found that the average accident and illness coverage cost for Great Danes was $70 per month.
These numbers were obtained by taking an average of the quotes below.
Note: The cost figures listed in the quotes above were generated using the specifics for our Great Dane and specific location.
Keep in mind that these cost estimates were based on our own pets factors, such as our dog's age, health history, and location, to keep them insured.
While you can go to any of these providers to get your own quote, let's talk through some of the factors that influence the cost of dog insurance.
How much does insurance cost for Great Danes?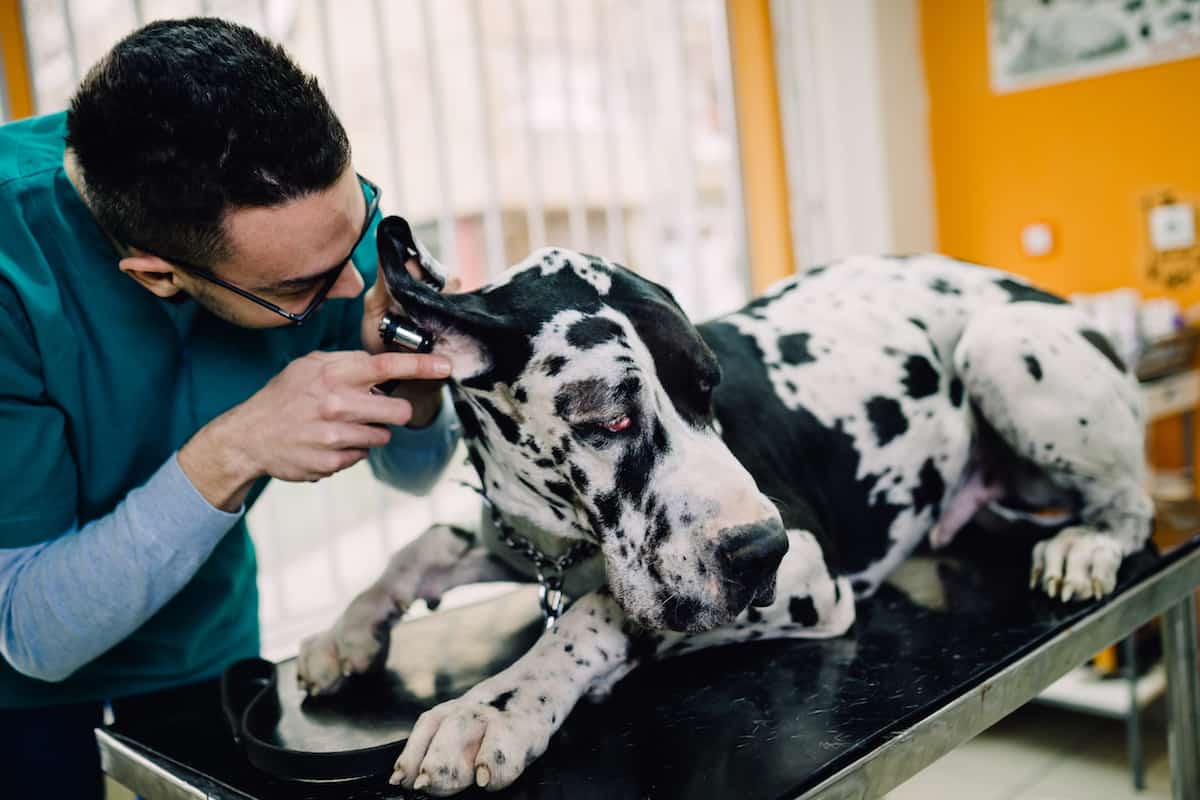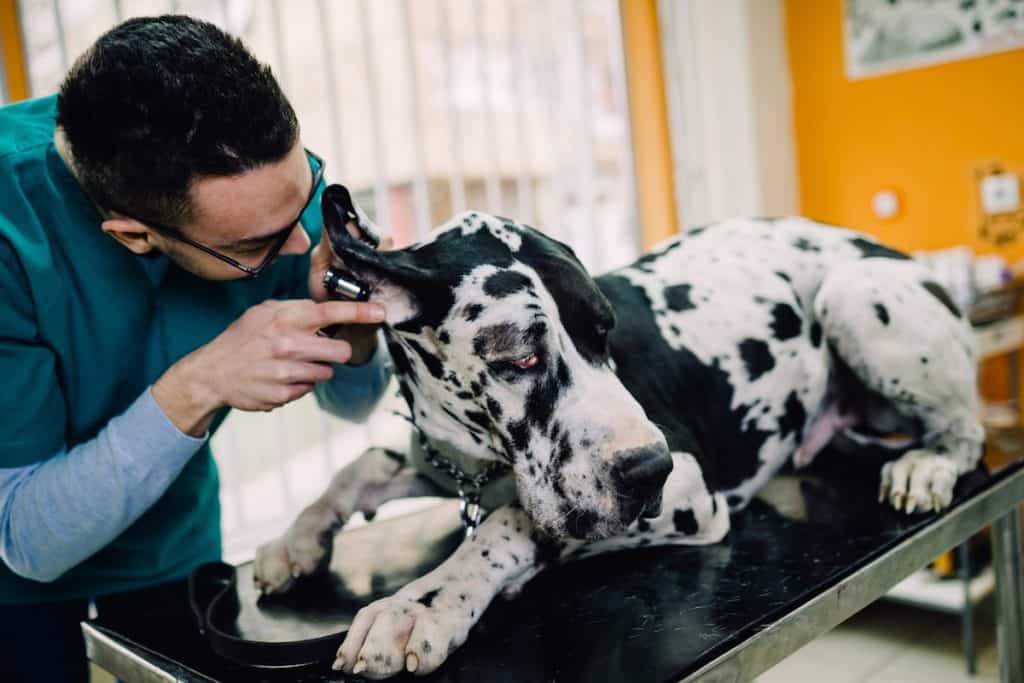 While our own testing showed that insurance for Great Danes costs approximately $70 per month, several factors can lead to that number going up or down.
Aside from the type of plan that you select i.e. accident only versus accident, illness, and wellness, the largest drivers of the cost will be the age of your Great Dane and where you live.
Age is a sensible factor considering that the likelihood of sickness and other issues rises with age.

Location factors into the average cost of veterinary care for your region. Higher cost areas lead to higher veterinary bills and high insurance premiums.
To explain how I arrived at these cost estimates, let's walk through a few sample quotes.
Because Embrace insurance was kind enough to publish a Dane-specific page indicating that their average customers pay between $39 – $56 per month to insure their Great Dane, I decided to start with getting a quote from them first!
The other factors that I entered into the estimate were as follows:
3-year-old female Great Dane
Spayed and has no pre-existing conditions
Live in Colorado
Selected the Accident and illness plan with no wellness portion

Annual reimbursement limit = $5,000
Annual deductible = $500
Reimbursement level = 80%
After hitting submit, it took a few seconds before I got my own quote of …
$65.55 / month!
While that doesn't fall exactly inside Embrace's previously estimated dog insurance range, it was close enough to satisfy my initial curiosity.
Furthermore, for an additional $18.95 per month, I could also add on $250 of wellness coverage per year. Multiplying that monthly rate by 12 months brings the total wellness cost to $227.40.
While $22.60 isn't a monstrous saving, the "use it or lose it" nature of the wellness plan can act as a good incentive to take good care of your Great Dane throughout the year.
Additional Great Dane pet insurance quotes
I also requested quotes from AKC Pet Insurance, PetsBest, HealthyPaws, and Petplan using the same options previously mentioned for my dog.
Realizing that the cost could vary with age, I ran the quotes multiple times with different ages. I chose 1, 3, and 5 years of age as the incremental age values.
All other factors remained the same.
Disclaimer: Please note that these quotes were retrieved in March of 2019. Your results may vary based on where you live, and the age and sex of your Great Dane. Insurers may also make adjustments to their rates at any point.
Now that those details are out of the way, let's take a look at the pet insurance quotes!
Embrace Pet Insurance
Age = 1, Monthly premium = $60.26
Age = 3, Monthly premium = $61.55
Age = 5, Monthly premium = $70.63
Average = $64.15
AKC Pet Insurance
Age = 1, Monthly premium = $56.11
Age = 3, Monthly premium = $55.92
Age = 5, Monthly premium = $75.26
Average = $62.43
HealthyPaws
Age = 1, Monthly premium = $62.54
Age = 3, Monthly premium = $73.09
Age = 5, Monthly premium = $87.08
Average = $74.24
PetsBest
Age = 1, Monthly premium = $52.69
Age = 3, Monthly premium = $56.15
Age = 5, Monthly premium = $90.32
Average = $66.39
*All quotes from PetsBest were using their "Plus" plan

Petplan
Age = 1, Monthly premium = $62.86
Age = 3, Monthly premium = $75.26
Age = 5, Monthly premium = $117.62
Average = $85.25
*All quotes from Petplan were using their "Basic" plan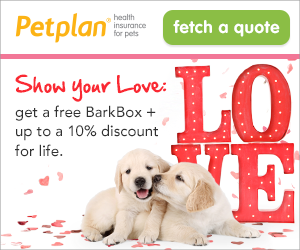 While these quotes clearly don't cover every available provider, it does provide a good snapshot of the industry.
The average across these five providers came out to $70.49 per month or $845.87 per year.
For the math nerds (myself included), the standard deviation, or average difference between quotes, was $16.71 (24%).
Pet Insurance Comparison
While I alluded to the fact that the type of pet insurance has a major influence on cost, I haven't fully explained what they all mean yet!
If you've already taken a look at dog insurance providers, then you may have seen terms like "accident," "illness," and "wellness" when they describe their coverage.
Each of these refers to different types of plans and can cause the cost to increase or decrease.
Let's walk through what each of these different types actually mean.
Accident Coverage Explained
Accident coverage is exactly as it sounds. It's in place to cover accident-related costs.
Forms of preventative care such as wellness exams, vaccines, and screening are also usually not included. For these reasons, accident-only coverage is usually the cheapest type of insurance.
While the specific accidents covered can vary slightly from provider to provider, some of the commonly covered "accidents" include:
Bloat (very important to confirm this item with your provider)
Accidental ingestion (for when your Great Dane eats that sock…)
Broken bones
Toxic ingestions
Cuts, bites, and other lacerations
Hit by car
Cruciate ligament injuries (torn ACL)
I should also point out that accident coverage usually will not cover pre-existing conditions, illnesses, cancer, cosmetic procedures (like ear cropping), chronic conditions, breeding costs, or genetic conditions.
Illness Coverage Explained
Illness plans cover sickness, disease, or basically any change from your dog's otherwise healthy state. This includes both minor and major illnesses such as cancer, allergies, digestive issues, UTIs, and arthritis.
Rather than try to list all of the illness possibilities, I'll simply link you to the full list of dog diseases on PetMD if you're curious.
It's very common for pet insurers to offer plans that include accident and illness coverage benefits together.
Wellness Coverage Explained
Wellness coverage is also often referred to as "routine" or "preventative" care. Think of these as all the things you can do to help keep your Great Dane healthy!
This coverage usually includes wellness exams, vaccinations, flea, tick, and heartworm preventatives, dental work, and testing.
Some insurance providers may also cover grooming, spay/neuter, microchipping, gastroplexies, and even nail trimming!
Make sure to double-check any must-have items with your carrier to ensure their wellness policy covers it.
Wellness plans are often capped with a max reimbursement per year. Because puppies require more visits and vaccines in their first year, you'll want to select one of the higher-limit plans for their first year.
Older animals going in for just their annual wellness exam and flea, tick, and heartworm preventatives can usually get away with lower limits. The $250 mark seems to be a good landing spot for adult Great Danes.
While it's not an insurance policy, wellness plans provide a good way to budget and be proactive about your Great Dane's healthcare.
What to watch out for when picking a pet provider
Like many things in life, you often get what you pay for. However, when comparing providers of similar cost, it's easy to miss the areas that could lead to hidden fees.
Let's take a look at a few of the common areas you should look for when comparing insurance offers of similar prices.
Exam fees – In addition to treatment fees, there are also exam fees that may or may not be covered by your policy. While regular veterinary exam fees are typically in the $30 range, visits to emergency clinics can easily exceed the $100 mark. Not having coverage for exam fees is the equivalent of upping your annual deductible.


Wellness coverage specifics – If you're interested in wellness coverage, it's worth double-checking that your provider's plan covers common operations to Great Danes such as spay/neuter, gastroplexies, and microchipping. If these are included, it could be a great way to save money in the years that these operations are performed.


Claim submission windows – Some providers require you to submit claims within a certain period of the veterinary office visit, whereas others allow you to submit at any point during the policy's coverage window.


Waiting periods – Providers enact waiting periods to ensure that pet owners don't wait to sign up until their pet is sick or injured. While most policies tend to have a 14-day waiting period, some are as long as 30 days. Make sure you understand in advance what your waiting period will be.


Coverage for chronic conditions – Certain conditions like cancer and diabetes can require long-term treatment, placing them into "chronic" conditions. Not all providers offer coverage for these conditions.
Why you should at least consider insurance for your dog
Like it or not, giant breeds can come with giant veterinarian bills when things go awry. From accidents and illnesses to hereditary diseases, the costs can quickly escalate.
Much like human health insurance, pet insurance is there to help cover the cost of veterinary care when these unfortunate events do occur.
To better understand some of these health risks, let's review a few of the most common health issues for Great Danes.
Next to each condition, we've listed its average cost of diagnosis and treatment. This data is based on actual claims paid out by Embrace Pet Insurance.
Some of the common health issues for Great Danes include:
Bloat (GDV): $1,500 – $7,500
Hip Dysplasia: $1,500 – $6,000
Osteochondrosis of the shoulder: $2,000 – $4,000
Entropion: $500 – $1,500
Cardiomiopathy: $500 – $1,500
As you can see from just a few sample health conditions, the cost of care can quickly become overwhelming! While paying these bills 100% out of pocket will always be an option, insurance can bring peace of mind.
For a fraction of the cost of care, you'll always be able to afford veterinary care if needed.
One common mistake we see is considering insurance similar to a home or auto insurance.
While those options will be rarely or possibly never needed, it's almost guaranteed that your Great Dane will be injured or ill at some point in their lifetime.
So when that happens, will you be ready to foot the bill?
While this is certainly not a topic that anyone will enjoy discussing, pet euthanasia is a very real thing.
These "economic euthanasia" situations occur when a pet owner is unable to afford the care for their animal, and rather than let them continue to live in pain, the veterinarian is forced to put them down.
Regardless of how you feel about the morality of this situation, it's one that I can guarantee you no pet owner ever wants to experience or even have to consider for that matter.
Pet insurance Alternatives
I don't want to give the impression that insurance is the only way to ensure that your Great Dane dog receives good veterinary care.
Let's review some of the other available options other than insurance.
Create a pet savings account – Rather than making a monthly payment to an insurance provider, you could instead choose to set aside the money on your own. Many banks allow you to open free savings accounts, for which you could send a set amount of money from every paycheck.

Keeping the money separate is important as it makes it easy to know the balance and avoid accidentally spending it! Choosing an online banking option is a great idea, as many of them are offering decent annual percentage rates (APRs).


Payment plans – Some veterinarians offer the ability to establish payment plans to pay for the pets care in-house. When available, this is a fantastic option to avoid needing to choose between skipping meals or paying for your dog's veterinary care.


Credit financing – Certain financial institutions have programs in place that are specific to the financing of veterinary care. Chase Health Care, Care Credit, and Citi Health Card are just a few.


Financial assistance programs – Organizations such as RedRover offer financial assistance to support pet owners experiencing economic hardship. However, these grants are typically reserved for life-threatening situations only. If you'd like more information, take a look at their page on urgent care grants.


Pet Assure – Pet Assure is a discount program offering a 25% discount for in-network veterinary services. While this limits which providers you can utilize, it does lower the overall cost of care. On average, their plans tend to cost around $10 per month, so it's a much cheaper alternative to insurance. For more information, you can find the full details on the Pet Assure website.


Hope for the best – I can't say it's never worked, but it's probably not your safest bet!
Conclusion on pet insurance for Great Danes
Hopefully, at this point, you feel more comfortable understanding some of the options available for dog insurance. Thankfully, multiple companies provide pet insurance these days, so you can get quotes from a few to get started!
While this article isn't 100% comprehensive, it should give you a great starting point for locating an insurance policy for your dog with an insurance provider you feel comfortable with.
Whether you choose to go with an external insurance provider or put a plan in place yourself, at least you'll know what options are out there for you and your pet!