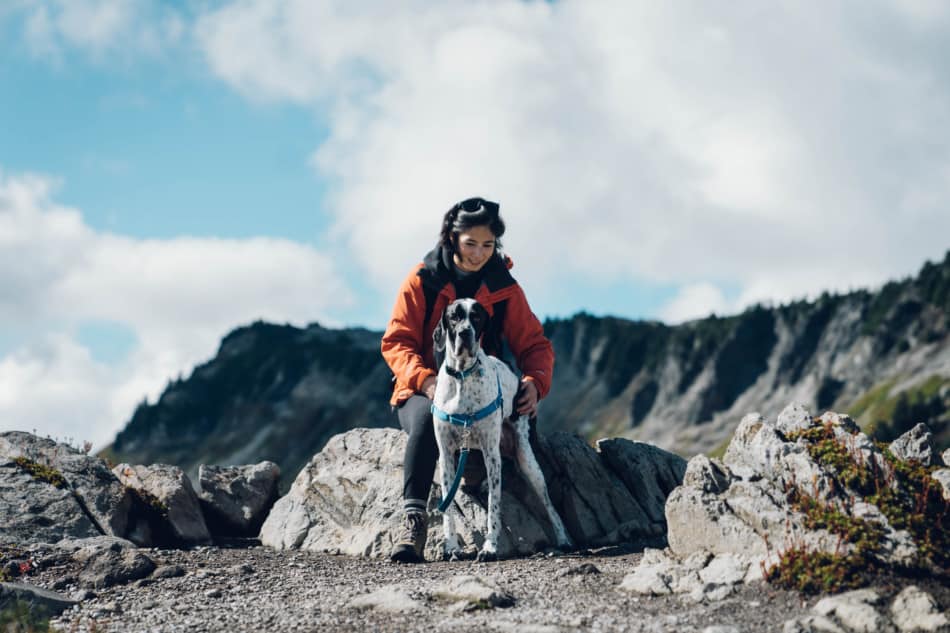 Great Danes experience anxiety and stress just like their humans do. To better understand why Great Dane anxiety is such an issue, consider your own reactions when you are under stress.
Now imagine that you are unable to tell anyone what is going on. Then your family either ignores you or gets angry with you when you try to express your feelings. Pretty frustrating, right?
Constant, untreated anxiety can lead to behavioral problems and even aggression. Unfortunately, many owners actually make their Great Dane's anxiety worse in their attempts to relieve it.
An anxious Great Dane can appear to be depressed, restless, or even aggressive. Your dog may seem nervous or fearful and seek out hiding places to isolate himself.
Stressed-out dogs tend to bark excessively for no apparent reason. They also sometimes experience changes in appetite and upset stomachs. Destructive behavior is also a strong indicator that your dog is suffering from anxiety.
Primary Sources of Great Dane Anxiety
Separation Anxiety
Dog are social creatures, but Great Danes are especially dedicated to their families. While this may seem like a good thing, it also makes Great Danes more prone to separation anxiety.
Many dogs grow anxious or become upset when their owners are away, especially as puppies. Because Great Danes are so social, they can even experience separation anxiety in adulthood.
Because Great Danes are such large dogs, separation anxiety can become a big problem. Dogs experiencing separation anxiety often display destructive behavior, and a 150-pound dog can do quite a bit of damage!
Great Danes can easily chew through furniture and rip up flooring. Some even attempt to eat their way through doors and walls or jump through windows to find their owners.
Not only is this behavior incredibly frustrating and expensive, but it can also result in physical injury to the dog.
Other signs of separation anxiety include bathroom accidents, constant barking or whining, and excessive pacing or an inability to relax.
Other Possible Sources of Anxiety
Environment – Great Dane anxiety can be brought on suddenly by changes in their environment. Your dog knows your schedule and is used to you being home at certain times during the day. If your schedule is changed by a new job or social commitment, your dog will not understand why he is left alone for longer or different periods of time.


Moving – Moving is a stressful experience for everyone, but it can be especially upsetting for dogs. A completely new environment with different sounds and smells and an unfamiliar layout can cause anxiety in many dogs. It becomes even more stressful when it is accompanied by schedule changes and new routines.


Loud Noises – Loud or unfamiliar noises can trigger anxiety in dogs as well. The constant noise from construction going on nearby can be intensely upsetting and be worrying to your dog. Fireworks, sirens, and other loud noises can also bring on acute episodes of anxiety.


Missing Family Members – Great Danes become attached and accustomed to the people around them. If a family member disappears, it can lead to anxiety. Dogs have no concept of growing up and going off to college. All they know is that a beloved family member is no longer around. This can turn into a stressful situation for them.
Ways You Might Be Causing Anxiety
Despite their best intentions, owners often contribute to or worsen their Great Dane's anxiety in their attempts to help ease it.
They may unintentionally provide positive reinforcement that rewards their dogs' anxiety or add additional stress through anger and punishments.
Sometimes, the owner is simply not meeting all of their dog's needs.
Boredom or lack of entertainment
All dogs need some type of exercise to burn off extra energy. This varies not only by breed but even down to the individual dog.
This could mean anything from short walk to a half hour game of fetch followed by a two-mile run.
Adult Great Danes typically need around 30 minutes to an hour of exercise each day. By comparison, puppies and younger dogs may require up to 90 minutes of activity.
When a dog is full of energy from a lack of exercise, they can easily become anxious and restless.
Lack of exercise & play
Dogs need mental stimulation as well as physical. Boredom can lead to anxiety, especially in dogs that are left alone for long periods of time.
You wouldn't want to sit at home with zero entertainment and no one to hang out with all day every day.
Well, neither does your Great Dane!
Bored dogs often resort to entertaining themselves, which usually results in ripped-up bedding, chewed-on furniture, and noise complaints 
Puzzle toys are a great option for mental stimulation and entertainment. When your dog figures out how to open up each of the compartments, he is rewarded with a treat.
There are also toys that can be stuffed with peanut butter or other tasty snacks. These provide your Great Dane with hours of delicious fun.
Making a big deal out of departing/returning
Many owners try to soothe their dogs' separation anxiety by giving them extra love and attention right before leaving the house and immediately on their return.
But this says to your dog that your being gone is an emotional, stressful affair!
Instead of making a big deal out of leaving, turn it into a positive, rewarding time for your dog. Try giving your dog food or treats just before you leave.
Alternatively, try having special toys that your dog only gets to play with when you are gone. Try remaining calm and unemotional when you have to leave your dog at home alone.
Doing so will make it much easier for them to remain calm as well.
Treating Great Dane Anxiety Problems
In addition to those already mentioned, there are many training tools that you can use to help curb anxiety.
Crate training is a fantastic way to help your dog feel safe and comforted. It can also help to save your house from destruction!
Start by keeping your dog in the crate for short periods of time and slowly build up to longer stretches. Make the crate a comfortable, inviting place that your dog wants to be in!
Start by filling it with cozy bedding and fun toys. You can even place a piece of your worn clothing in the crate so that it smells like you. Eventually, your dog will see the crate as his own safe space and will voluntarily go there when he needs some quiet time.
For more information on crate training, visit my dedicated article on it here.
A good way to help your dog become accustomed to and comfortable with you leaving is by desensitizing them to your going-out-the-door routine. Put on your shoes and pick up your purse or keys, then don't go anywhere.
Repeat until these actions no longer generate anxiety in your dog. Then move to actually go out the door for just a few minutes. You can even talk through the door to your dog to reassure him that you haven't left.
Slowly increase the amount of time you are gone as your dog becomes more comfortable with being alone.
Where To Go For Help
Sometimes these options are not enough, in which case, you need to seek out the help of experts.
Your dog may benefit from the help of a professional trainer who has experience dealing with dogs who suffer from excessive anxiety.
Medications are also available to provide relief from severe stress and anxiety. One such approach that has increased in popularity over the last several years is the use of CBD oil.
For more information about how CBD oil could help your Great Dane's anxiety, take a look at my article here.
Professional Trainer
A good trainer can not only help your dog become calmer and happier, but they can also teach you how to better manage your dog's anxiety.
Professional trainers can help determine the specific triggers that cause your dog to become stressed.
They have the knowledge and tools to desensitize your dog to the things that upset them and help relieve their anxiety.
Veterinarian
If your dog is suffering from anxiety, especially if it seems to have come out of nowhere, a trip to the vet could be a good idea. Anxiety can be a symptom of an illness or injury.
Your vet can determine if there is an underlying physical reason for your dog's anxious behavior.
If your dog's anxiety persists, despite corrective training, you can talk to your vet about management with medication. Clomicalm is an FDA-approved treatment for anxiety in dogs, and the tablets help relieve anxiety without sedation or personality changes.
There are also several natural options shown to be effective in treating anxiety. Let your vet help determine the best treatment method for your dog.
Conclusion on Great Dane Anxiety
Any dog can experience anxiety, but Great Danes are especially susceptible. However, there is no need for you and your dog to suffer! There are many training tools and options to treat Great Dane anxiety and the negative behaviors that often come with it.
If your dog's anxious behavior is not alleviated by at-home training methods, there are professionals who can help your dog gain confidence and overcome their anxiety.
Related Articles