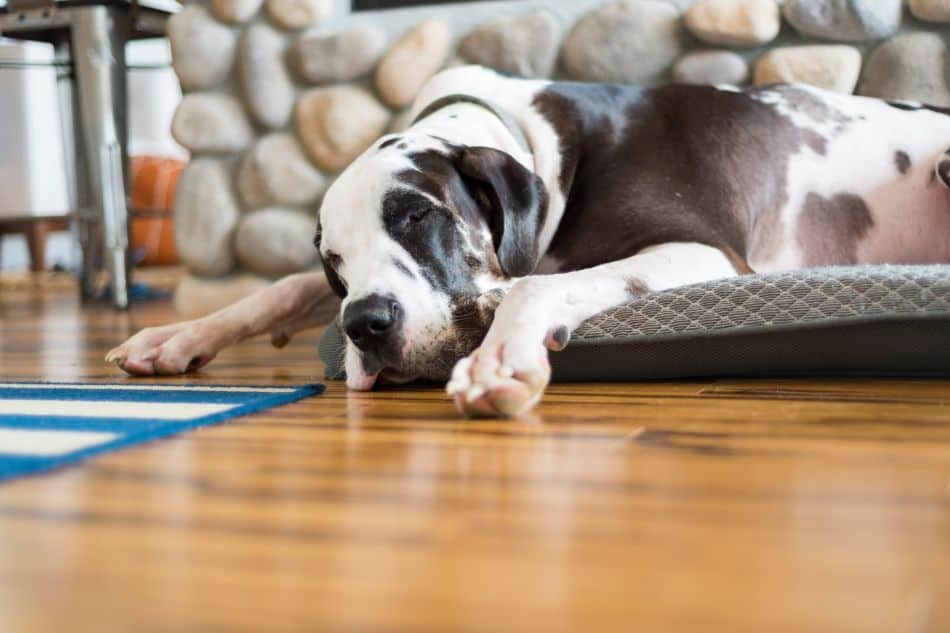 Great Danes are well known for their giant size and love of sleep. One common question that owners ask themselves is, "What's the best bed for my Great Dane?" With their large size and a higher likelihood of orthopedic issues, getting them a bed that provides proper support is important.
The best bed for Great Danes is the Big Barker 7-inch Headrest Edition. It's specifically designed to provide proper joint support and relieve pressure points for giant breeds like Great Danes and comes with a fantastic warranty as well.
Best Overall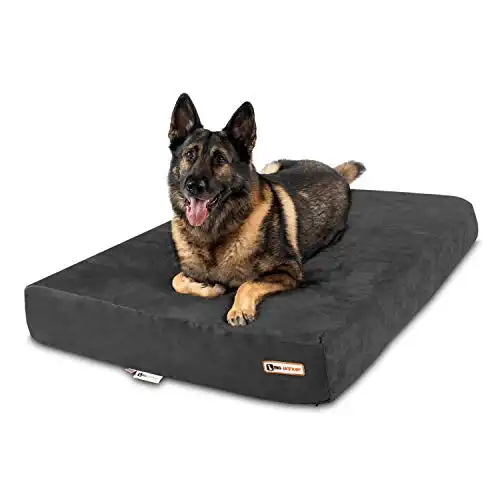 Big Barker Orthopedic Dog Bed
The Big Barker bed is specifically calibrated for the comfort of a big dogs like Great Danes! Its proprietary foam is engineered to support a 300+ lb dog, and it's large enough to let your Great Dane stretch out. It's manufactured in the USA and comes with a 10-year warranty.
Buy from Amazon
Buy from Chewy
Best XL Dog Bed for Great Danes
There are lots of dog beds available, ranging from basic stuffed beds to elevated beds and even high-tech temperature-controlled beds.
My tried, and true favorite is the Big Barker 7-inch Headrest Edition, tailored specifically for giant breeds like Great Danes.
It's what I (well, my Danes) personally use!
The bed is designed to eliminate pressure points to maximize your pup's comfort. It is made of soft foam that supports the dog's body and keeps it level and off the hard ground.
Where traditional dog beds are stuffed with random filling, all beds from Big Barker are made with American-made foam and certified by CertiPUR-US to meet content, performance, and durability standards.
This ensures that your Dane will never sink through and end up on the floor!
Don't just take my word for it! Here's a short video from Dr. Kim Bowers from the All Pets Veterinary Hospital talking about why it's her favorite bed as well.
Not only is it made from quality fabrics and upholstery to match your interior decor, but the bed purchase also comes with a 10-year warranty after purchase!! You can buy the bed at Amazon.com.
It's an easy choice for the lovable giant Dane. Not only is the bed able to withstand its weight, but it is also comfortable and stylish as well!
The Runner-up
While purchasing a top-notch bed should save you money in the long run, I realize that price is always a concern. For that reason, I also highly recommend the KOPEKS Deluxe Orthopedic Dog Bed.
Best Value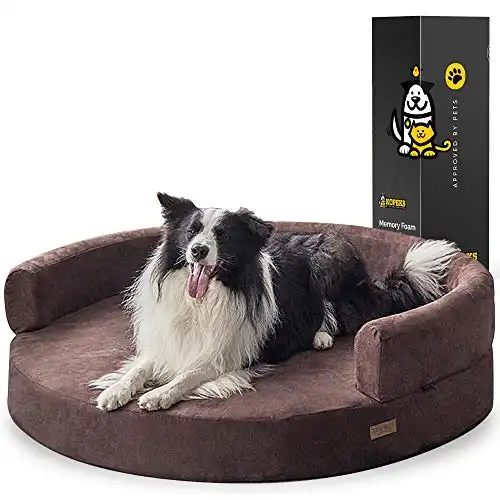 This bed also supports 7 inches of memory foam and a three-quarters headrest. Its soft micro-suede cover is removable and machine washable.
A secondary waterproof liner is also provided further to protect the memory foam from those everyday happenings 😉
Why A Good Dog Bed Is Important
#1 Joint support
We all know that Great Danes are also great sleepers. So much, in fact, that most sleep 16-18 hours per day! With all this time spent sleeping, it makes sense that they should be able to do so in a supportive manner.
When dogs sleep on the floor or in flimsy beds, they are forced to curl up into whatever space is available and are limited in their movement and sleep positions. Over time this can become harmful to their spine and posture.
This is especially true for elderly dogs and Great Danes, who are naturally prone to issues such as hip dysplasia or arthritis.
Many people believe that their Great Danes simply "slow down" due to age.
They don't realize that, in most cases, they only slow down because movement causes pain or discomfort. According to Dr. Matt Burke of the Veterinary Orthopedic Sports Medicine Group
"Arthritis and other joint conditions are among the most widely undiagnosed problems in big dogs. Up to 80% of large dogs experience joint pain or soreness as they age."

Dr. Matt Burke, Veterinary Orthopedic Sports Medicine Group
Think about that statistic for a moment – 8 in 10 large dogs experience joint pain! You could quickly retire a millionaire with those types of odds anywhere else in life.
Providing a proper bed is beneficial not only for older dogs to ease their joints, but it can also help any dog in preventing future spine or structural problems.
Furthermore, a hard or uneven floor and sleeping in uncomfortable positions may also lead to unstable sleep patterns and cause your dog to lose sleep. This can make them irritated and lethargic.
#2 Temperature regulation
Similar to us humans, dogs need to regulate their body temperature. This is especially important for Great Danes due to their lean build and short-haired coat.
They are very susceptible to temperature change, so what might seem like a mildly chilly night to us is probably way colder for the pups sleeping on the floor.
When dogs are exposed to harsh temperatures during the summer or winter months or for an extended period of time, they become more prone to sickness. Buying a dog bed ensures that your Dane will be comfortable regardless of the weather.
There are different options for temperature regulation beds you are able to choose from, such as electric self-warming and cooling beds and elevated dog beds. These may not be necessary unless in cases of extreme inclement weather.
#3 Save your furniture!
Let's face it, some of your flooring, favorite rugs, or even expensive couches have probably taken a beating from your Great Dane.
Some dogs love to circle around, scratch, dig or burrow before settling down for a night's rest. This wear and tear can quickly add up and lead to repairs or even the need to replace furniture.
A dog bed is a designated space for your dog to get comfortable without doing damage to your goods! Not to mention sparing them from collecting pounds of drool and hair!
#4 a place to call home
Dogs are naturally territorial, so it makes sense that you should give your Dane their own designated space.
Great Danes don't require much exercise as it is, so they need somewhere they can relax and feel safe 24/7.
By providing them with a bed, you create a stress-free sanctuary for your pet that they can access anytime to get their snooze on.
Common Great Dane Bed Questions
1. How do I know what size is best for my dog?
Whether you go with one of my recommended beds or not, picking the correct bed size is still important.
Let's face it; no one wants to sleep on a tiny bed!
To find out how big of a bed to get for your dog, consider how long the width needs to be for the dog to spread out comfortably. To do this, have your dog stand up straight and measure from the bottom of their paw to the top of their shoulder.
You will need to add 3-4 inches to that to come to an efficient width. Make sure to leave plenty of room to grow into the bed if you're purchasing a Great Dane puppy!
2. Are orthopedic dog beds worth it?
For Great Dane owners, opting for an orthopedic dog bed may prove to be beneficial in the long run.
Since these are constructed with dogs who need some extra support in mind, they can make your dog comfortable sooner and prevent from developing worse joint conditions.
Plus, orthopedic beds are usually made with quality materials, so they don't need to be replaced as often as traditionally stuffed beds would need to be.
3. But what if my dog eats their bed?!
Although they may need somewhere to sleep, dogs tend to have a knack for chewing on inappropriate things, especially new or particularly fluffy things like their beds.
It is a natural occurrence since dogs explore this way, but dog owners are not usually keen to come home to ripped bedding. To keep your dog from chewing on his bed, try introducing a new chew toy or bone as a distraction.
This will capture their attention and train them to chew on other things besides their bed.
You can also attempt to train your dog not to chew by using tactics like spraying water or clapping. When a dog is under stress, it may display odd behavior like chewing. Be conscious of your dog is situation and try to create a stress-free environment as much as possible.
Putting The Topic To Rest 😉
Your furry best friend deserves more than just to sleep on the floor or on a cheap and chunky bed.
It is more than just a stuffed square to sleep on—it helps your dog develop a space and sense of privacy and security, develops good sleeping habits, and affects their health in a positive way.
There are also great benefits for Great Dane owners, like keeping your house clean and furniture intact. When choosing a dog bed for your pup, be sure to keep these tips in mind so you both can sleep soundly!
If you found this article helpful, you can also look at my dedicated article on the Big Barker Dog Bed Review.