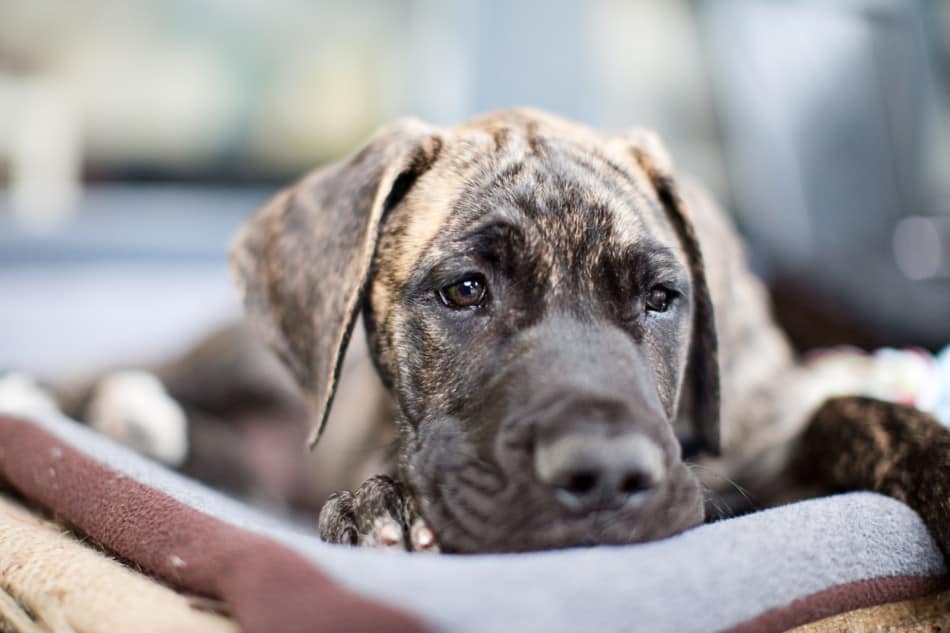 This post contains affiliate links and I will be compensated if you make a purchase after clicking on my links.
Do you have a Great Dane puppy and looking at what supplements they may need? While a well-balanced diet should cover most things, are there scenarios where they're still needed?
Great Dane puppies that are eating a well-balanced diet and developing properly do not need to take dietary supplements. However, supplements may be necessary if their diet is not providing them with the proper nutrients or they exhibit development issues.
While supplements are not necessary, there are also some forms that can be proactively taken to help lessen the likelihood of future health issues. With that in mind, let's take a look at some of the best supplements and vitamins for Great Dane puppies.
Note: Before deciding to give your Great Dane a supplement, it's important to speak with your veterinarian to ensure that they will not interfere with any other medications.
Best Supplements and Vitamins for Great Dane Puppies
When looking at supplements for your Great Dane puppy, there are a few different reasons that you would want to give your Great Dane puppy any type of supplement.
To name just a few, these may include the prevention of:
Joint and hip issues
Skin issues
Anxiety
Allergies
GI issues
Joint Supplements
Great Danes are known to have hip and joint issues that you may want to give your puppy a supplement for. Many times, these supplements can be started when your Great Dane is a puppy to help prevent any joint issues.
Things like Glucosamine and Chondroitin are two great things that you can give your Great Dane to help with their arthritis or joint pain. 
Dasuquin Soft Chews are great to give your Great Dane puppy who is suffering from joint pain or arthritis. This supplement contains both Glucosamine and Chondroitin, as well as ASU.
ASU stands for avocado/soybean unsaponifiable. 
This is an ingredient concentrated directly from avocados and soybeans that is very useful for joint health. ASU has been shown to decrease the production of many substances that break down the cartilage that is found in your Great Danes joints.  
Studies have shown that ASU, along with Glucosamine and Chondroitin, is the best thing to give a Great Dane with joint problems. This supplement also contains Green Tea extract, which is rich in antioxidants.
This makes it the perfect supplement to give to your Great Dane, who is suffering from any joint or bone problem as it also helps the whole body!
Skin Supplements
As your Great Dane puppy grows and develops, it may have some skin issues such as allergies or dry, flaky skin.  If your Great Dane puppy is losing their hair, scratching, or chewing at its skin, it could benefit from a skin supplement. 
Omega is great to have as a supplement to help with your Great Dane puppy's skin. A great source of Omega is EPA, DHA, and ETA.
These play a very important role in the makeup of a healthy skin barrier. A healthy skin barrier will help keep moisture in and irritants out of your Great Dane's skin.
Zesty Paws Omega Bites are a great source of Omega for your dog. These contain EPA, DHA, and vitamins and minerals needed for your Great Danes skin. These not only help with your Great Dane's skin but also their joints and immune system. 
These are a tasty treat that your dog will love.
These treats have AlaskOmega, which is made from MSC-certified Wild Alaskan Pollock. This provided a pure and clean source of Omegas to help keep your Great Dane healthy and happy.
These are daily soft chews that you can give to your Great Dane to help with their dull, dry, and brittle coat. It also helps decrease shedding by providing your Great Danes coats with important nutrients that help promote shine, strength, and softness. 
These are grain-free treats that also help support the immune system, joint and hip health, and heart activity to help keep your Great Dane active and healthy.
Anxiety Supplements
Some Great Danes puppies may be stressed or have separation anxiety, especially if they are experiencing anything new.
Some Great Danes may pace and run around the house, destroying everything in their path because you left for work.
These are two great supplements that you can give your Great Dane to help in many different stressful situations.
Calming Care is an excellent choice to give your Great Dane puppy with anxiety. This is a powder that you would sprinkle on their food.
This supplement contains probiotics that help your Great Dane remain calm. Calming Care will help your Great Dane deal with separation anxiety, changes in their routine, pacing due to anxiety, and visitors.  
Solliquin is an anxiety chew that has been shown to keep Great Danes calm and relaxed. These are tasty chews that all dogs love.
This supplement contains L-Theanine which is commonly found in green tea.  This stimulates the brain to make alpha waves that are responsible for relaxation and mental awareness.  
Allergy Supplements
Some Great Dane puppies will have allergies. They will itch and have a rash due to these allergies.
There are some great supplements that you can give to your Great Dane puppy to help with their allergies.
Zesty Paws Allergy Immune Supplements are great at helping dogs with allergies. These bites help boost your dog's immune system and support their immune system, decrease histamine release, and help improve your dog's digestive health.
These are a great treat to give to your dog if they suffer from seasonal and environmental allergy issues!
These treats are enhanced with 80mg of EpiCor in each treat. EpiCor contains needed vitamins, protein, fibers, and antioxidants that help support your dog's immune defense to help keep your dog healthy and happy.
GI Supplements
Great Dane puppies and really all puppies commonly eat things that they should not eat. This can cause them to have diarrhea.
There are probiotic supplements that you can give to your Great Dane to help them with mild diarrhea.  For any puppy that is lethargic or has bloody diarrhea, they should see a vet right away as this can be due to the parvovirus. 
Purina Pro Plan FortiFlora is a probiotic that you can give to your Great Dane puppy every day if needed. It is great at helping prevent GI issues in your Great Dane puppy.
Some Great Dane puppies can have stress diarrhea when they go for car rides, during thunderstorms or when they stay at a boarding facility. By adding this supplement to their food during these times, it can help prevent diarrhea.
This supplement has the beneficial bacteria that will promote a healthy GI system in the form of a tasty beef-flavored powder. This can easily be mixed into your Great Dane puppy's food to prevent your puppy from developing diarrhea.
What special cases would your dog need a supplement for?
There are a few issues when your Great Dane puppy may be sent home a supplement to take from your vet.
These are a few common reasons that your Great Dane puppy may need supplements:
If your dog had an accident and broke their leg, extra vitamin and minerals will help this bone hear quicker.
If your dog has eaten something that they should not have
If your dog has a bacterial skin infection or skin parasites such as mange
Many times, these Great Dane Puppies can benefit from a multi-vitamin. One of the best multi-vitamins for a growing Great Dane puppy is NaturVet – VitaPet Puppy Daily Vitamins.
NaturVet is a great choice for young growing Great Dane puppies. These vitamins have all the added vitamins, minerals, and other ingredients to help your puppy grow strong. 
By providing your Great Dane puppy with a multi-vitamin, you are making sure that they are getting all of the needed vitamins and minerals for them to fully develop. 
Is food alone enough?
Most high-quality dog foods do meet the needed standards of nutrition for your dog. They contain all the vitamins and minerals that your dog needs to live.
There are some very good supplements that you can start your puppy on to help them stay healthier for longer. Unfortunately, most Great Danes eventually experience some form of bone or joint issues as they age.
Starting them on a supplement for these issues when they are younger can help prolong the beginnings of these issues.
For more information about puppy foods for Great Danes, make sure to take a look at my articles below as well:
Final Thoughts on Supplements
While most Great Dane puppies do get the necessary vitamin and nutrients in their food, there are a few great supplements that you can start your Great Dane on to help prevent or treat many issues that are seen in Great Danes.
These supplements should be discussed with your vet to make sure that they will not interfere with other medications that your dog may be taking. Most supplements are intended to help your dog live a long and healthy life as well as a tasty treat.
Before you go, make sure to also take a look at my general article on the best supplements for Great Danes of any age!