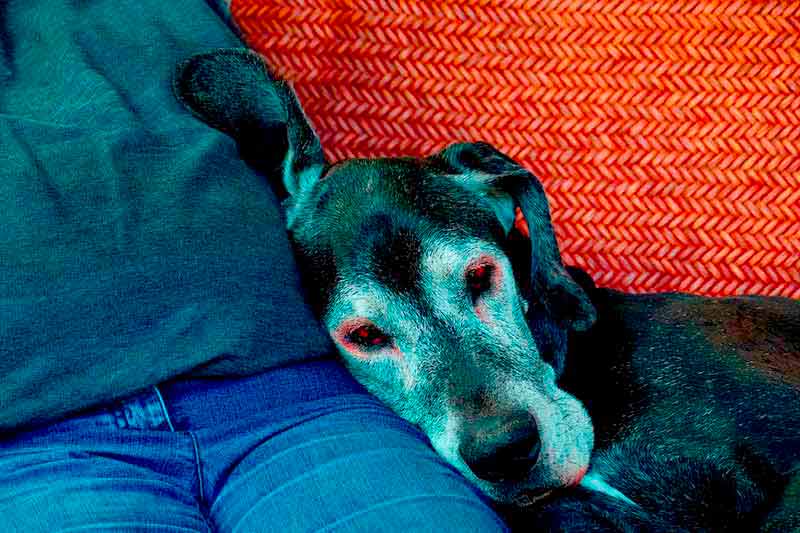 While you may enjoy fireworks at celebrations such as New Year's Eve, Independence Day, it's likely that your Great Dane doesn't share the same enthusiasm for loud noises!
In fact, July 5th is the busiest day for animal shelters in the United States. This is due to the large number of frightened animals who escape from their homes during professional and amateur firework shows.
In addition to being lost, there is also the risk of injury. This potential exists both during the process of escaping, as well as once they're able to freely roam.
If you're not sure already, there are several telltale signs that your Great Dane is fearful of fireworks and other loud noises.
These include shaking, hiding, salivating, barking, urinating or defecating, destroying things, or seeking excess comfort.
While not all Great Danes are afraid of loud noises, there are several techniques that can be used to reduce anxiety. These include:
Exercise your Great Dane in advance of fireworks to release pent-up energy
Provide them access to their safe place e.g. crate or bed
Distract them with toys
Close curtains or blinds to deaden the sounds and sights of fireworks
Play a white noise machine or television to help cover-up sounds
Stay at home with your Great Dane!
Medicinal remedies such as aromatic relaxers or calming chews
Exercise Them Before the Big Show
It should go without saying that exercise should be a daily routine for you and your Great Dane. Because fireworks are common on New Year's Eve and Independence Day, you have no excuse for not thoroughly exercising your Great Dane before the big show starts.
Doing so will release any pent-up energy, and reduce their likelihood of exhibiting destructive nervous behavior.
Tiring them out of course is not a cure for legitimate fireworks fears, but it should help lessen their reaction when the fireworks begin.
Provide Access to Their Safe Place
Knowing that fireworks can a stressful event, it makes sense to keep your Great Dane in a friendly environment.
Ideally, this is a place that they're very familiar with and comfortable in. Having access to their bed, blanket or crate is even better as they further provide a sense of security and safety.
If you've done a good job of crate training your Great Dane, then you already know how comfy they get when they go into their dens.
Toys!
If you're following along so far, then this one should come as no surprise! In addition to keeping them in a place that they feel safe, bringing along their favorite toys is a great next step.
Rather than focusing on the sounds of a fireworks show, then can instead direct any nervous energy towards gnawing on a bone, or playing with a favorite toy.
Puzzle toys are great options as they also offer an outlet to mentally focus on something other than the fireworks. Not to mention the fact that they often get a tasty treat by navigating their way through the puzzle toy!
Deaden Sounds and Sights
Continuing the theme of rocket science (pun intended). If the sounds of fireworks lead to anxiety then deadening them can also help to alleviate your Great Dane's anxiety.
Closing any blinds or curtains will do a better-than-expected job for reducing the volume and intensity of sounds. Some Great Dane can also be frightened by the visual sight of fireworks exploding in the sky.
By removing their visual access to the outside you decrease the likelihood of them seeing the fireworks go off.
You can also take this a step further by leveraging a white noise machine to disguise sounds coming from outside.
If you don't have one available, the television can also be used. Both of these create a base level of noise inside the house to lessen the booms and crackles of fireworks.
Stay At Home
I certainly don't need to tell you this, but I will anyway Great Dane's love people! So much in fact that your mere presence could go a long way in alleviating their firework anxiety.
Rather than going out, consider inviting some friends over to celebrate at your place. Thereby increasing the likelihood that your Great Dane can enjoy the event as well. They will greatly appreciate the added attention and reassuring nature of having you around.
Spending this time with them as a puppy can go a long way in reducing their anxiety long term. After "surviving" a few seasons of fireworks it's even possible that their firework anxiety will be gone. Leaving you free to venture back out if you so desire!
Medicinal Remedies
I've heard lots of crazy ideas for medicine over the years for ways to reduce a dog's anxiety. While some techniques exhibit anecdotal merit, my personal preference is to stick to remedies backed by science.
Also, note that I'm bringing up medicines last! While chemical imbalances certainly exist, my personal belief is that you should try to resolve issues without them first.
We are too quick to look for the magic silver bullet that will wipe away a problem, without really trying to address its source first.
Pheromone Diffusers
This one sounded a bit crazy to me at first. However, let me explain why I think it actually has merit. After giving birth, female dogs secrete pheromones from their intermammary sebaceous glands.
These pheromones provide the litter with a sense of well-being. This occurs naturally and helps keep the puppies calm. It's also known as a dog-appeasing pheromone or DAP for short.
A synthetic analog of DAP called Adaptil has been created that results in the same relaxed state. Studies have shown that not only is it effective at reducing anxiety during fireworks, but it can also be in other situations such as kenneling, vet visits, and separation anxiety.
One key takeaway from the study is that Adaptil was particularly effective when combined with the use of a crate or other similar safe place.
To directly quote the study, "The findings suggest a potential benefit for the use of DAP in the home environment in conjunction with a hide or den for dogs that have demonstrated a fear response to noise on initial exposure."
I'll admit upfront that this will not work for 100% of Great Danes. Every dog has its own chemical make-up and unique set of collective experiences that will influence the effectiveness of Adaptil.
However, if your Great Dane is terrified of fireworks, then it's certainly worth a shot. Apaptil also offers a starter kit option. If you find it doesn't make a difference for your Great Dane then simply don't buy it again.
Calming Chews
Generally speaking, I'm not a fan of recommending ingestible remedies. However, the gentle nature of many calming chews is something that I do feel more comfortable with.
Rather than consuming these on a regular basis, I prefer to use them on an as-needed basis. Big events such as New Year's Eve and the Fourth of July are perfect examples of such events.
Calming chews use a combination of multiple natural herbal remedies than gently relax your Great Dane and reduce anxiety. Zesty Paws Calming Soft Chews are a personal favorite as they also make use of tryptophan and suntheanine to further relax your dog.
Tryptophan is the compound found in turkey that's largely responsible for your post-Thanksgiving snooze. Suntheanine is a form of the amino acid L-theanine that stimulates calming brain waves in dogs.
"Other" Medicines
In addition to the medicinal remedies described above, I've also heard of plenty of non-prescriptive attempts at reducing anxiety. Some examples of these include Benadryl, pure melatonin, CBD oil, and even Xanax.
While some of these options may work, you are far better off consulting with your veterinarian in these cases. First, they will understand what's appropriate from a dosage standpoint given the dog's size and age.
Secondly, they will also be able to account for any undesirable side effects that could arise from conflicts with other medications that your Great Dane may be taking.
Recommended Articles