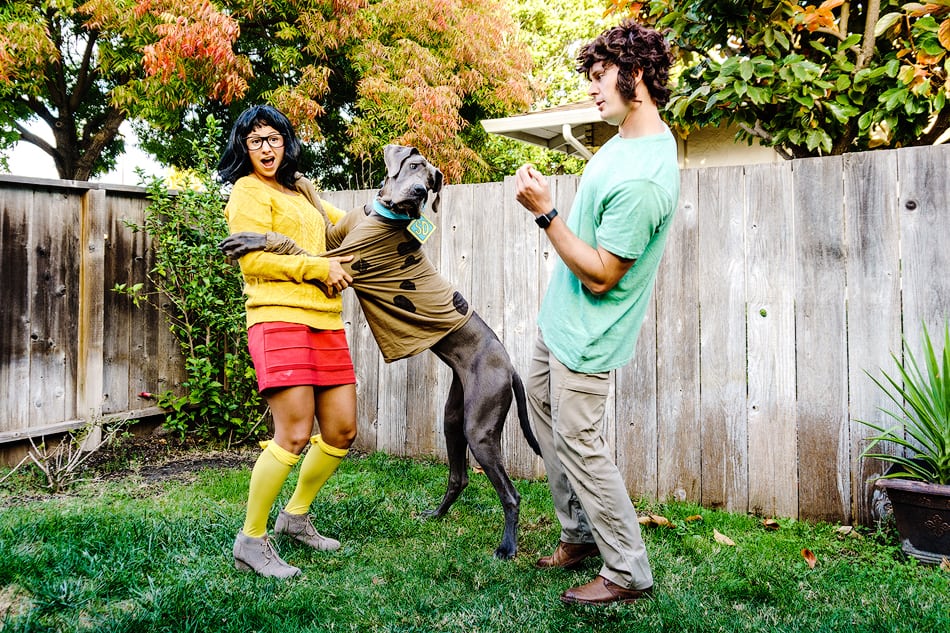 Great Dane Halloween costumes are a great way for them to join in on the holiday with the family. However, finding off-the-shelf costumes that fit a Dane can be tricky.
In many cases, you'll need to piece together assorted items to create a costume, or create your own from scratch. Thankfully, most of these items can be easily obtained from local hobby stores at a reasonable price.
Thanks to their giant size and lovable natures, Great Danes absolutely have the potential to be the kings and queens of Halloween. However, it's up to you to make that happen!
Here are 22 fun ideas for Great Dane Halloween costumes to get your creative juices flowing.
Costume #1 – Chick-fil-A Cow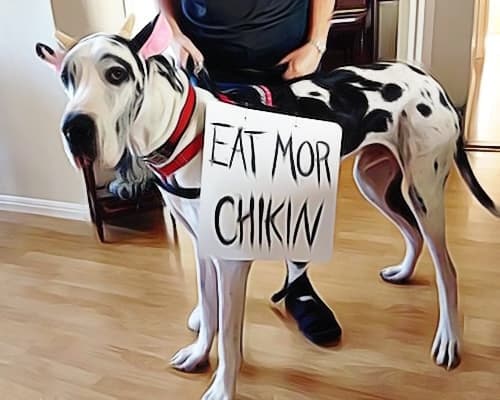 If you've got a harlequin Great Dane, the Chik-fil-A cow mascot is ripe for the taking!
All it really takes to make this masterpiece happen is a small piece of cardboard and black marker to recreate their infamous tag line. Hang it from their collar or side, and watch hilarity ensue!
You can level up this costume by also incorporating small horns or cow ears as is shown here to fully sell the transition from Great Dane to cow 🙂
Just beware that your Dane may get annoyed with the sign and attempt to tear it to pieces. So make sure to snap your pictures early in the night!
Costume #2 – Camel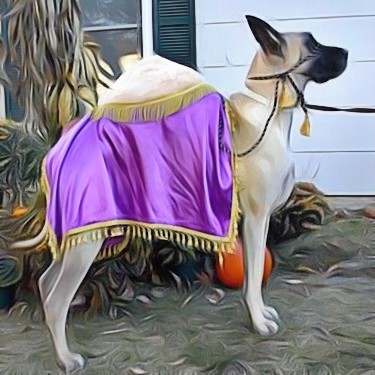 If there's one costume that gets me thinking about Aladdin, it's a Great Dane dressed as a camel! Thanks to camel-esque coat, fawn Great Dane's have a big advantage with this costume.
Strap a small pillow to their back and then drape an ornate brightly colored blanket over their back to create the illusion of a hump.
Personally, I love the purple and gold look pictured above, but there are many color options that will work.
Take a browse around your local Hobby Lobby, JoAnn Fabrics, etc… to find both the fabric and detailing!
Costume #3 – Scooby Doo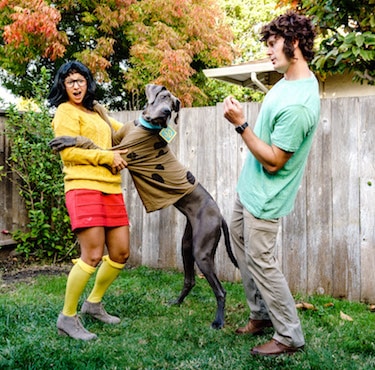 While Scooby Doo might be one of the more obvious costume ideas, it has plenty of room for fun interpretation!
For instance, don't feel free like only fawn Great Danes can play Scooby Doo. As you can see in the photo above, we used a brown long sleeve t-shirt to transform Gus's blue coat into one that more closely resembles that of Scooby Doo.
Instead of buying her a brand new teal collar just for Halloween, we instead chose to create a slip cover for her existing collar using material from the hobby store.
The iconic Scooby Doo ID tag was fashioned from a piece of cardboard that we colored using markers.
Last but not least, don't be afraid to make this one into a group costume! Aside from Scooby, there are a whole cast of characters from the show/movie that can be played by family members as well. In this case, we had a blast joining Gus as Velma and Shaggy.
Costume #4 – Racehorse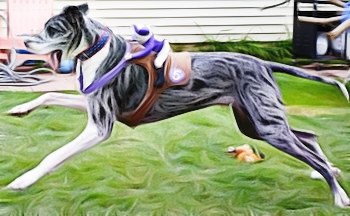 The sheer number of horse-related jokes that I hear about Great Danes on a regular basis is a bit annoying. However, Halloween could be the one opportunity to have a little fun with it!
To be clear – I NEVER want to see a child or other human trying to ride a Great Dane. But, I'm totally on board with a miniature fake person riding them for brevity's sake!
Costume #5 – Skeleton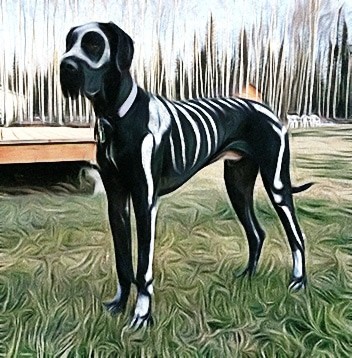 As you can see above, there are some really creative costumes that can be created using body paint alone. In this case, the owner transformed their Dane's elegant black coat into that of a skeleton with the addition of some white lines!
While it may take some time to get these lines drawn on, they have the benefit of not restricting your dog's movement in any way. Just make sure to use a non-toxic form of body paint since you will literally be painting or spraying it all over them.
While they're "dressed up", you'll also want to keep a close eye on them to make sure that they stay off the furniture 😉
Costume #6 – Spider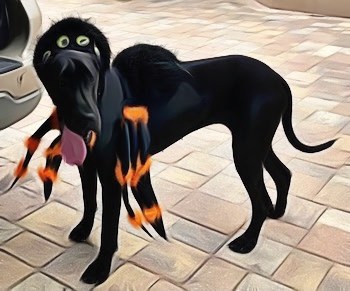 If you were fortunate (or unfortunate) enough to see the viral video from a few years back of the mutant spider dog then you know exactly how intriguing this costume can be!
However, instead of terrifying your friends, you can also turn it into a cuter version of spider dog.
In addition to being a relatively easy to fabricate costume, I like the fact that this one lends itself well to all Great Dane coat colors!
Costume #7 – Mermaid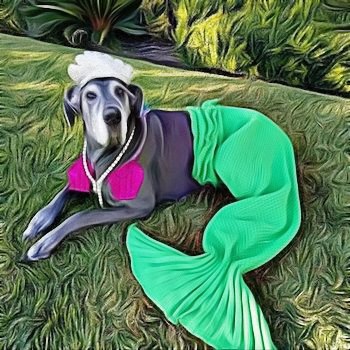 As cute a mermaid costumes may be, they probably aren't your most practical option for a night of trick-or-treating. Great Danes are already goofy enough, and the addition of a full blown tail won't help them out!
Instead of having the tail fully sewn up, you could choose to leave it open and flowing so that your Dane is able to move around more easily.
Regardless of which option you go with, you're bound to get some memorable photos!
Costume #8 – Elephant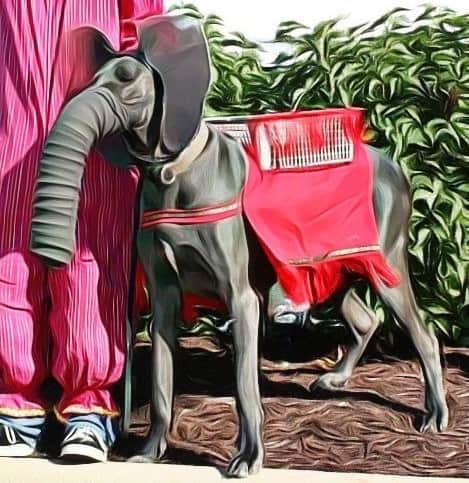 With the addition of ears and trunk, you can swiftly transform your Great Dane into the leanest elephant on earth!
In this case, the owners took it a step further to fashion a carrying basket and case to really set the scene, and it turned out marvelous!
Note, most Danes likely won't put up with the annoying trunk for long, so make sure to take your photos early in the evening 🙂
Costume #9 – Cowgirl / Cowboy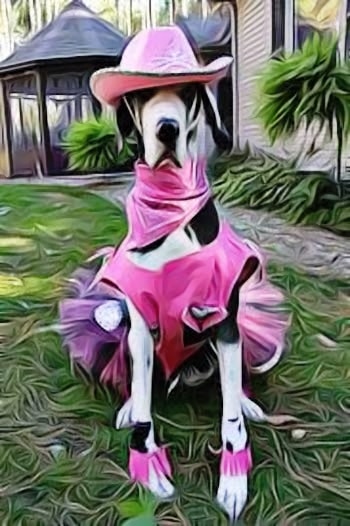 Whether you shoot for pretty in pink or the classic rugged look, dressing your Great Dane up for Halloween as a cowgirl or cowboy is sure to be a fun one!
From hats, bandanas, vests, tutus, etc… there is a long list of accessories that can be found online or in Halloween stores to bring this costume to life.
Think of this as their chance to get revenge for all those jokes about being a horse! 😉
Costume #10 – Clown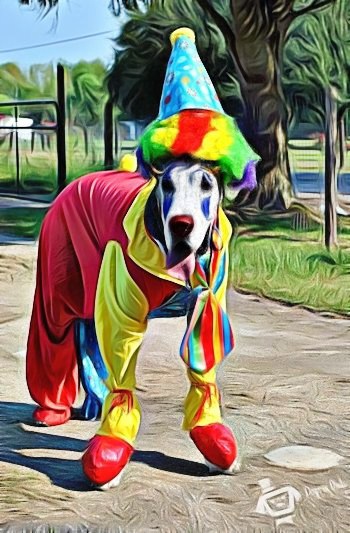 Like them or love them, transforming your Great Dane into a clown for Halloween is a simple yet entertaining feat!
The key pieces to this costume will be a colorful body suit and wig, but you can take it further by fashioning boot and a party hat (as seen above).
Some may choose to even include some pet-friendly face paint as well for the ultimate finishing touch!
Costume #11 – Banana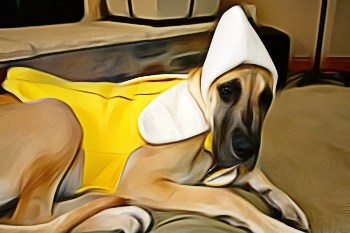 Are you bananas for Great Danes? If so, then maybe it's time to show the world just how much by turning your Great Dane into a banana!
Joking aside, this is a pretty darn cute idea for a costume.
While you could try to make this on your own, you'll probably be better off finding an existing banana costume for an adult and making a few modifications to it.
Costume #12 – Superman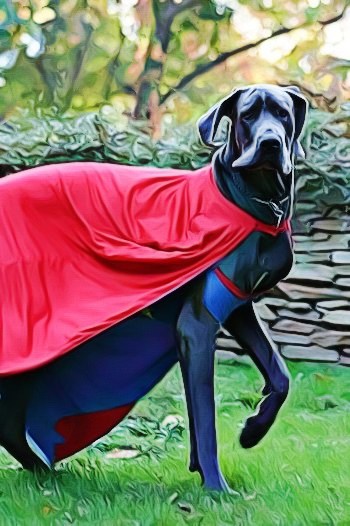 Given their mighty size, dressing your Great Dane up as Superman for Halloween sounds like a perfect idea! Better yet, all that's really needed to pull off this outfit is a red and blue cape.
This could be something that you fashion out of an adult costume, or create from scratch using supplies from your local craft store.
Either way, I just love the thought of watching a Dane run around with that red cape flowing behind them!
Costume #13 – Batman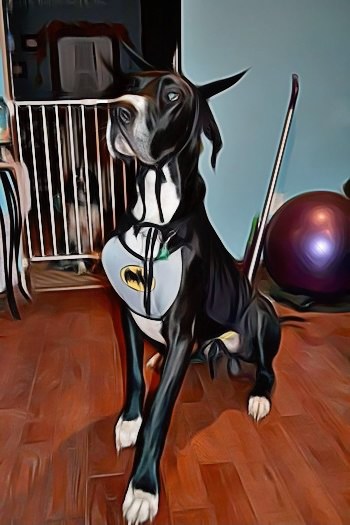 While on the topic of superheroes, let's not stop with just Superman. Batman is another equally good character for Halloween.
Think about it – Batman struck fear in the hearts of criminals and so do Great Danes! Just about no burglar wants to break into the house of a giant dog, costume or not 😉
Costume #14 – Mario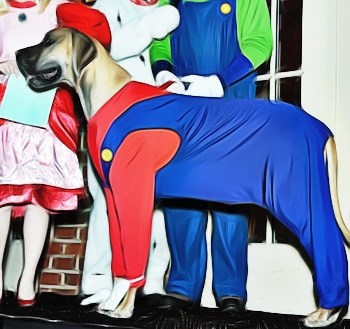 Perhaps you have to be of a certain age to appreciate them, but Mario and Luigi make up one of my favorite all time duos!
If you've got more than one Great Dane, or simply want to create a fun group costume for the family, you should highly consider the Mario Brothers and their clan.
In addition to Mario and Luigi, there's Bowser, Peach, Toadsworth, Kylie, and many other characters to choose from!
Costume #15 – Lion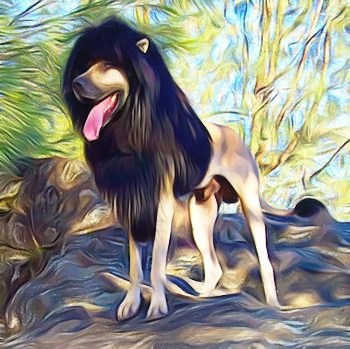 Thanks to the return of the Lion King and the simplicity of this costume, I expect to see plenty of Great Dane lions this Halloween!
In particular, fawn Great Danes have it easy as they're basically only a wig away from completing this outfit 😉
If you have a fawn Great Dane puppy, pleasssse make my year by bringing Simba to life!! I can guarantee you that your neighborhood will love you for it as well.
Costume #16 – Tiger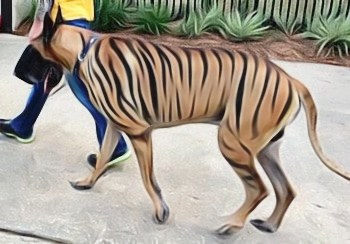 Lions, tiger, and bears, oh my! Here's yet another fantastic use of pet body paint / spray to transform their Great Dane into an animal. This owner's take on a tiger was particularly well done!
Admittedly, this will be a much easier task for a fawn Great Dane as you only have to add the black stripes.
However, if need be, you could make this work for other coat colors as well by first adding an orange base layer, and then layering black stripes on top of it.
Costume #17 – Zebra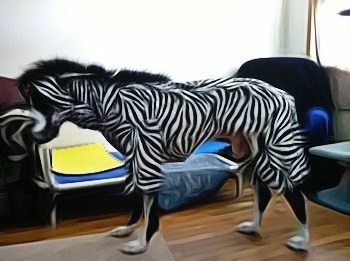 Since we're on the Safari trend, let's not skip over zebras! Given that Great Danes have a roughly similar body type, all it takes is the addition of some black and wipes stripes to complete their transformation to full Zebra.
Stripes can be accomplished using a fabric printed with the pattern, or using body paint / spray.
If you've got two Great Danes, it would be great fun to dress up one as a lion and one as a zebra just to watch them chase each other around while dressed up 😉
Costume #18 – Witch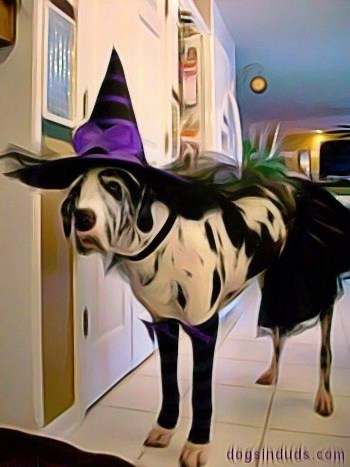 Most Great Danes are absolute sweet hearts, so it feels a bit off to turn them into a "witch". However, I found this particular version to be cute enough to include in the mix.
The costume really boils down to a black tutu and matching hat, so it really is a simple costume to pull off.
That hat will almost certainly need a chinstrap of some sort to hold it in place for any amount of time, but it really helps to complete the overall look.
Costume #19 – Dragon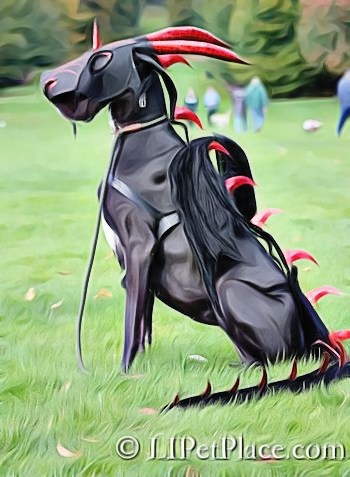 Game of Thrones may be over, but that doesn't mean that it has to be the end of dragons! Great Danes already have an impressive head, so while you can make them more ferocious by wearing a head piece (like the one shown above) I don't think it's absolutely necessary.
In my opinion, the real key to a good dragon costume is in the wings! This will require some form of chest harness, but it's absolutely doable.
Rather than focusing on red or green wings, I'd recommend picking a color that contrasts nicely to your Great Danes coat. This way they will be sure to stand out and be easily noticeable.
Last by not least, you can include a long slithery tail of some kind to make it look like they're actually flying when they run around 🙂
Costume #20 – Unicorn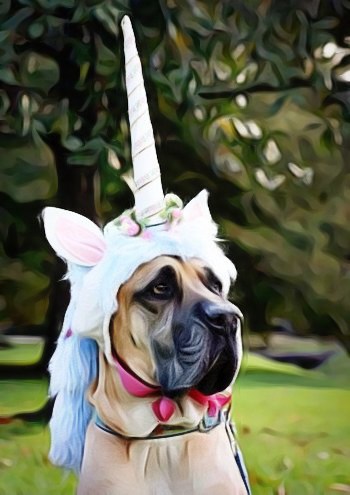 For many people, Great Dane's are already on the border of a mythical creature. Why not take advantage of this by actually turning them into a unicorn this Halloween!
As you've probably caught onto, simplicity is one of the key things I look for in a good Dane costume and this one hits the nail on the head (or horn on the head I should say) 😉
Costume #21 – R2D2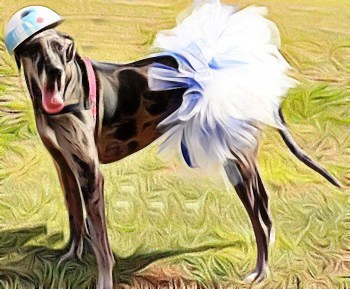 It may take a Star Wars nerd to appreciate this one, but why not turn your Great Dane into R2D2? This little guy wasn't just a reliable and trustworthy sidekick throughout the series, but he was pretty cute as well.
The bare minimum for pulling off this costume requires a R2D2-esque hat of some form.
However, you can easily take it a step further by including a tutu or Star Wars print fabric shirt to complete their transformation.
You can then have fun introducing them as "R2Dane" for the night!
Costume #22 – Thing 1 & Thing 2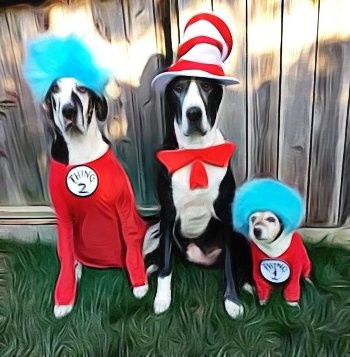 Whether you've got multiple Great Danes or just want to have fun with a group outfit, the characters Thing 1 and Thing 2 from The Cat in the Hat may be your ticket!
These costumes are very simple as they really only require you to find a red shirt t-shirt and label to denote each as Things. The addition of a blue wig definitely increases the appeal of the costume, but it's not required to pull off this outfit.
Related Articles