Selecting the ideal name for your Great Dane is an important and exciting decision. In this post, I'll provide you with a list of standout Great Dane names to help you find the perfect fit for your majestic companion.
Whether you're a new Great Dane owner or simply seeking inspiration, our list has got you covered. This article contains lists of Great Dane names by categories like gender, color, and many more fun approaches to help give you some ideas.
Table of Contents
I hope you find the perfect name for your Great Dane from this list 🙂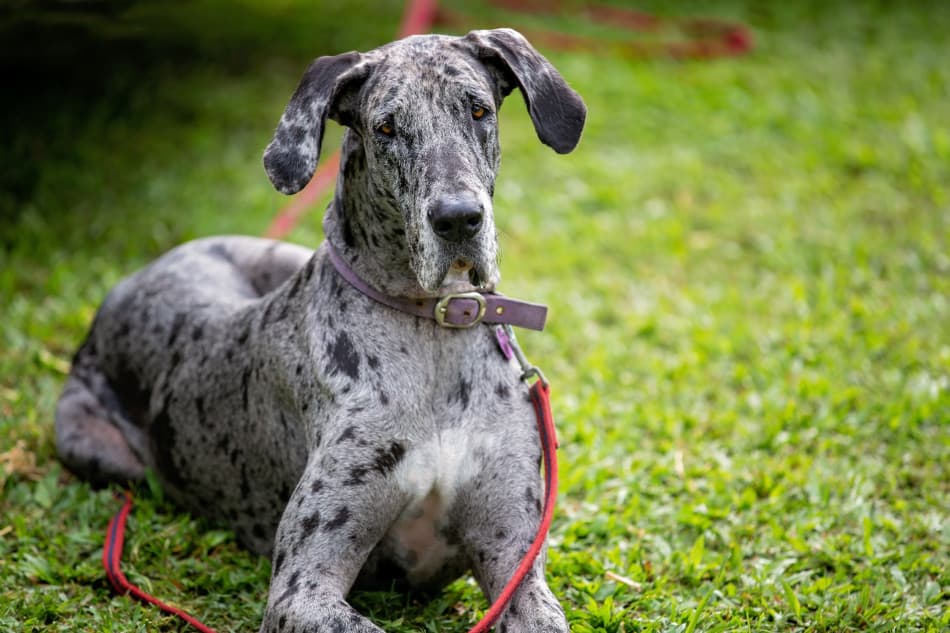 Great Dane Names
Female Great Dane Names
Ladies first!
Gender-specific names are a fantastic place to start, so let's start by looking at 50 different names that might be a good choice for your female Great Dane.
Many people start by making connections to names based on their dog's personality or appearance. Whether we realize it or not, we form an association with names over time based on our past experiences.
Let these experiences and your own intuition guide you to find the perfect name for your female Great Dane.
Hazel
Greta
Doris
Willow
Pearl
Lilly
Finley
Gypsy
Piper
Stella
Vera
Abbi
Aspen
Basil
Belle
Bianca
Blondie
Brooklyn
Buffy
Candy
Carmela
Dakota
Diva
Elsa
Eva
Charlotte
Gemma
Sophia
Goldie
Hershey
Hope
Kai
Jada
Pennelope
Mila
Penny
Lexi
Kallie
Khloe
Kona
Freya
Liberty
Phoebe
Minnie
Moxie
Noel
Paisley
Olive
Poppy
Rose
Male Great Dane Names
Next up are the gentlemen! As with our female names, we put together a list of 50 names for Male Great Danes.
Due to their massive size, many males are named after awe-inspiring characters or those who simply inspire!
Keep your mind open while you search for the perfect name for your male Great Dane 🙂
Reggie
Walter
Drake
Moose
Hooch
Beau
Von
Wentworth
Jax
Hunter
Huck
Judge
Kane
Koda
Maverick
Mickey
Murphy
Ned
Norm
Oscar
Parker
Porter
Reese
Rebel
Ringo
Rocky
Romeo
Sampson
Scooter
Wrigley
Watson
Wyatt
Yogi
Yoshi
Mario
Luigi
Rusty
Carlton
Hugh
Max
Albert
Gunner
Leo
Jasper
Arlo
Orion
Liam
Dwight
Rupert
Colt
Best Seller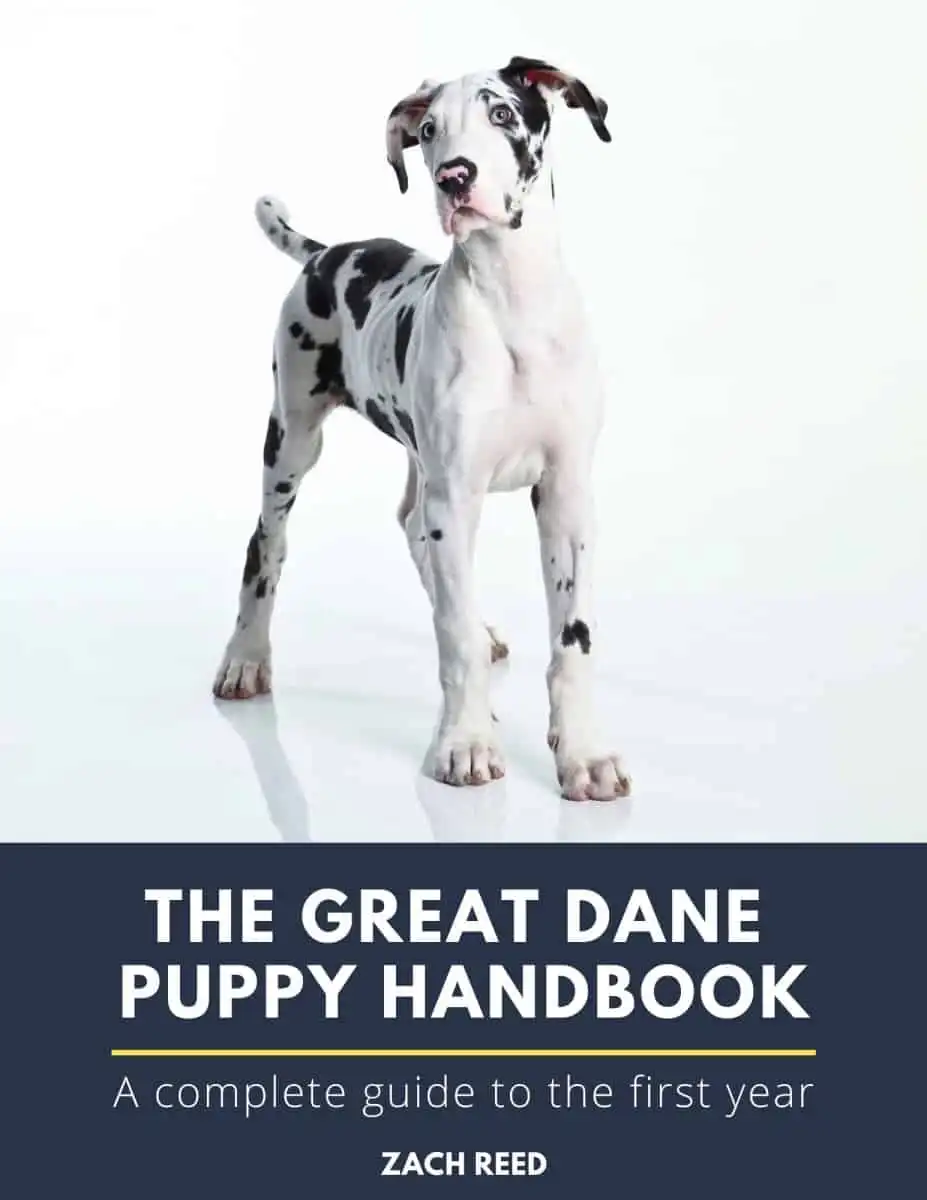 The Great Dane Puppy Handbook
The Great Dane Puppy Handbook takes all of the need-to-know Great Dane info and packages it together into a single, concise resource. Save yourself time, money, and frustration by avoiding the most common mistakes made by Great Dane owners!
Learn More!
Great Dane Names by Color
While gender-specific names are a fantastic place to start, many Great Dane owners like to pick a name that reflects their coat color.
There are seven official Great Dane colors, so I've listed at least ten names for each to get you started with ideas.
Naturally, many of these names are twists or variations on the color itself!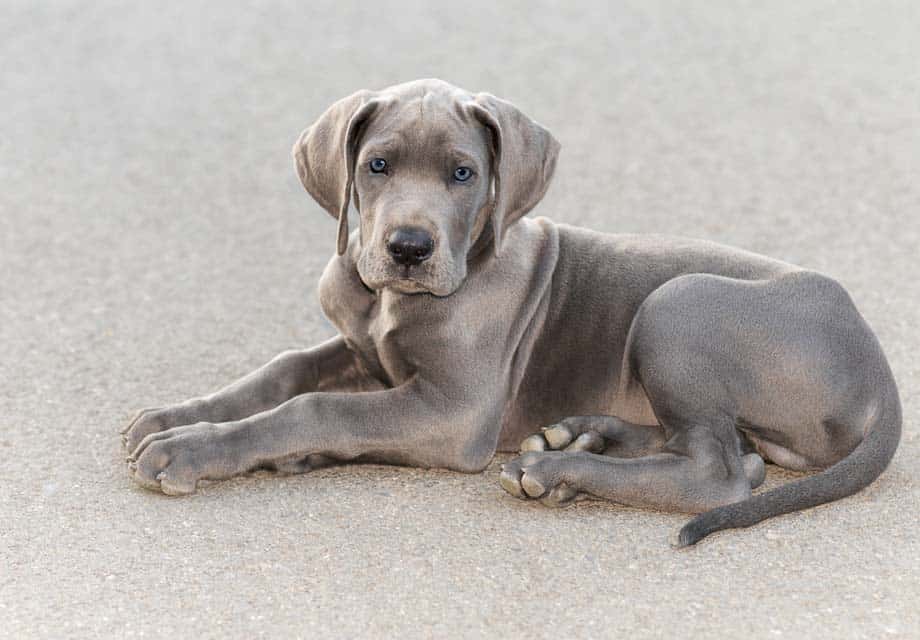 Names for Blue Great Danes
Suede
Blue
Grayson
Fog
Saphire
Azure
Azul
Indigo
Sky
Teal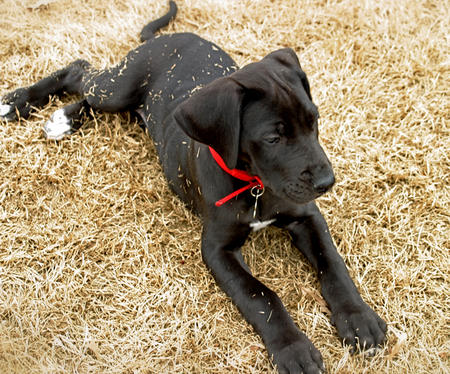 Names for Black Great Danes
Knight
Pepper
Shadow
Storm
Noir
Sable
Jet
Tux
Smokey
Twilight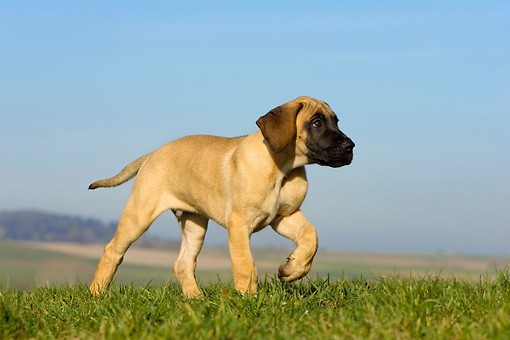 Tanner
Sandy
Sunny
Tawny
Dawn
Biscuit
Carmela
Ginger
Primrose
Amber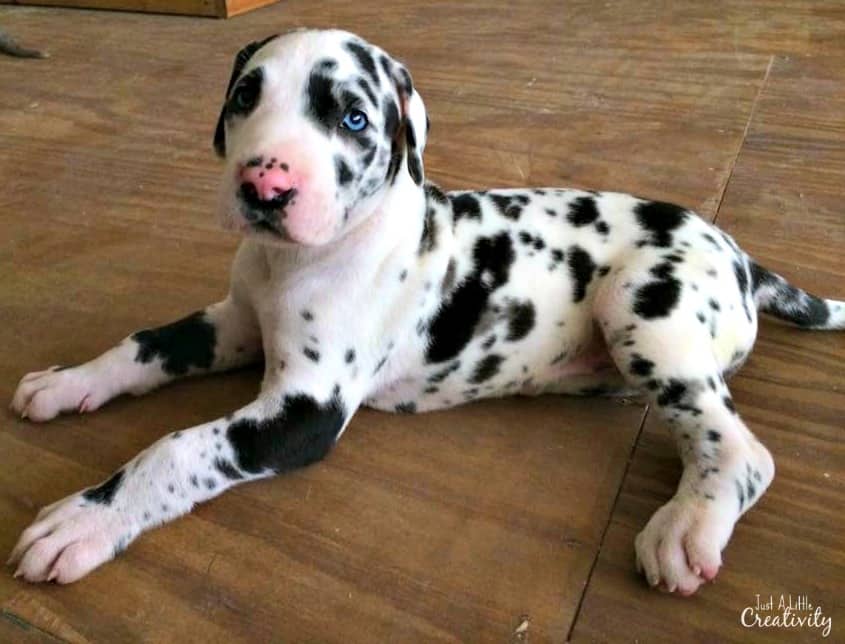 Oreo
Harley
Manny
Spot
Patch
Freckles
Pongo
Penny
Puddles
Two-tone
Dot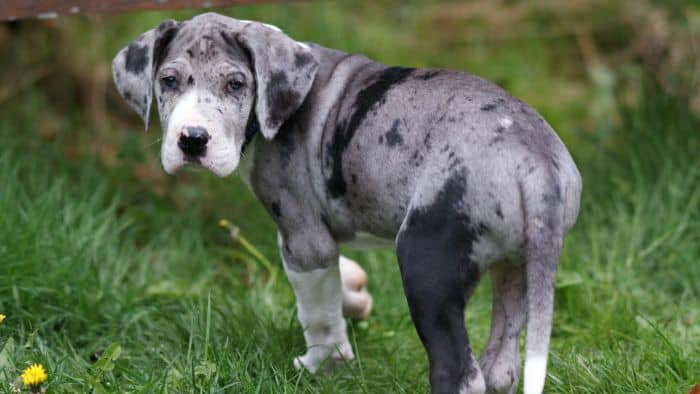 Names for Merle Great Danes
Patch
Yoyo
Twister
Dipstick
Dipper
Swirl
Blot
Blob
Spotty
Afina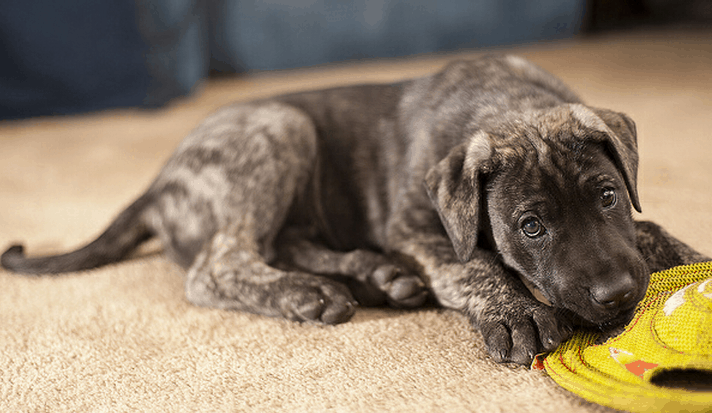 Names for Brindle Great Danes
Tiger
Brin
Copper
Chestnut
Tanner
Khaki
Amber
Patches
Kahlua
Latte
Champion Great Dane Names
Sometimes we choose to name our Great Dane with great expectations!
Some dogs are fit to be champions, and others need a little inspiration from their name 😉
Arrow
Major
Winston
Ivy
Knute
Winnie
Ace
Primo
Axel
Barkley
Winston
Lance
Captain
MJ
Cash
Copper
Diesel
Rambo
Prince
Ranger
Sparticus
Tarzan
Kobe
Napoleon
Jeter
Julius
Genghis
Ronald
Nelson
Cleopatra
Funny Great Dane Names
Great Danes are a notoriously goofy breed and a name that reflects that doesn't feel out of place at all!
Feel free to have fun, be playful, and get some enjoyment out of naming your dog.
Citizen Dane
Thumbelina
Fizz
Weeble
Beauregard
Doggy McDogface
Sassy
Motor boat
Hoover
Dyson
Muncher
Kat
Dove
Bruno Mars
Butch
Goose
Gizmo
Roku
Taco
Margarita
Stewie
Teeni
Dinky
Weeny
Oscar Myer
Nano
Dingo
Clydsdale
Chewy
Snuggles
Majestic Great Dane Names
Take one look at a Great Dane, and there's a word that comes to mind – majestic!
Finding just the right name that inspires the same sense of majesty is perfectly suitable!
Duke
Pharaoh
Tiara
Caesar
Khaleesi
Diamond
Emerald
Roman
Kingston
Behati
Aria
Ayah
Genevieve
Mira
Kaiser
Leo
Quinn
Titan
Kaiser
Daenerys
Gods and Goddess Names for Great Danes
Commonly referred to as the "Apollo of dogs," it's only fitting that many Great Danes take on the names of gods and goddesses.
Athena
Artemis
Selene
Zeus
Apollo
Rhea
Alastor
Ares
Atlas
Castor
Chaos
Eros
Hades
Hercules
Kratos
Pollux
Poseidon
Ariel
Nero
Aphrodite
That wraps up our list of names for Great Danes! I hope that you found the perfect name for your dog here 🙂
If you're looking for a way to entertain your newly named pup, then make sure to pick up some Great Dane-approved toys as well!
Last but not least, if you'd like a guide that covers everything about caring for a Great Dane, then make sure to take a look at my book The Great Dane Puppy Handbook.