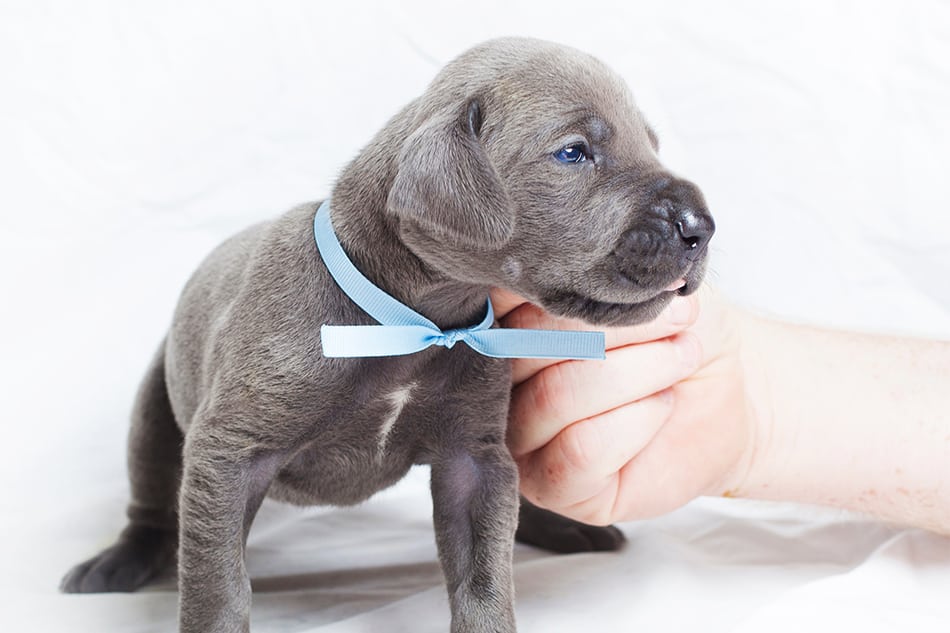 Whether you've been waiting for months or made an impulse decision after love at first sight, there are lots to do before bringing home a Great Dane puppy!
This breed is far from average, and require more planning and preparation than others. You won't be able to get certain Great Dane specific supplies at a regular pet store and will be best ordered in advance.
Although the article is aimed at puppies, many of these tips will apply for older Danes as well.
With that, let's jump into our great dane puppy checklist!
Table of Contents:
Get ready to love them!
Any dog deserves and will need your love, but this is especially true with Great Danes. They feed off human interaction and attention.
Take them on walks, play with toys together, and sneak in snuggle sessions if they'll allow it. If you're a busy person (which most of us are), block off your calendar to ensure that you're providing them with the attention they need.
Creating a schedule for play and exercise will go a long way in developing your relationship together.
During their puppy stages they are bound to make countless mistakes. From peeing inside, getting into the trash, and eating your favorite shoes they will test your patience. Remember that they are literally babies, and simply do not know better.
Be gracious, and make sure to reward their good behavior rather than focus on punishing their errors. Strange as it may seem, one day you will look back lovingly at their silly puppy days and miss all of these goofy snafus.
Find a veterinarian
Like many other giant breeds, Great Danes are predisposed to a number of elevated health risks. Hip dysplasia, bloat, are Wobbler syndrome just a few that could affect them, making the need for good health care that much more important.
Before bringing your Great Dane home you should have already met with and selected the veterinarian that will be providing long term care for your dog.
If you have the luxury of several vets in your local area, meet with all of them to see who you think will be the best fit.
Some evaluation criteria that you may want to consider when meeting with different vets include:
Past experience working with Great Danes (including performing gastropexies)
Friendliness of staff
Cleanliness of facilities
Distance from your home
Hours of operation (days and times)
After-hours emergency care availability
Costs (estimates for common care, option to split payments or use a line of credit if needed)
Dog registration requirements
Depending on where you live you may be required to register your dog with the local authorities. Because these regulations vary wildly by state, I'm not going to cover an exhaustive list here.
Just know that you should perform your own due diligence to stay in compliance and avoid potential fines.
Some states only look for certification from a veterinarian that the animal is in good health, whereas others are actual registration for tracking purposes.
If there are costs for registering your Great Dane, know that they are virtually always less than the cost of fines that could be levied from not registering them.
Make sure to also keep any provided registration tags on your Great Dane's collar at all times.
Invest in a good crate
The saying "buy nice, or buy twice" absolutely holds true when it comes to a crate for a Great Dane. While they may start out small, they will morph into giant dogs faster than you realize.
By purchasing a high-quality adult crate with expansion sections you can rest easy knowing that they will never outgrow their crate.
Even if your dog did not outgrow them, cheap crates are unlikely to withstand the daily use of Great Dane and will inevitably break.
Acting as a dedicated place for them, a crate can also help ease the transition from their previous home to your new one.
During the early phases of training, it should more than pay for itself by saving them from getting into trouble around the home.
Trust us when we say that it will save you money, in the long run, to buy a good crate up front. It's truly an investment for your Great Dane. Please take a look at our dedicated article on our top recommended crate.
Best Seller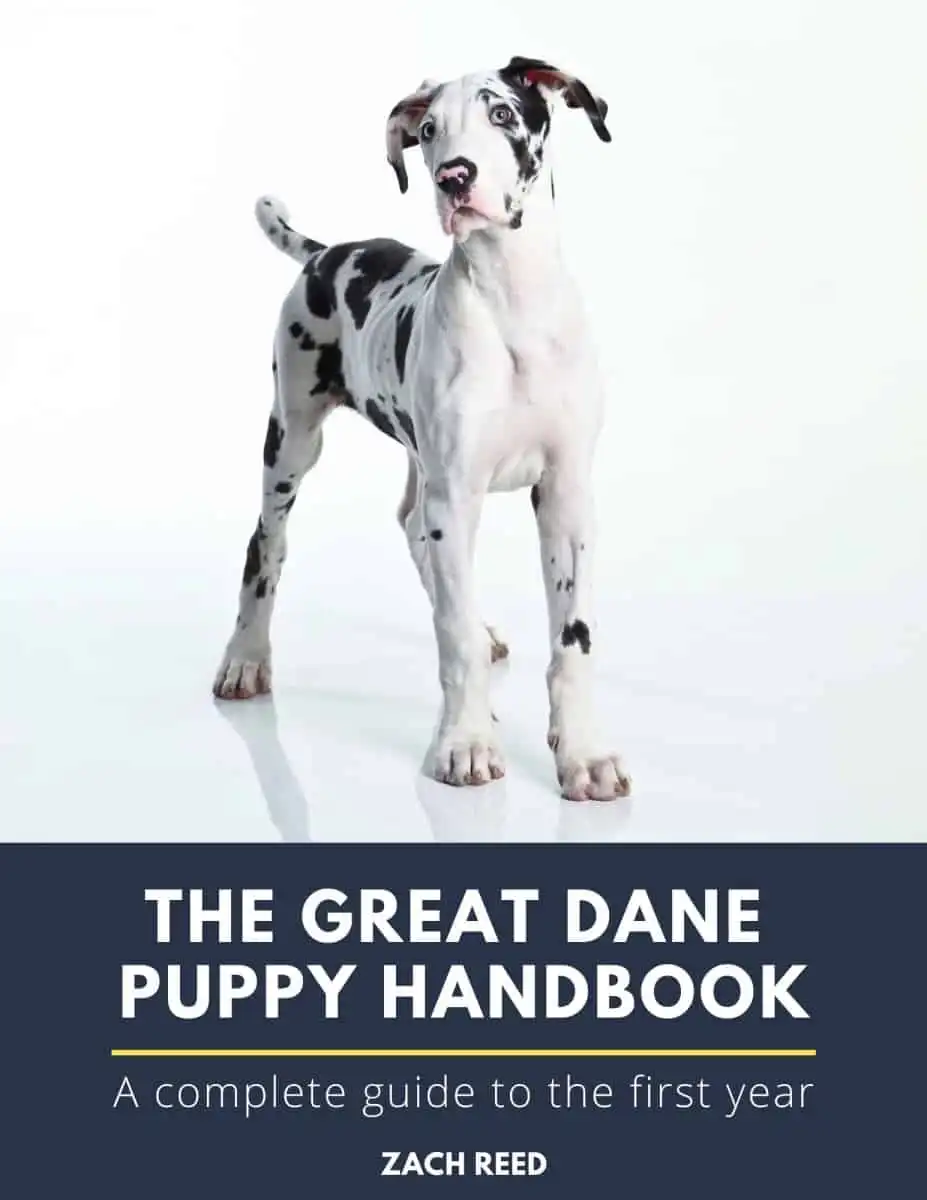 The Great Dane Puppy Handbook
The Great Dane Puppy Handbook takes all of the need-to-know Great Dane info and packages it together into a single, concise resource. Save yourself time, money, and frustration by avoiding the most common mistakes made by Great Dane owners!
Learn More!
Training
Whether you're bringing home a puppy or have adopted an adult Great Dane, a plan to get them trained should be one of your top priorities. It's far easier to teach good habits than break bad ones!
Regardless of whether you're working with a dog trainer or tackling it on our own, there are several supplies that you'll want to consider. From collars to training leashes, treats and treat pouches, the list can get long!
The specific items that you will need will be dependent on your chosen approach to training them.
Rather than rehashing each of these topics, linked below are previous articles that we've written to cover each topic in-depth.
Puppy-proof your home!
Take the time to clean, straighten, and organize your home before bringing back your Great Dane. They will find their way into any and all things within their reach, so it's best to limit the temptations in advance.
Start by removing clutter or items at a low level in the open and pack them away. Tie up the drawstrings on blinds, elevate curtain bottoms, place laundry out of reach, and purchase lockable trash cans.
Make sure to also determine where their crate and food/water bowls will be located. Because they will have a large adjustment to their new home, it may also make sense to limit their access around the house to specific rooms.
As they grow accustomed to their new home and demonstrate good behavior, you can allow access to more space.
Baby gates are a great option for containing them to certain areas!
Last but not least, make sure to come to an agreement with other housemates whether or not your new Great Dane will be allowed on furniture. They will make their way onto chairs, couches, and beds and love every second of it if you allow them.
The key is to be fair and consistent on if this behavior is acceptable or not. For additional details about preparing your home, take a look at our article on living in apartments with Great Danes.
Food
Make sure to select and purchase dog food for your Great Dane before they come home. There are many many options to pick from, so deciding up front is better than waiting until your hungry sad-eyed puppy is staring you down!
They should also be sent home with several days worth of their current food. If this brand is different from that which you have already selected, then you will need to slowly transition to the new food.
Great Danes have sensitive stomachs, and jumping straight to a new food would likely lead to diarrhea and other issues.
For more details, please refer to our article on how much to feed a Great Dane puppy. It also fully details the specifics of transitioning between food brands.
Grooming & care
Leave the complicated stuff to your vet, but you should be able to perform basic grooming routines on your Great Dane. Ear cleaning, nail trimming, teeth brushing, and bathing are amongst the main ones.
While you could pay a groomer to perform all of these tasks, it will be far cheaper and easier to learn how to handle them on your own.
Please take a look at each of the previously linked articles for specifics on each topic.
Dog Toys
If you've never experienced the energy of a puppy then you'll find out soon enough! One of the best ways to help release this pent-up energy is dog toys!
Unfortunately, unless you speak dog you won't know what they like. It's key to get a wide assortment of toys when first starting out so that you can find out what your Great Dane likes before purchasing too many.
To help save you some of your hard earned cash, we've compiled a list of our favorite Great Dane toys. We have found the ones in this list to be particularly durable and longer lasting.
Cleaning supplies
Unless you never plan on picking up after your dog, you'll want to get ahold of some waste bags. Any waste bag will suffice while your Great Dane is small, but as they grow…well, so does their output!
We've found the Earth Rated XL dog waste bags to be one of the few that is both strong and large enough to meet the needs of a grown Great Dane.
For indoor accidents, you should also acquire a dog-friendly pet stain remover. These can remove anything from urine, poop, vomit, and drool without the risk of poisoning your Great Dane.
Conclusion
While we can't cover every possible scenario, this article should have done a good job of readying you for your Great Dane's major needs.
It may feel like a lot to take on at once, so try tackling them a few at a time. Before you know it, you'll be home enjoying a wonderful life with your new Great Dane!
This article is a shortened version of our complete great dane puppy handbook. It covers all of this information in greater detail and more! It's truly the ultimate guide for Great Dane puppy owners. You can learn more about it here.
If you found this article helpful, make sure to take a look at some of my other related articles below!